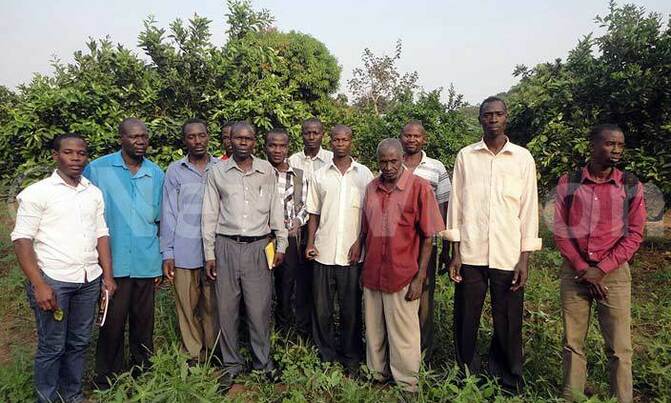 Farming in Israel depends on irrigation, being a desert. If it was emphasized in Uganda where water is everywhere then we would not be crying of lack of food
A group of 10 youths from Gayaza who underwent an agricultural internship programme in Israel have demonstrated that the training has set them apart from their counterparts who remained behind.

The 10, part of the 41 who undertook the one-year internship programme, have formed an Agrinvestment club (Kibbutz) with the main objective of sharing their knowledge with the local communities besides developing their own enterprises.

The initiative is being done in partnership with an Israeli farm based in Gayaza in Wakiso district.

"We were given a plot of land where we multiply coffee seedlings and use them for demonstration and also for sale to the communities," says Samuel Mbulamukungi, one of the group members.

"The money we get is what we use for advocacy. Before one takes the seedlings, we first train them on the modern forms of coffee growing, from planting to maturity, and how to harvest and store," explains Mbulamukungi.
Mbulamukungi also says, they decided to come up with the investment basically to have an impact on Uganda's agricultural future.
"During the internship, we would be attached to farms to train and practice their agricultural skills for the internship, and sharing with others is the only way we can show appreciation to the sponsors," he explained.

"We have different activities that include, personal farm enterprises, goats rearing and also adding value to cashew nuts as well as propagating its seedlings, we now have coffee seedlings that we have set up in our green house," he adds.

Elisa Kakumba, also a member of the group says, while in Israel he learnt how to prepare the land for the planting seasons, how to tend to the crops especially citrus seedling, planting and pruning while the trees were growing and letter learnt how to harvest and sort the best fruit ready for packaging.

"Anything right from vegetables, fruits as long as it is for sale, the quantity and quality was paramount and this is what we are teaching in our project, there has to be no mixtures of anything or residue while parking," he stresses.
Another intern, Emmanuel Wakholi says, while in Israel they were taught that whenever they you are doing anything, speed was paramount or else someone else will take away that opportunity.

"We were also taught about accuracy. When packing, one kilogram has to be one kilogram not with some grams.

Cleanliness was another important factor, "those people clean even the crops, and the flowers this is because they feel the crops for sale have to be clean.
Even irrigation is what runs farming in Israel being a desert, which I believe if it was emphasized in Uganda where water is everywhere then we would not be crying of lack of food," he explains.

Their services

Agrinvestment set up demo site where they teach people how to be better farmers who are business oriented. The farmers are taught how to grow coffee, fruits, vegetable and poultry.
"We teach people that all things are possible once you give it time. We teach people to take agriculture as a business not a hobby," Wakholi explains.

He adds that now they have youth groups, farmers groups in Mukono, Kayunga, Mityana and Kamuli district were they meet for trainings and sensitizations.

"We hope to extend these services to more districts once we get funding which is still holding us back. We have specialists who teach people about the preparation of Vegetables gardens, Orchards, perennial, poultry and our dream is to have specialists for all farming sectors," he adds.

What is a kibbutz?

A kibbutz is a collective community in Israel that was traditionally based on agriculture and the first was established in 1909.

From then to date farming has been partly supplanted by other economic branches, including industrial plants and high-tech enterprises.

In 2010, there were 270 kibbutzim in Israel. Their factories and farms account for 9% of Israel's industrial output, worth U$8b and 40% of its agricultural output, worth over $1.7b, some Kibbutzim had also developed substantial high-tech and military industries.