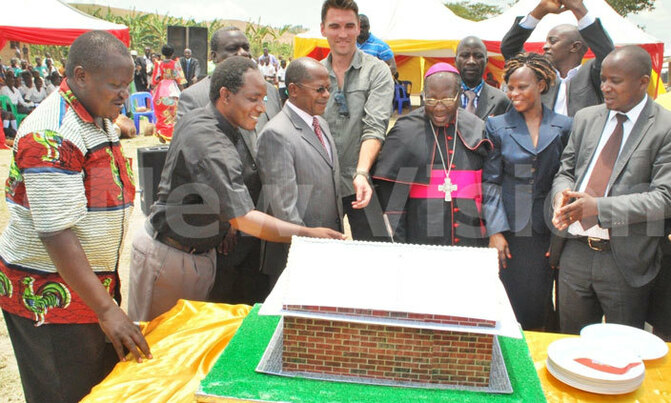 According to the general manager COF Tim Diamond, the magnificent infrastructure under the management of the Masaka dioceses, has cost sh 2.7bn donor funding.
Cotton On Foundation (COF), an Australian based organization has constructed a state of art primary school in Rakai district, to enable vulnerable pupils attain affordable education.

According to the general manager COF Tim Diamond, the magnificent infrastructure under the management of the Masaka dioceses, has cost sh 2.7bn donor funding.

Handing over the school to Masaka Dioceses, Bishop John Baptist Kaggwa,on Thursday, Tim Diamond said their mission is to develop 20,000 educational places in Southern Uganda by 2020. The schools will be built in the districts of Masaka, Rakai, Lwengo districts.

"We have built several schools in Uganda but we request government to take them over for sustainability and continuity. We want government to pay teachers salaries, provide text books and refresher courses for teachers" Diamond said.


Handing over the building, COF Uganda, Infrastructure pillar manager, James Candisi, assured Bishop Kaggwa a warrant of 50 years of the infrastructure before it undergoes any major repairs.

According to Candisi, the magnificent infrastructure has10 classroom, each accommodating over 50 pupils, a preprimary section, fitted with playing gadgets, 2 offices and administration blocks, self contained teachers quarters, water bone flash toilets, a kitchen fitted with Bio gas digester , where gas is produced and the residue sludge is collected is used as manure.

According to the education Programe Officer, COF Uganda Jimmy Otwikende, Masaka diocese provided the five acres of land where the in the infrastructure is built.

St.Timothy primary school Kyalulangila, in Kyalulangila, Sub county Rakai district, is Located about 54 kilometers from Kyotera town Counsel,

Other infrastructure built by COF Uganda includes: Mannya secondary school, Mannya pre primary, Mannya primary and and Mannya health center in Kifamba subcounty, Rakai district.

Bishop John Baptist Kaggwa , emphasized that parents must bring their children to attain education.

"A country without education cannot develop; parents must utilize the chance to take their children to school because the education facility is brought nearer to their homes. You children no longer trek longer distances in search for education," Kaggwa said.

COF project coordinator for health, Christopher Kwizera said the project has also embarked on building health centers to reduce child mortality in vulnerable communities with focus on HIV prevention and provision of essential infrastructures in Rakai district.

Kwizera added "Cotton on Foundation has procured furniture, and will equip the school library with the text books, however he warned the pupils against misusing and damaging the infrastructure.

The minister of state for Primary education, John Chrysostom Muyingo,who presided over the function , told the parents to desist from the habit of getting free education and infrastructure from donors.

"The major setback for UPE is that it is not entirely free, contrary to the general perception that parents are not supposed to pay for anything. Much as donors and government have set up schools, parents ignore the roles and responsibilities, parents have to buy scholastic materials including pens, exercise books, clothing and even bricks for classroom construction. They also have to provide or buy lunch for their children, " Said Muyingo.

Muyingo assured the donors of government's commitment to take over the school in the shortest time possible.