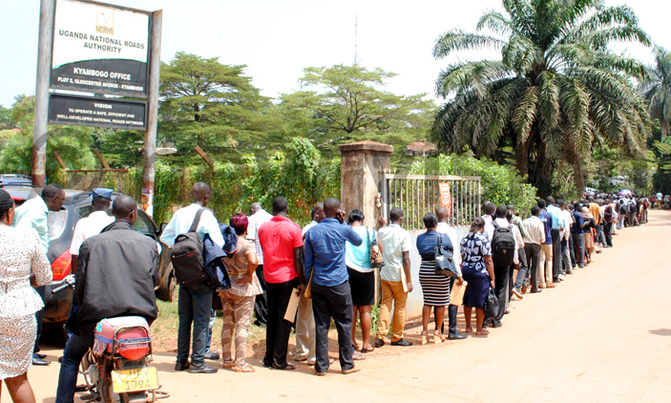 Some of the advertised jobs required more than one person therefore shortlists for 91 job categories are yet to be released
The Uganda National Roads Authority has shortlisted over 700 people who applied for the recently advertised jobs at the roads authority.
Names of the applicants who have been shortlisted for jobs in 21 categories have been published on the UNRA website out of the over 112 job categories that UNRA advertised in January.
However, some of the advertised jobs required more than one person. This means that shortlists for 91 job categories are yet to be released.
"UNRA would like to inform the general public that the shortlisting exercise commenced and the shortlists are being released in phases," UNRA said in a statement yesterday.
Of the released shortlist of 21 categories, the post of 'Land Acquisition Officer' has the highest number of shortlisted applicants standing at 150 candidates. It was followed by the posts of; ferry engineer and mechanic, with each having 69 applicants shortlisted.
UNRA noted that shortlisted candidates would be subjected to an aptitude and competence test whose dates and time would be communicated later to each of the candidate's personal contacts (phones and e-mails) as presented to the roads body at the time of application.
Any form of lobbying by shortlisted candidates, the roads authority warned, would lead to automatic disqualification, adding that, "UNRA does not charge any money for any service towards the process of one's application at all stages of the recruitment process."
The advertisement for job applications at UNRA followed the sacking of the entire staff by the new management led by executive director, Allen Kagina, in a bid to restructure the roads body.
The sacking of all UNRA's 900 staff members in was prompted by numerous cases of corruption and fraud. Among the most prominent cases was the sh165b Mukono-Katosi road deal where sh24.7b was feared lost.
The contractor, who claimed to be Eutaw Construction Company of US whereas it was not, allegedly used fraudulent bank and insurance documents to secure the 74km road deal.
The deal was inked following a directive by the Works Minister, Eng. Abraham Byandala, to the acting UNRA executive director, Eng. Ssebbuga Kimeze, to expeditiously sign the deal before due diligence was done.
Byandala and Kimeze together with several other UNRA staff implicated in the scandal have since lost their jobs and are facing prosecution in the Anti-Corruption Court.