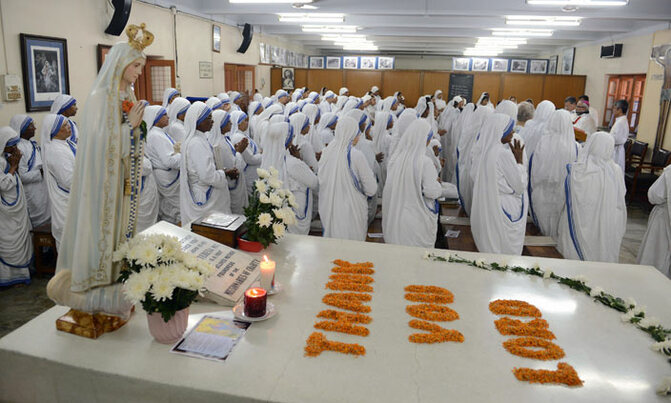 I do not know how many people would comfortably get people out of the streets to bathe, cloth and feed them like she did - Msgr. Gerald Kalumba
The news of Pope Francis approving sainthood of Mother Teresa, a missionary nun who became a global symbol of compassion for her care of the sick and destitute, has stirred the Catholic community.

The Pontiff, according to the Vatican Religion pope Saints wrap on Tuesday set September 4 as the date for her canonization, elevating her to an official icon for the Catholic faith.

The move comes 19 years after the death of the Albanian nun who dedicated most of her adult life to working with the poor of Kolkata, India.

Teresa, who was 87 when she died in 1997, was revered by Catholics and many others around the world. She won the 1979 Nobel peace prize for her work with the poor.

Rt. Rev. John Baptist Odama, the Chairman Uganda Episcopal Conference and the Arch Bishop of Gulu diocese said her canonization was long overdue saying she truly had a great commitment to the poor and the people of India as a whole. He was however quick to say, the process of canonization takes time, as there must be a miracle attributed to her.

"I am so impressed by her life. She was simple and seriously valued the lives of human beings."
Peter Paul Opata, a former youth worker at the Uganda Catholic Secretariat said Mother Teresa is someone that we Christians easily relate with.
"The fact that she lived in our time and we were able to see and witness her good deeds, means there is someone in heaven interceding for us, and knows the challenges we go through today," Opata said.

He said as a Christian worker, Mother Teresa's teachings were used to elevate the faith of many young people.

Msgr. Gerald Kalumba, Christ the King's Parish Priest said Mother Teresa's story is very wonderful.

"I do not know how many people would comfortably get people out of the streets to bathe, cloth and feed them like she did," Kalumba said, adding that it's no wonder she attracted admiration from many. "The church recognizing her as a saint is simply very beautiful."

Sister Teresa Basemera who was recently awarded with a Medal by Government for helping the needy at the Nalukolongo Charity Centre said for the last 25 years, she has been trying to emulate Mother Teresa in her line of work.

She currently heads Caritas Nsambya, a bigger organisation that caters for the poor, sick and suffering. "God cannot cheat. Mother Teresa deserves to be a saint because we draw our inspiration of helping the needy from her," Basemera said.

Teresa took the first step to sainthood in 2003 when she was beatified by Pope John Paul II following the recognition of a claim she had posthumously inspired the 1998 healing of a critically-ill Bengali tribal woman.

Last year she was credited by Vatican experts with inspiring the 2008 recovery of a Brazilian man suffering from multiple brain tumours, thus meeting the Church's standard requirement for sainthood of having been involved in two certifiable miracles.

Despite posthumously published letters revealing that she suffered crises of faith throughout her life, Teresa has been fast-tracked to canonization in unusually quick time, underlining her status as a modern-day icon of Catholicism.

There was no immediate word from the Vatican on the location of the canonization ceremony, which is expected to take place in Rome with a thanksgiving ceremony held at a later date in the Indian city where Teresa is buried.

But she was also a controversial and divisive figure with critics branding her a religious imperialist whose fervent opposition to birth control and abortion ran contrary to the interests of the communities she claimed to serve.

After more than two decades of missionary and charity work, she founded her own Missionaries of Charity order in 1950. She was granted Indian citizenship a year later.

Francis, who regards Teresa as the incarnation of the kind of Church he wants to lead, met the by-then internationally famous nun three years before her death, when he was still a bishop in Argentina.

He later joked that she had seemed so formidable he "would have been scared if she had been my mother superior".

India granted her a state funeral after her death and her grave in the order's headquarters has since become a pilgrimage site.

Teresa was born Agnes Gonxha Bojaxhiu to Albanian parents in 1910 in Skopje, now the capital of Macedonia.
She started her life as a nun as a teenager with a missionary order in Ireland and arrived in India in 1929.