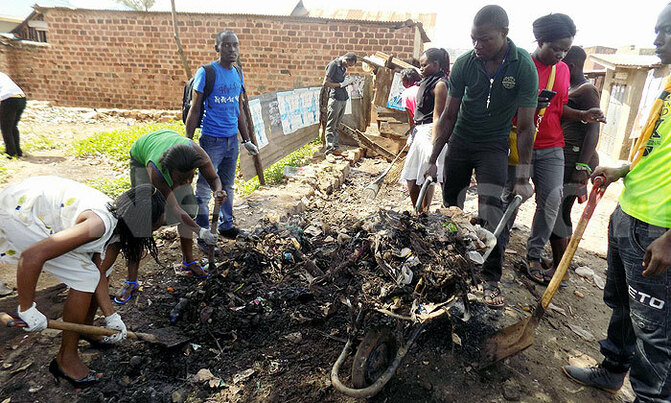 "Whenever our communities are clean, fewer people get sick and in one way or the other, people's hearts are purified."
MAKINDYE - Youths from Kampala archdiocese have cautioned the public not to wait for authorities to clean their environment and instead organize themselves and engage in sanitation activities like cleaning drainages.

Hundreds of young men and women from different parishes in Kampala archdiocese on Saturday engaged in community work including cleaning Kevina Zone and St Paul Zone in Makindye division, Kampala district.

The youths' patron Fr. Joseph Luzindana said as young people, they conduct this annual charity (community work) in different communities to make sure that communities are purified.

Luzindana said that cleaner communities guarantee healthier lives.

"Whenever our communities are clean, fewer people get sick and in one way or the other, people's hearts are purified, making the country at peace," said Luzindana.

He said every Lent, youths come together to pray, fast and do charity as it is required from all believers to purify their hearts, and asked all believers to continue with the tree actions till the end of the 40 days of Lent.
With pure hearts, added Fr. Luzindana, relationships, politics and everything in the country will be good. He urged the public to pray for the country in this season and further requested them to follow Jesus's footsteps to attain pure hearts and peace.

Kampala archdiocese female youth chairperson, Margret Nakanwagi, requested youth to always engage in charity work to get close to God.

She expressed worry for the poor sanitation standards some people in Makindye division still live in and said that if they do not change there might be outbreak of dangerous diseases.

Nakanwagi requested government to put more emphasis on sensitizing the public on the dangers of poor sanitation and tipping them on how to fight this.

John Semakula, the youth chairperson St Paul Zone, lauded the youths for cleaning their area and admitted that the sanitation status of their area is alarming.

He attributed the poor hygiene in Makindye to the fact that the area is a slum and highly populated, adding that Kampala Capital City Authority (KCCA) rubbish vehicles can hardly access all corners of the area to collect waste.