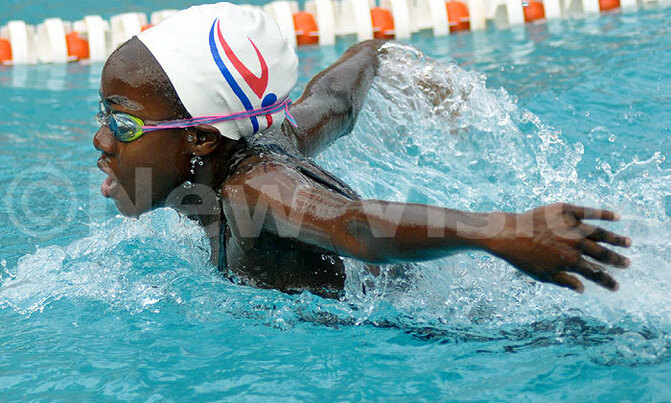 The top qualifiers overall shall then participate in the finals.
Lugave's Ssinzi Nabatanzi, Daya Yalonda and Alexis Kituuka set themselves on course to qualify for the finals of the 'Empaka Zo'kuwuga mu Bika' after posting good time in the second qualifying round held at Kampala Parent School pool this week.
Swimming in the 11-12 years category Nabatanzi clocked 1.40.00 in the 100m breaststroke, 0.41.19, 0.41.28, 0.35.31 and 1.30.16 in the 50m back, breast, fly, free and Individual Medley respectively to set herself on course for the finals due at the same venue on April 16.
Yalonda and Kituuka who are members of the Seals Club will also be praying that their time set over the same distance is better than that of swimmers that competed in the first qualifier at Kings College Budo and that of the rest that will compete in the third at Seeta High School on March 20.
Ngeye's Rahmah Nakasule was the other star of the day with times of 2.13.15, 0.57.66, 2.05.72, 1.02.13, 4.43.59, 0.57.19 and 0.48.25 in the 100m breast, 50m back, 100m IM, 50m breast, 200m free,50m freestyle races respectively.
Nkima's Plaxida Nakabanda, Musu's Zaituni Tomusange, Ngo's Angel Kabera and Njovu's Amelia Mudanye also competed in the second qualifier.
The results from all preliminaries shall be aggregated and the top qualifiers overall shall then participate in the finals on April 16.
For the inaugural Empaka Z'okuwuga mu Bika this year, swimmers shall be picked from schools, colleges and Universities, local swim clubs as well as through the Buganda Bika structure.