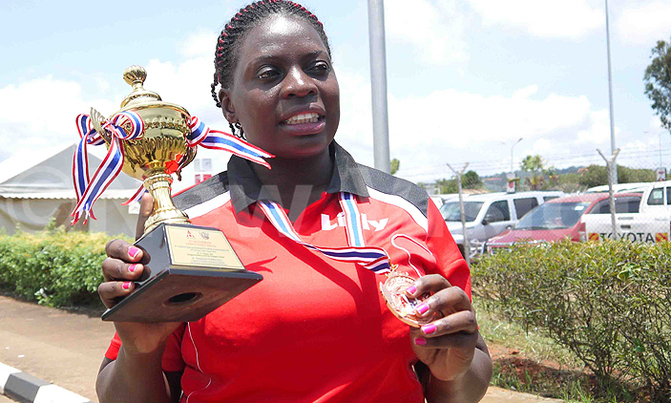 Zawedde is now ranked 7th in the world though she remains Africa's best lady performer.
Uganda's best, Lillian Zawedde will be entered into local history as the first woodball player to win the Uganda Sports Press Association (USPA) monthly award.

Zawedde was voted as the Nile Special/UPSA sports personality for the month of February during the monthly assembly in Kampala on Monday.

The Ndejje University student was recognized for having won a bronze medal at the 9th edition of the Thailand Open International Woodball Championship that ended on February 27 in Chiangmai.

She finished in third position with 204 strokes behind Vietnam's Can Thi Giaaict with the same number of strokes but a better tiebreak in 48 gates at the event that doubled as a world ranking contest.

Zawedde is now ranked 7th in the world though she remains Africa's best lady performer.

Her scores at the assembly tallied to 460 votes, beating off competition from badminton player Shamim Bangi with 350 votes while the Uganda Badminton team and Sports Club Villa scored 330 and 320 votes respectively.

"I feel great for my award of the month and thanks to USPA for recognising my efforts," she said.

Meanwhile USPA president, Sabiiti Muwanga later congratulated the winner and maintained that the spirit of rewarding excelling sports personalities will be carried forward.

Zawedde will be crowned at the monthly dinner on a date yet to be confirmed where she will walk away with a plaque and shs500,000 courtesy of the sponsor.

USPA members also commended a number of sports personalities and teams for their outstanding performances in the previous month including athlete, Phillip Kipyeko for defending the National Cross Country Championship title after winning the 10km race in Jinja in 29 minutes, 17 seconds.