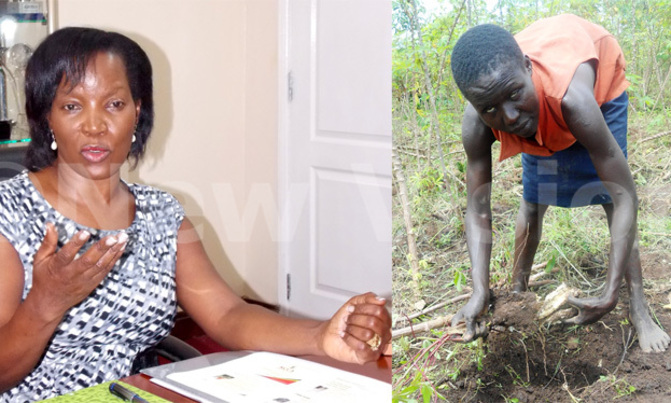 As Uganda joins the rest of the world to celebrate International Women's Day; certain names cannot help but spring to mind. Jennifer Musisi, Rebecca Kadaga, and Anne Kansiime are some of the growing army of women disproving the adage that behind every successful man stands a great woman.

A revolution has been rumbling quietly in the background and it's now invaded the foreground as clever, talented and formidable Ugandan women prove that the weaker gender by tradition is much more than backing for mighty men.

As Uganda joins the rest of the world to celebrate International Women's Day; certain names cannot help but spring to mind. Jennifer Musisi, Rebecca Kadaga, and Anne Kansiime are some of the growing army of women disproving the adage that behind every successful man stands a great woman. This lot has been placed on pedestals and triumphed independently in positions essentially dominated by men.

Musisi for example, has been deemed the best that ever happened to Kampala, Kadaga is considered a better Speaker than her predecessor, and Anne Kansiime, who boasts a million Facebook likes, is by a mile the most popular comedy African act from Uganda. This is, in spite of the ladies being the firsts in their respective roles.

Their raised standing also catapults them into the category of highest earners as professionals.



The sustained profile growth of Ugandan women in a way dovetails with this year's Women's Day theme "Pledge For Parity" which translates to commitment to ensuring that women are equal to men, especially regarding status or pay.

However, while Uganda has reason to celebrate where women advancement is concerned, progress towards gender parity has slowed in developing countries.

The World Economic Forum predicted in 2014 that it would take until 2095 to achieve global gender parity. Then one year later in 2015, they estimated that a slowdown in the already glacial pace of progress meant the gender gap wouldn't close entirely until 2133.

"So how do we want to celebrate International Women's Day 2016? We say by Pledging For Parity," reads a statement from the official website for International Women's Day.

Everyone - men and women - can pledge to take a concrete step to help achieve gender parity more quickly - whether to help women and girls achieve their ambitions, call for gender-balanced leadership, respect and value difference, develop more inclusive and flexible cultures or root out workplace bias.

This comes 20 years since the pivotal 1995 Fourth World Conference on Women in Beijing. This conference marked a significant turning point for the global agenda for gender equality as it set strategic objectives and actions for the advancement of women and the achievement of gender equality.

A number of issues to manage were discussed, including the more than 1 billion people in the world, the great majority of whom women who lived in unacceptable conditions of poverty, especially in developing countries, such as Uganda.

Joyce Mpanga, first female minister of cabinet in Uganda and longstanding advocate for gender equality, says, although the status of women in Uganda has come a long way, there is still a lot of ground to cover before we can rightly celebrate emancipation and parity.



Women and poverty

A report titled Chronic Poverty in Uganda reveals that over ten million of Uganda's 40 million people are chronically poor, with women forming the bulk.

"Women, although still poorest in Uganda, have been empowered by the Economic War," observes Mpanga. "Kikuubo is filled with women traders making a lot of money, and others go to London, Dubai, and Nairobi as importers," she adds.

"Back in my days as minister for women, I remember going to Arua district and finding only women in the market, but later, I realised that these women handed their profits back to their husbands," recollects Mpanga further adding that the situation has since changed, although a good section of Ugandan women still entirely depend on men financially.

Women's health

"Awareness concerning the right of women has been created but women have limited access to drinking water, maternal care, and many still walk miles to the hospital," she observes.

A UNICEF report found that at least 20% of the burden of disease in children below the age of five is related to poor maternal health and nutrition. Uganda's maternal mortality ratio - the annual number of deaths of women from pregnancy-related causes per 100,000 live births - stands at 435.


Women in power

"The docks of cabinet in which men sat alone have been opened to women," observes Mpaga who was the only cabinet minister in the 1980s.

"There are more women in the cabinet and they are given not only the health docket but also finance, agriculture, education, and etcetera. We have women in positions directly affecting the direction this country takes," says Mpanga.

During the 80s, she contributed to efforts to formulate a gender-sensitive constitution that protected women, allowed them greater and more direct participation in Uganda's political processes, and revised the laws to allow Ugandans to define their citizenship by their mothers.

One result of such collective efforts was Uganda celebrating its first International Women's Day in 1985.

Today, every district by law must have a woman representative.

She however notes that Uganda is yet to achieve the real meaning of democracy, seeing that women are slightly over half the population but the demographics aren't reflected among members of parliament.

Currently, Uganda has 8 female cabinet ministers and 23 males, and 12 female state ministers and 39 males.


Education and training

The number of girls going to school has increased significantly with 41.6% of students who sat UACE examinations in2015 being girls. This however leaves more to be desired considering that by and large women constitute 51% of the population.

Mpanga says Universal Primary Education (UPE) has had a contribution to promoting girl-child education multiple challenges notwithstanding.

"It was discovered that the only way women would take part in decision-making is getting educated. We thus have more girls in primary and secondary schools."

"But since it isn't completely free, many girls are side-lined when their parents have to choose between them and their brothers," she observes.

"Poor toilet facilities, lack of sanitary pads, and long distances keeps many girls out of school," she says, adding that these challenges need to be addressed to further girl-child education.

Gender-based violence

Analysis of the district health information system reports revel that from 2012 to April 2015, health facilities in Uganda recorded 17,538 cases of abortions due to gender based violence. The 10 districts of Busoga accounted for 2,747 (54%) of the 5,125 cases which were reported in eastern region and 16% of the countrywide figure.

According to the Uganda Demographic Health Survey, 56% of women in Uganda have experienced physical violence at some point since the age of 15 years.

The way to go

"Involve more men in the liberalisation of women programs, or they will ignore them," Mpanga warns "Empowerment of women can only be achieved if men are included in the fight for women."

She further reasons that since it is mostly women who grow food and look after animals, she would like to see mostly women in agricultural schools, not men.

"We also need to see more of women as agricultural officers."

"Regarding UPE, we should work towards compulsory and completely free primary education. This way, we shall have all girls going to school," she recommends.