He mentored many people irrespective of their status in life
It was a somber mood at St Stephen's Church of Uganda in Kisugu Namuwongo, as members of the business community, friends, family members and Christians thronged the church to bid farewell to Lido beach proprietor Samson Muwanguzi, a city lawyer and businessman.

Muwanguzi, who has also been serving as the board chairman Kampala Parents School, died of natural causes last week on Saturday morning at Nsambya Hospital in Kampala.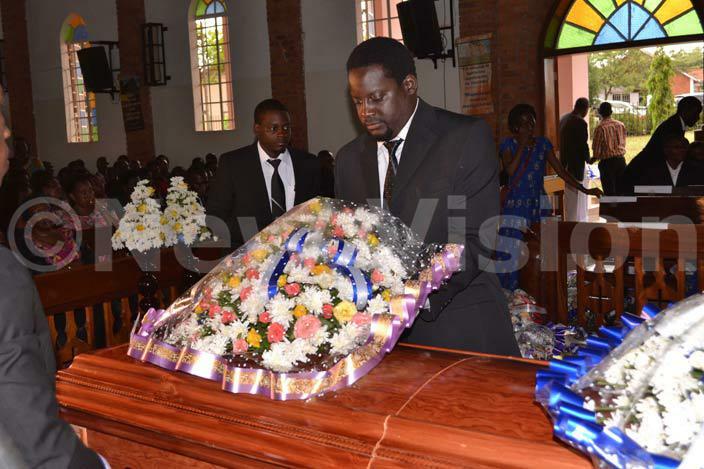 Muwanguzi's son Mark who spoke on behalf of his siblings lays a wreath on his father's casket. Photo by Rachel Kwagala
Pupils of Kampala Parents School laying a wreath at cascate of the late Samson Muwanguzi during his funeral service at St Stevens Church Kisugu. He was Board Chairman Kampala Parents School and owner of Liddo beach.
The deceased was remembered for his generous contribution towards the church and the Christian community. "I would never buy anything on Christmas, Muwanguzi would shop for me, he was a very generous man," said Samuel Balagadde Ssekadde, the retired Bishop Namirembe cathedral.

The retired Bishop, who said was a friend to the family, also remembered Muwanguzi as a great family man, who loved God and his family.
Despite having not met him (Muwanguzi) in real life, the Bishop of Luweero diocese, Bishop Eridadi Nsubuga on his part described Muwanguzi as a person with a big heart.

"I hadn't met Muwanguzi, but I'm here to say that this man, whose body is lying here, has contributed a lot to Luweero diocese, and I would want to appeal to all of you Christians here to embrace Jesus Christ who never fails."
Members of the business community and Christians thronged the church to pay their last respects to Samson Muwanguzi. Photo by Rachael Kwagala
In his Eulogy, Rev. Canon Robert Ssekidde of St Stephen church Kisugu, where the deceased fellowshipped, said Muwanguzi had contributed a lot towards the revamping of the church and supporting the youth ministry in the church.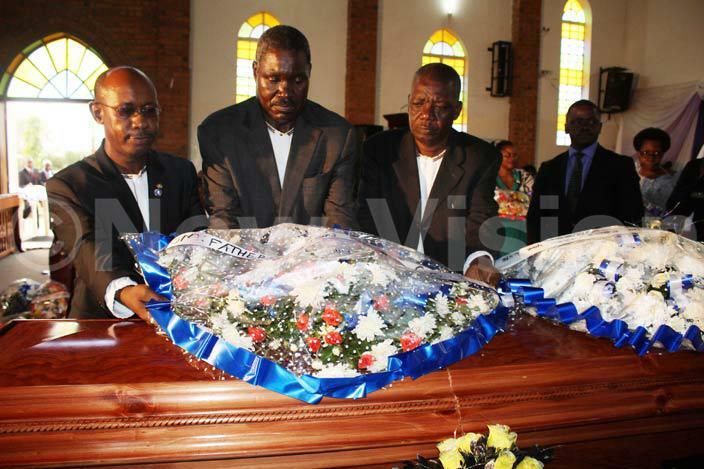 The late Muwanguzi's siblings lay a wreath on his casket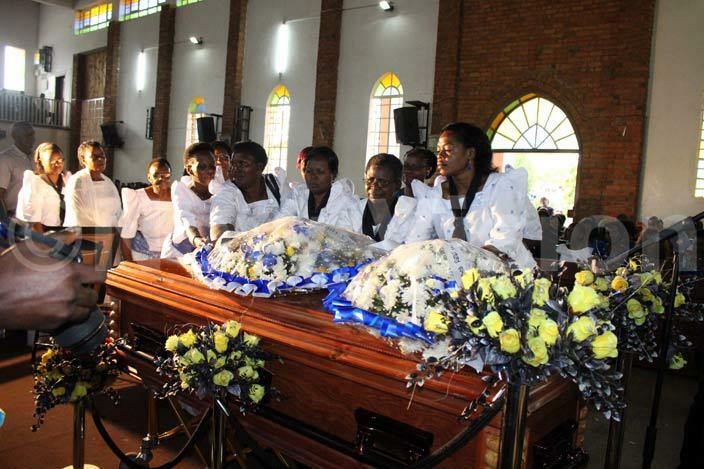 Speaking on behalf of his siblings, Mark Muwanguzi, described the late as a mentor and loving father.

"I saw 'Ttaata' (Daddy) at his strongest and weakest point; he always kept his values and principles. He mentored many people irrespective of their status in life. He mentored very many DJs at Lido beach, he loved treating people equally," said Muwanguzi.

The deceased who also served as a chairman board of directors, Crane Bank, owned by businessman Sudhir Ruparellia of the Ruparellia Group,

He was the best - grandchildren
"Our grandpapa (grandfather) was the best; he used to buy us Christmas gifts and would always take us for trips. We loved him dearly but could not make him stay; we enjoyed every minute we spent with him," said Jasmine Muwanguzi, one of the deceased's granddaughters.
Overwhelmed with emotion Christine Muwanguzi, the widow, didn't speak. However through her elder brother John Ssevume, she described her deceased husband as a reversed but loving man, who loved her family unconditionally.

Speaking on behalf of Kampala Parents School, Daphine Kato, the school's principle said the school would miss Muwanguzi for his wise counsel to the parents, teachers and the student community. Muwanguzi will be laid to rest today in Kkomamboga along Gayaza Road.