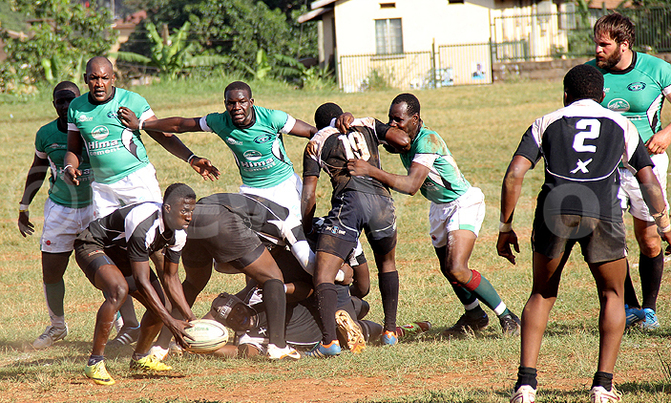 Heathens and Mongers had to sweat for their wins
Nile Special Premeir Rugby League results

Kobs 28 Gulu 0(Walk-Over)

Impis 11 Heathens 62

Rams 3 Mongers 36

Buffaloes 25 Warriors 6

Pirates 0 Rhinos 3

The Nile Special Premier Rugby League continued on Saturday with the top clubs Heathens, Betway Kobs and Sadolin Mongers winning their games.

Unlike Heathens and Mongers that had to sweat before for their wins, Kobs registered an easy victory without any sweat after their Opponents Gulu Elephant failed to turn-up citing failure to raise transport.
Rugby fans at Makerere Rugby grounds
This gave Kobs a 28-0 win earning them a bonus point to stay top of the table standings with 48 points, 5 ahead of defending champions Hima Cement Heathens who are in the second position.

Pirates on 36 points, are in third position after losing to Rhinos (28) on Friday who are in fourth position and Sadolin mongers are fifth with 26 points after 36-3 defeat of Rams.

In the Impis versus Heathens game at Makerere, Philip Wokorach scored four tries, seven conversions and a penalty, Asuman Mugerwa managed two tries while Evans Kingasia and Michael Wokorach managed a try each for Heathens.

Henry Nsekuye and Cyrus Ssebuliba managed a penalty each while Abbey Agum scored a try for Impis.

At Legends rugby Club, Pius Ogena, Kevin Keremundu managed a try each while Timothy Muyanja added a try, penalty and conversion to give Buffaloes a 25-6 win over Mutoni Warriors.

Buffaloes coach Edgar Lamerigar expressed dissatisfaction with result saying that his side was capable of getting a bonus point win.