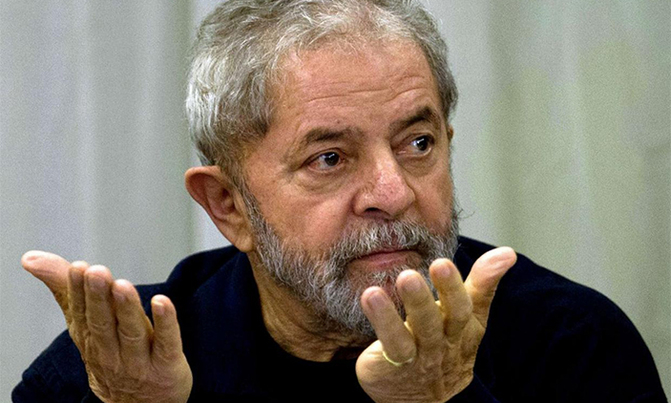 Officials said that a major sweep including detentions and searches of properties had taken place in three states
Police searched the home of Brazil's powerful ex-president Luiz Inacio Lula da Silva and detained him for questioning Friday in a probe into a huge corruption scheme.
Agents searched his house in Sao Paulo, the offices of the Lula Institute, and houses of family members and associates, said Jose Chrispiniano, a spokesman for Lula and his institute.
Prosecutors said Lula was being targeted as part of the Operation Car Wash probe into an embezzlement and bribery conspiracy centered on state oil company Petrobras. The corruption scandal, which has already seen a Who's Who of Brazilian politicians and businessmen face charges, is believed to be the biggest ever in Brazil.
Officials said that a major sweep including detentions and searches of properties had taken place in three states.
"About 200 federal police and 30 auditors served 44 warrants, including 33 warrants for search and seizure and 11 for detention for questioning," prosecutors said in a statement.
The operations in Rio de Janeiro, Bahia and Sao Paulo states involved probes into "corruption and money laundering, among other crimes practiced by various people in the context of the Petrobras criminal scheme."
Lula, who was president from 2003-2010, remains one of Brazil's most influential figures and his fate is closely linked to that of his successor, President Dilma Rousseff, and the future of the ruling Workers' Party.
Chrispiniano called the search, in which agents were backed by armed officers, "arbitrary, illegal and unjustified."
Web of corruption
The allegations against Lula center on a luxury seaside apartment and country house that authorities say were given to the ex-president as bribes.
"There is evidence that former President Lula received assets arising from the Petrobras scheme through the allocation and renovation of a triplex apartment and a site in Atibaia (as well as) luxury furniture," prosecutors said in their statement.
Lula denies ownership of the apartment and any involvement in the Petrobras scheme.
Prosecutors, however, said that beyond the immediate issue of the properties, they were examining Lula's wider role in the alleged Petrobras-related web of corruption enveloping the Workers' Party, the Lula Institute and also campaign finances.
"Former president Lula, beyond being party leader, was ultimately responsible for who would be the directors at Petrobras and was one of the main beneficiaries of the crimes," the statement said.
Acknowledging the extraordinary nature of a once hugely popular president being detained, prosecutors said: "It is not a value judgment about who he is ... but an investigative judgment based on facts and certain acts which are under suspicion."
"In a republic, even famous and powerful people must come under judicial scrutiny when there is a well-founded suspicion of criminal activity."
Bombshell report
The news came a day after a bombshell claim by a Brazilian magazine that a former close ally of Lula and Rousseff -- a senior Workers' Party senator who has already been charged in the Car Wash probe -- was preparing to testify against them.
Senator Delcidio do Amaral, who was arrested last November, was reportedly negotiating a plea bargain deal with prosecutors in which he would testify that Rousseff obstructed the Petrobras probe and that Lula had also been involved in the scheme.
The report, although unconfirmed, sparked a furious reaction from Rousseff's government and the president said in a speech that fighting corruption was her "first priority."
Both Lula and Rousseff are also facing political heat after the arrest of their former campaign manager, Joao Santana, who allegedly took money originally embezzled from Petrobras.
No allegations have been made officially against Rousseff in the Petrobras scandal. But she faces a growing number of other problems that could see her removed from office.
The former leftist guerrilla, who has become deeply unpopular as Brazil sinks into ever deeper recession, faces an impeachment drive in Congress over her alleged breaking of fiscal rules. She also is being investigated for alleged campaign finance irregularities in the electoral court.