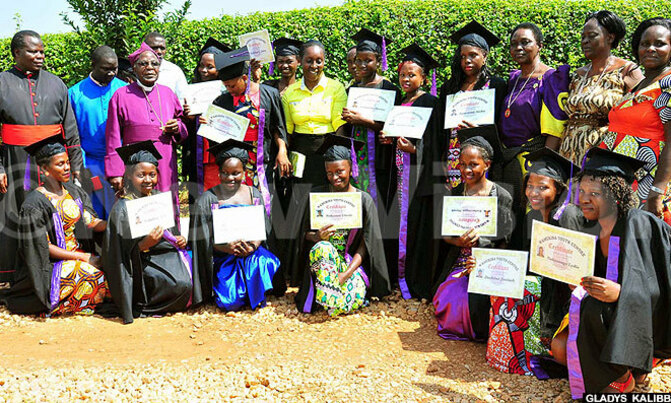 "Young mothers face risks of suffering complications like obstetric fistula – a hole in the birth canal caused by prolonged labour."
Every year, as many as 300,000 girls of school-going age get pregnant in Uganda, according to reports. And not many ever make it back to school.

In many schools, management does not accept them back and in other instances, such young mothers or mothers-to-be shun returning to school due to fear of being stigmatized.

It's even more complicated for those who get pregnant before even ever stepping in school.

Some will look to abortion as a way of escaping the kind of inevitable misery that would follow, including being driven out of home by frustrated parents. Some families believe that having their daughter conceive at a very early age is a disgrace.

Abortion can lead to death, but for those who go through the experience successfully, the life after is another sub-plot of a script of poverty. With nowhere to go, many raise their kids on the streets.

But who is to blame for all this? Some blame not only the girls but the entire society as a whole. Blame is also directed towards government - under the argument that it has not done much as regards sex education among the young generation, especially girls.

It does not help that some young girls are impregnated by their biological fathers and uncles.

And doctors highlight many challenges for teenage mothers.

"Young mothers face risks of suffering complications like obstetric fistula - a hole in the birth canal caused by prolonged labour," says Dr. Spire Kiggundu of Kisubi Hospital.

"They should also report to only trained health personnel not traditional birth attendants (TDAs) who cannot handle such complicated matters."

'A critical time'



The patron for Wamukisa Youth Centre, Allen Sekadde (wife to retired Namirembe Bishop Samuel Balagadde Sekadde), appeals to the public to give these young girls a second chance.

"Don't be so harsh to them, forcing them to commit other worse offences like aborting. This happens to be a very critical time - when they need love from their parents to guide them," she says of teenage mothers.

Wamukisa Youth Centre is located at Kitala village near Kisubi along Entebbe road. It cares for young pregnant girls until they give birth, all the while training them in different life skills during their stay at the establishment.

"We then resettle them back into their families a few months after birth. While at the centre the girls are trained in various skills like tailoring, hair dressing and cookery," explains Sekadde.

Opened in 2005, the centre has a capacity of 32 girls and has for the last 11 years cared for over 500 young mothers. "We recently received a girl of eleven years who has finally given birth but majority are between 14 and 17 years of age."


What teenage mothers say

Teopista Nayiga, 17, is among those who have already given birth at the centre. She admits she felt like running away on the third day of her stay at the centre.

"I was among strangers and I could not figure out what lay ahead of me. Later I realized I could not run away because my parents no longer wanted to see me while the boy responsible for my pregnancy had denied ever meeting me."

Nayiga was among those who graduated recently and was awarded a certificate in hair dressing plus making bridal wear. When she became pregnant two years ago at the age of 15, she dropped out of school.

But now after her delivery and the life skills she had received at Wamukisa, it was time for Nayiga to go back home.

Esther Lugolobi, the counselor at the centre, explains that many parents get so annoyed with their children after becoming pregnant and chase them away. "When we get them here, we approach the parents and counsel them. By the time these girls leave here the parents or relatives will have reconciled and ready to take them back."

On her part, Nayiga says her father finally allowed her to go back home but gave conditions which she could not meet.

"He was ready to receive me back as his daughter on condition that I leave the baby at the centre and go back alone. I love my baby girl so much that I couldn't abandon her."

She adds it was a very difficult decision to make between her baby and the parents she still loves so much. "I have not been home for the last two years and I miss my mum. Fortunately, with the bridal wear course I have mastered here and the startup pack I have been given, I am ready to start a new life," she says with an air of confidence.


Like Nayiga, all the 14 girls who graduated recently and got certificates had a lot of memories that had tears well up in their eyes.

One of them was Shalfa Namukuve from Namutumba district who remembered how her parents locked her outside every night for two weeks. "They were so annoyed that after discovering I was pregnant they could not allow me to sleep inside the house. For two weeks I was sleeping alone on the verandah every night until this centre picked me," she recalled.

Juliet Nakibuuka, another graduate, said tears "cannot stop when you see friends hugged by their parents when yours are too annoyed even to attend your graduation."

Some parents came for the graduation ceremony but those who are still annoyed with their children decided to stay away.

'Keep the standard'

Retired Namirembe Bishop, Samuel Sekadde who officiated at the graduation of these teenage mothers, appealed to their parents and relatives to forgive them. "They came here in tears where many did not know what the future held for them. Finally, they have received life skills, which is their way to more developments and so they need your support."


For these young mothers, with the skills they are now armed with, it is very difficult to imagine any returning home and fail to provide for herself plus her baby.

At the graduation, they wowed guests with the kind of clothes they had made like the African one widely known in Uganda as Kitenge. Bridal wear was also on display.

"Some of them are so good that they have already started getting customers in the centre's neighbourhood. We advise them to keep the standard and involve God in whatever they're doing," said Allen.

Different types of Kitenge dresses and shirts were shown to the guests while others showcased the Gomesi (Ganda cultural wear) that they had done themselves.

Those who had pursued salon training received hair driers plus other start-up items while for tailoring got sewing machines.

This year the cookery class did not graduate.

The girls expressed determination to go out there and start their businesses, and thanked the management of Wamukisa for giving them a second chance at life.