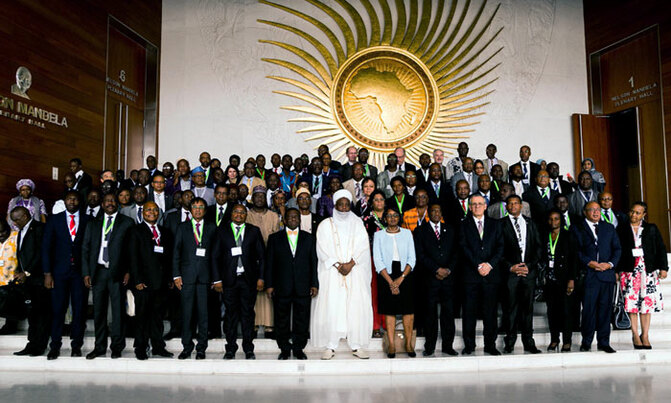 "We must work together to ensure the commitments we make in Addis Ababa translate into results."

African ministers meeting at the first ever ministerial conference on immunisation in Addis Ababa, Ethiopia, last week signed a declaration committing to prioritising immunisation as a means to reduce child deaths and disabilities, to achieve the continent's long-term development goals.

"Our children are our most precious resource, yet one in five fail to receive all the immunisations they need to survive and thrive," said Dr. Kesetebirhan Admasu, the Minister of Health for Ethiopia.

According to World Health Organisation, the infant mortality rate is still especially high in Africa though it reduced by more than half (53%) between 1990 and 2015.

A child born in sub-Saharan Africa is 14 times more likely to die before their fifth birthday than children born in developed regions. Yet more than half of under-5 child deaths are due to preventable and treatable diseases through simple, affordable interventions, among them vaccines.

"This is not acceptable. African children's lives matter. We must work together to ensure the commitments we make in Addis Ababa translate into results," Admasu said.


Egypt's minister of health, Ahmed Emad Eldin Rady, emphasised the role of immunisation in the fight against infectious diseases and highlighted the eradication of infections like small pox through vaccination.

Ahead of the conference, countries in the meningitis belt of Africa had celebrated the success of the MenAfriVac vaccine, developed specifically for Africa under a partnership of WHO, PATH, African public health experts and The Serum Institute of India.

Over 236 million people in the belt have been vaccinated since 2010 consequently eliminating Meningococcal meningitis A epidemics where the vaccine has been rolled out in countries at risk.

Africa is on the verge of celebrating another global health milestone. For more than a year and a half, there has been no case of wild polio virus in Africa.

"This is an incredible milestone for Africa, one thing experts told us would never be possible," Dr Matshidiso Moeti, the WHO Africa regional director said.

The polio virus is highly infectious and can cause irreversible paralysis in hours. For a country to be officially declared polio-free, it must go 36months without a detected case.

Moeti urged countries to remain vigilant so that Africa can be declared polio-free next year. She credited governments, health workers and local communities for the achievement.


Some children still missing out

Dr Moeti observed that Africa's progress on immunisation was in danger of stagnating and that a number of countries were off track in reducing vaccine-preventable diseases like measles, tetanus and rubella that were once thought to be on the verge of elimination.

Armed conflict, climate change and major disease outbreaks keep creating crises that make the continent's fragile health systems unable to meet the consistent demand for immunisation services.
Dr Seth Berkley, the CEO of GAVI, the Vaccine Alliance noted that measles vaccination was "getting off track".

He explained that to stop measles, immunisation coverage of 90 to 95% has to be achieved. He observed that countries tend to depend on campaigns that are low coverage and low routine. He therefore called for new ideas through modelling to identify and reach missed children.



Investment in immunisation makes economic sense

African ministers acknowledged that their countries were off track the Global Vaccine Action Plan target of at least 90% immunisation coverage and at least 80% coverage in every district for all nationally available vaccines by 2020.

In their declaration, the ministers called upon member states, partners, African regional communities and development banks to support the implementation of the declaration. They also urged them to increase their efforts to mobilise resources to strengthen national immunisation programmes.
Addressing the conference, David Bahati, Uganda's state minister of Finance for Planning said an investment in immunisation not only made economic sense but was a moral issue.

"An investment in health of our children is a major step in achieving the two main objectives of Africa's future namely prosperity and strategic security. I don't know of any financing for health with such a short term, medium term and long term dividends like immunisation," he observed.

He challenged African ministers to break the habit of making every other health initiative a priority.

"You come to the Ministry of Finance and say, 'HIV is a priority, malaria is a priority, infrastructure is a priority, cancer is a priority…,': While all this is about life, it is important to remember that our resource envelop is limited and can only handle a certain amount of money and budget at a time," he said.

He called for quick identification of innovative solutions to health financing including national health insurance schemes.


Vaccines cost

The cost of vaccines sparked off major debates throughout the conference. Ministers representing lower middle-income countries complained about the cost of vaccines. In their declaration, the ministers called for price transparency and the development of price databases.

Recent studies show that 7.4million of the 32million children who missed out on vaccines were from lower middle-income countries like Kenya and Ethiopia.

Sharing Libya's success at maintaining vaccine procurement amid a crisis, Reda'a Al Menshawy, the health minister highlighted the private sector's role in making vaccines available. He made a passionate plea to GAVI, requesting for UNICEF and GAVI prices for middle income countries in crisis.

Middle-income countries are not eligible to GAVI support. For poor countries, however, GAVI co-finances the cost of vaccines. As the economy grows, a country continues to pay more until it reaches a threshold of 15.80 USD per dose. By this time it is of middle income status.

"We cannot have GAVI prices for everyone or companies (vaccine manufacturers) will stop innovating," Berkeley said in reaction to the debate.

He explained that vaccines for poor countries are heavily subsidised at 20 US cents per dose. As countries' incomes improve, the subsidy reduces and cost per dose increases. He explained that when countries reach the threshold of $15.80 per dose, they are deemed ready to fully fund their immunisation programs but they are given a transition period of five years to get vaccines at GAVI prices.


Berkley urged countries to put in place budget lines for vaccines to be able to meet their budgets when they get to such a time.

He highlighted Rwanda's success at rolling out the HPV vaccine. The country has achieved 93% coverage of HPV immunisation, a rate higher than the US.

"We need political commitment. If US did it (emulated Rwanda) it would avert 50,000 deaths," he said.

Dr. Ngozi Okonjo-Iweala, former Finance minister of Nigeria who is also the Chair of the GAVI board observed that vaccines are one of the most cost-effective solutions in global health.

The Nigerian economist, who also served as the World Bank's vice-president and corporate secretary said that investing in immunisation programmes will enable African countries to see outstanding economic benefit.

"If we can ensure that all African children can access life-saving vaccine, no matter where they are born, we will have a golden opportunity to create a more prosperous future for communities across our continent," she said.