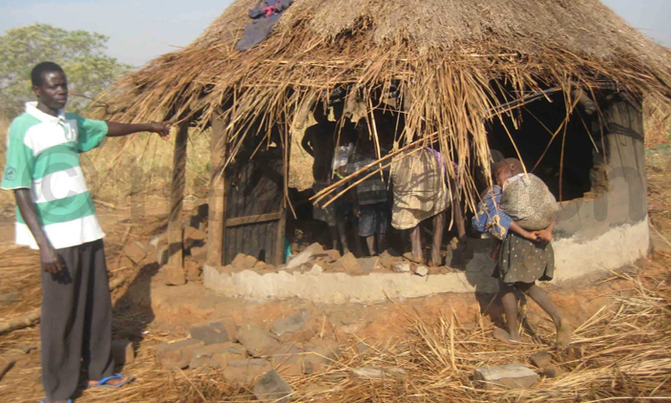 Some communities had gone for voting according to a source that preferred anonymity
Two people are being detained at Kiryandogo police station and 14 are still on the run following a botched eviction which left sixteen families homeless.
The police and resident district commissioner Linos Ngompek identified the suspects as Benjamin Mugenyi, the chairperson of Karuma Hydro Power local community organization and his father Tom Oweka.
The eviction occurred at Bedmot village, Mutunda Sub County after their houses were demolished last Wednesday.
Mugenyi, the owner of the land estimated to be 100 acres said he sold the land and the buyer gave him an ultimatum of only one month to have vacated the land, a period that was not enough.
To ease the burden, Mugenyi, Oweka and others used clubs and pangas to demolish the buildings on the land. The land was housing communities displaced during the Lord`s Resistance Army (LRA) war.
Some communities had gone for voting according to a source that preferred anonymity.
Those cited to having lost their huts were Sam Odoch, Tabu Taban, Milly Anek, Simon Obita, Margret Akot, Samuel Ongoda, Joseph Komakech and others.

Kiryandogo RDC Linos Ngompek confirmed the demolition which he said was made during an eviction exercise caused by a misunderstanding.

Bosco Oyaka Etila, 45, who is among the victims said he lost household items and food including shs36,000 meant for his children's school fees.
Oyaka explained that, the land in question was given to the IDPs for settlement in 1987 by Peter Opiyo Owor at the peak of the Lord`s Resistance Army war.
"The government evacuated us from Northern Uganda during the LRA war on invitation by the late
Opiyo Owor Otada," he said.
The RDC appealed to residents of Kiryandongo to remain peaceful because they will continue
staying together as one people.
The district police commander, Tashbia Juseus said he could not give further details on the arrests.