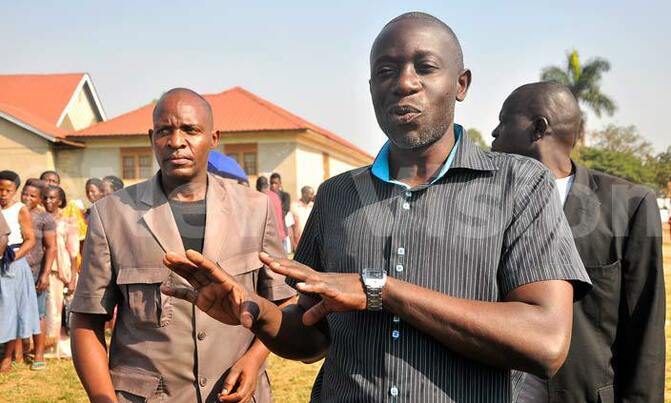 Mabirizi argues that according to his records obtained from agents countrywide and from colleagues with whom he cooperated in vote protection, the results announced by Kiggundu were and are a deplorable forgery
Former Presidential candidate Elton Joseph Mabirizi has demanded for a presidential vote recount for avoidance of doubt in the results recently released by the Electoral Commission.

In a statement issued on Monday, Mabirizi offers an annulment of the declaration of President Yoweri Museveni as the winner and preparations for his swearing in due in May be halted because never was.

"For the avoidance of doubt, a vote recount be conducted, as national demand, as there was no tallying worth its name at the national tally center at Nambole, but periodic announcements of forged results." Mabirizi said.

He said that although on February 20, the Chairman of the Electoral commission Eng. Badiru Kiggundu declared President Museveni the winner of the 2016 presidential elections, it was a shame because results from at least 1700 polling stations were selectively not tallied which could cause an impact on the final results.
"Mr. Museveni did not win this election. Besides Kiggundu's character, all reports from local and international observers have indicated the election was neither free and fair nor credible." Mabirizi said

Mabirizi argues that according to his records obtained from agents countrywide and from colleagues with whom he cooperated in vote protection, the results announced by Kiggundu were and are a deplorable forgery.

"The Independent Coalition and I reject these results. We consequently demand the immediate resignation of Chairman Kiggundu and his commissioners."

He proposed that to save the country and the petitioners from the huge expenses of a court petition whose outcome is not likely to be different from that of 2001 and 2006, an out of court settlement that involves a public hearing on the conduct of the 2016 Presidential election, during which all evidence of electoral irregularities will be presented and analyzed, be conducted.

He also seeks an interpretation and guidance from the Constitutional Court on the matter in the likely event that if the public hearing may not have been completed by May 2016, the armed personnel vacate the streets because their presence has created an atmosphere of intimidation, fear and siege in the country.

Mabirizi also demanded an immediate release of all people arrested on election related offences and those already remanded through the court system to be produced in court as soon as possible and be granted bond.

He also proposes the immediate removal of the blockade at the former Presidential candidate Dr. Kizza Besigye residence in Kasangati to guarantee his right of free movement within Uganda and abroad.

"Establish a Contact Group on the Post-Election Situation comprising at least two representatives from each Presidential candidate's camp, police, other security agencies, civil society, faith communities and other stakeholders to take care of emerging conflicts and security issues on a daily basis, during this period of uncertainty." Mabirizi said

He also suggests that the Elders Forum, Inter Religious Council of Uganda, National Consultative Forum, and Interparty
Organization for Dialogue jointly convene an urgent meeting of stakeholders to agree a minimum agenda for diffusion of tension.

"All stakeholders meeting should sign a declaration pledging peaceful resolution of the ongoing conflict and desist from inciting the public into actions that could lead to break down of law and order, as an amicable solution is being sought."

He congratulated the people of Uganda for turning up in large numbers to vote on February 18 to participate in the selection of their leaders and saluted the 23 former presidential aspirants who backed his candidature.

"Through their individual and collective effort, we were able to present our campaign messages and to receive votes from every single district of Uganda. We ran a very challenging campaign that lacked equipment and money. But we were efficient. We completed the race with honor." he said

Mabirizi said that although he didn't win the election, his group instead proved itself as frontline stakeholders in Uganda's democratic struggle.

"It is in this capacity that I issue this statement. We are not spectators. TIC and I are actors, and will continue to be, in the struggle for true democracy, justice and the rule of law to be established in Uganda." Mabirizi said