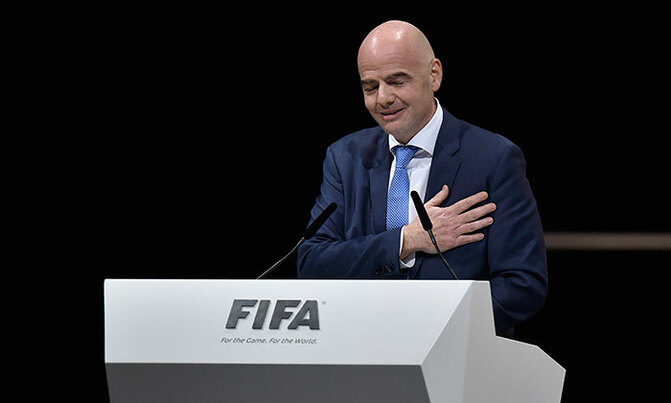 Infantino spoke briefly about his immediate plans to restore scandal-tainted FIFA's reputation.
FIFA's new president Gianni Infantino said Friday he was emotional and would take a short rest before working "tirelessly" to build a new FIFA that will make the football world proud.

"I have not yet realised what really has happened today," said the new head of world football's governing body, in his first comments after a convincing election win.

"I probably need a little bit of time to chill out," the 45-year-old executive at Europe's football confederation UEFA told journalists. "I feel a lot of emotions."

Infantino spoke briefly about his immediate plans to restore scandal-tainted FIFA's reputation, noting that with Friday's election, "a new era" had begun.

He said he will set to work on finding a secretary general, restating an election pledge that he would not choose someone from Europe, a decision likely aimed at creating regional balance within management of the global game.


The Swiss-Italian national was seen as the European candidate and faced a strong election challenge from the head of Asian football, Sheikh Salman bin Ebrahim Al Khalifa, who had solid backing from Africa.

He vowed to implement major governance reforms adopted ahead of his election at the FIFA congress in Zurich.

"We will work tirelessly, starting with myself," the shaven-headed lawyer said. "You will be proud of FIFA. You will be proud of what FIFA will do for football."

Asked about his former boss, UEFA's fallen president Michel Platini, Infantino thanked the French football legend for his support and "for the nine years of work spent together."

"I have a very strong thought for Platini at this moment, believe me," Infantino said.

He said he would have no trouble uniting the football world after an election that was evenly divided in the first round of balloting with Sheikh Salman receiving 85 votes against Infantino's 88.

"Today it was an election but not a war," Infantino said. "In an election you win or lose and then life goes on."

He touted his strong relationships across the football world and claimed he would be able to build a coalition of global support to reform the game amid widespread calls for an end to graft and greater transparency.

"I don't agree that football is divided," he said.