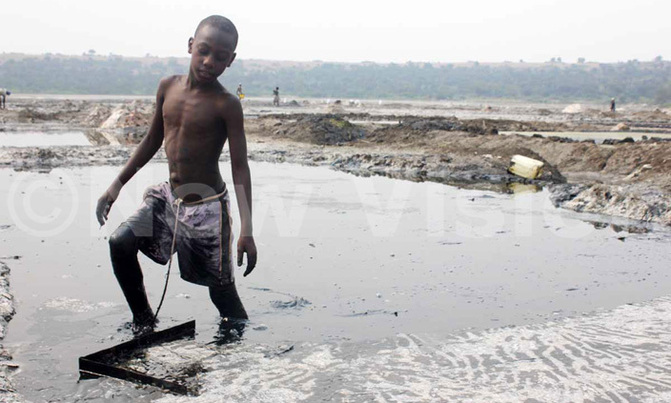 "We don't manufacture salt here neither do we process it but we depend on the natural salt which naturally forms within our pans and lake,"


For centuries, the communities in Queen Elizabeth National Park in Western Uganda have mined salt for a living.

It remains the main occupation in Bunyampaka where it still plays a significant role in many lives.

Unfortunately the archaic mining methods and climate change continue to be challenging and hazardous for the thousands of those doing it.

"I earn sh5,000- sh10,000 on a good day after working for five to eight hours," says John Mubere.

Even though he is of school going age, he is not enrolled in the Universal Primary Education (UPE) scheme.

"I use the money for rent and buying things that I need like food, clothes and medicine," added the lad with visibly cracked feet and palms.


In the past, miners would earn between 25,000 to 50,000 for the same amount of time worked.

Currently, salt traders come from nearby markets in Uganda and from other countries. In good times, salt miners make a reasonable income, earning more than $100 (sh340,000) in a week.

The production depends on the weather patterns.

"We don't manufacture salt here neither do we process it but we depend on the natural salt which naturally forms within our pans and lake," says a UWA guide Ruth Imalingat.

This traditional method is back breaking and low yielding.

"These are the man-made salt-pans and within them is where the salt forms naturally. And miners own pans individually, you own a pan like you own land at home - it's your property," added Imalingat.

"Bunyampaka translates to grumbling. People used to quarrel and even lose lives over partition ownership there."

Since the community is surrounded by Queen Elizabeth National Park, it remains the only occupation for communities.

Salt extraction has been a source of prosperity for decades, but today's miners work in appalling conditions.




"Only men mine rock salt from the waters. Women are culturally not allowed to stand in deeper brine because they can develop health complications," added Imalingat.

"I'm able to make enough money to feed and sustain my family of eight children," says Doreen Birungi, 40, who has been working as a salt miner for over 10 years.

"I come here at 8:00am and leave at 4:00pm with my husband," says Birungi.

"The salt yield has lately dwindled and become more unpredictable because of climate change. When there is too much rain there is not enough evaporation to produce salt."

The industry depends on high temperature which makes the salt form on top of the brine. After a duration of ten days it is washed before being taken to the market.

As the low prices continue to bite, Birungi and Mubere will have to do more work to earn what they used to three years ago.