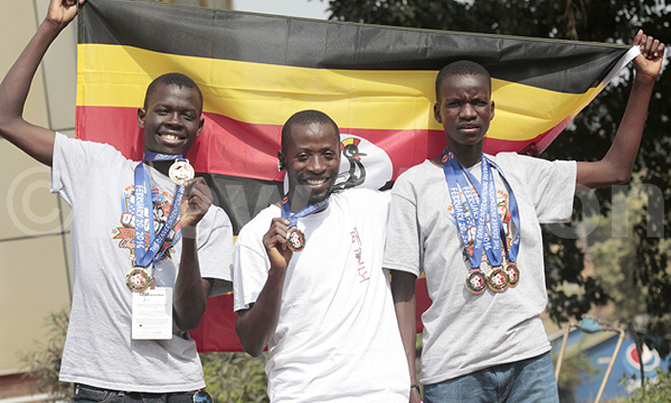 Uganda has never fielded any player in martial arts in the Olympic Games history
After exploits in the US Open Taekwondo Championship in Reno Nevada, coach Ahmed Bamuwayira strongly believes that Ugandan martial artists can shine in the Olympic Games.

Bamuwayira's assertions come following an outstanding performance of budding taekwondo artists Royson Okwera and Ocira Oswaldo who bagged five medals in the US Open last week.

Ocira Oswaldo, 14, scooped two gold medals in the main combat under 48kg sparring category and in exhibition sparring event. The junior martial artists also nearly stole the hearts of the judges with a show of movement skills in the pattern category but fell for silver.

Royson Okwera, 16, who featured in the cadet's category of the event, bagged gold in the combinations pattern and sparring event.

To complete the feat, coach Bamuwayira also stole the show for gold in the senior pattern form in the meet that concluded last weekend with teams from 30 countries in action.

The Ugandan team that was sponsored by Ethiopian Airlines together with coach Bamuwayira returned home on Tuesday.

Bamuwayira who led the two martial artists from the Sports Children's Taekwondo Academy in Mbuya says the US exploits shows that Uganda can strike honour in taekwondo in the 2020 Olympic Games.

Uganda has never fielded any player in martial artist in the Olympic Games history. And to coach Bamuwayira the new crop of players can change that fact.

"We have a very big potential in contact sports like taekwondo. The only problem is that martial arts has been neglected at the expense of other sports," the coach said.

"Given good investment, these boys can shine in the 2020 Olympics," added Bamuwayira.

Prior to the US Open, the Ugandan team that departed on January 20 had a 10-day training stint in Colorado in. Coach Bamuwayira credited the camp for helping his boys grasp the electronic scoring system.