Five countries, including Uganda are ready to conduct their campaigns in 2016. Uganda's campaign will be in the high risk areas in the northern part of the country.


If the slogan "Yes we can" was ever to come true, it did with the development, testing and roll out of the MenAfriVac vaccine for Africa. Global health experts have described the vaccine against meningococcal A meningitis as "one of Africa's biggest public health achievements".

Developed specifically for Africa with a collaboration of World Health Organisation, PATH, a non-profit international organisation and Serum Institute of India, one the world's largest manufacturers of vaccines; MenAfriVac vaccine has been a great success, eliminating deaths due to Meningitis A in the 16 most at risk countries where it has been rolled out since 2010.

For hundreds of years, the Sahel region and parts of sub Saharan Africa faced periodic meningitis A outbreaks at the beginning of the year when the Sahara desert winds blow southwards.

With MenAfriVac vaccine, there is near elimination of the deadly disease. According to a World Health Organisation press release, cases have gone from 250,000 in the 1996 outbreak to just 80 in 2015, in countries that have not yet conducted mass immunization campaigns.

"No case of meningitis has been recorded yet in vaccinated countries," said Dr Matshidiso Moeti the WHO regional director for Africa at the Meningitis Vaccine Project (MVP) closure conference in Addis Ababa on Monday.

Meningococcal A meningitis is a bacterial infection of the thin lining surrounding the brain and spinal cord that can kill and cause severe damage in a person within hours. The bacteria are spread from person to person during close or lengthy contact especially among people living in the same households.

According to the MVP, Group A meningococci is responsible for 80 to 85% of all cases of meningitis epidemics in Africa.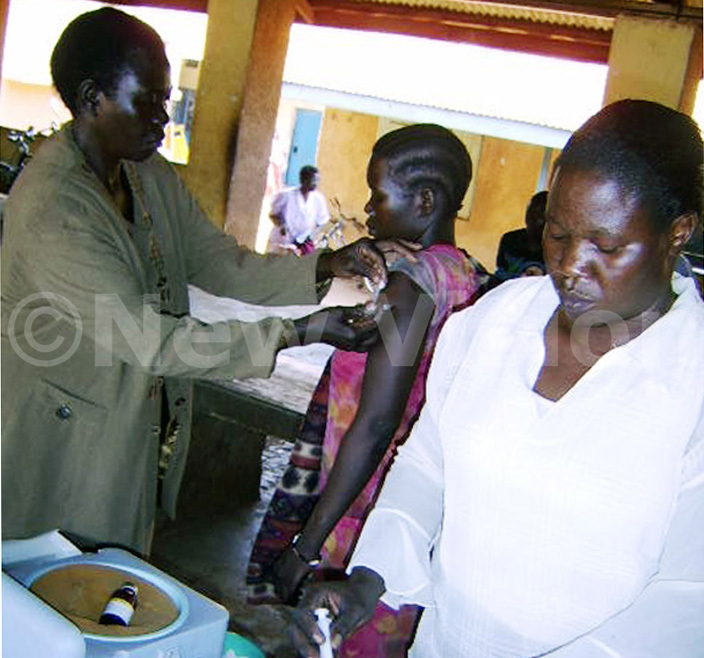 Medical workers from Gulu hospital vaccinate Gulu town residents against meningitis at Gulu bus park shade on March 23, 2006

Following the 1996 outbreak, that registered 250,000 cases and 25,000 deaths across the belt, African health ministers at a meeting in Ouagadougou in 1996 made an appeal to global health experts for a solution.

MenAfriVac was the first ever vaccine developed specifically for Africa and its development created a paradigm shift in vaccine development.

"For the first time Africa asked for an affordable vaccine," said WHO's Dr Amadou Fall.

"MenAfriVac was for the benefit of Africa so cost was a major factor. Before it had been about profits," said Peter Soukas, a technology licensing specialist, to a gathering of government officials, vaccine development and public health experts as well as international agencies representatives who met in Addis Ababa Ethiopia to celebrate the success of the vaccine and closure of the MVP project.

For sustainability, African leaders demanded that the cost had to be less than 0.50 US cents per dose. That presented major challenges. Big pharmaceuticals could not touch it at that cost.

"Manufacturers wanted a guarantee that whatever vaccine they produced would be purchased while African leaders wanted a guarantee on safety of the vaccine," revealed Dr Marc LaForce, the former leader of the project.

Inevitably initial negotiations failed. New partners had to be found.

Finally, the successful development of MenAfriVac vaccine was made possible by partnerships at different levels.

On one front was the "north to south cooperation" that involved transfer of technology from the United States to an Indian company, The Serum Institute. On the other hand was south to south cooperation between African epidemiologists and the Serum Institute.

The project cost USD 110million over ten years with the initial 70million being a grant from Bill and Melinda Gates Foundation. Additional funding came from DFID and USAID.

According to the MVP website MenAfriVac vaccine was developed at less than a tenth of the cost of a typical new vaccine.

Today over 255million doses have been given to people in 16 countries of the meningitis belt of Africa wiping out the disease in Benin, Burkina Faso, Cameroon, Chad, Cote d'Ivoire, Ethiopia, The Gambia, Ghana, Guinea, Mali, Mauritania, Niger, Nigeria, Senegal, Sudan and Togo.

Five countries, including Uganda are ready to conduct their campaigns in 2016. Uganda's campaign will be in the high risk areas in the northern part of the country.

Such success raises the question: Can this model be replicated for vaccines for Africa's other public health challenges?

Dr Suresh Jadhav who represented Serum Institute at the celebration said it was very possible.

The cost on the institute for developing MenAfriVac was only USD6.7million.

The Serum Institute has gone ahead to improve the stability of the vaccine at 40 degrees C for four days and this has already been rolled out for mass vaccination campaigns.

It is estimated that with the stability, the cost per dose per child has been halved to 0.24 US cents saving more costs.

Dr Fall says that under controlled temperature chain, there can be further gains reducing the cost per dose further to 0.12UScents.
However, there is a looming uncertainty over the sustainability of this success.

According to Fall, political instability, supply insecurity, financing shortfalls, outbreaks due to other meningitis strains can negatively impact results.

Dr Moeti, is concerned that these dramatic gains will be jeopardized unless countries remain vigilant.

The MVP through which 26 most at risk countries in the belt had their populations aged 1 to 29 immunised has ended.

Experts using a mathematical model estimate that if no subsequent immunization programmes are implemented after the large one-off vaccination campaigns, epidemics are expected to recur within 15 years.