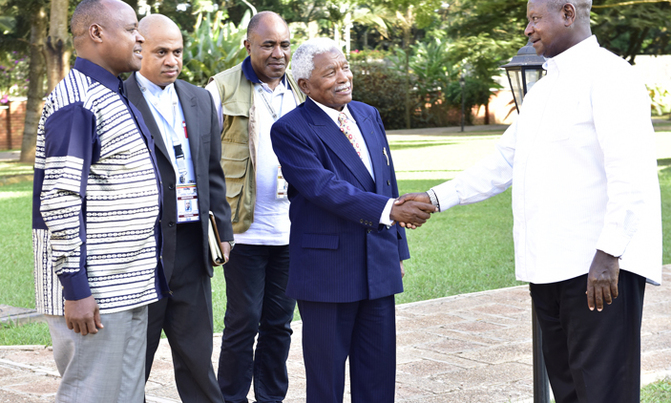 President Museveni and his guest discussed issues concerning the East African Community
Click here to get results in real time!
President Yoweri Museveni has received former Tanzanian President Ali Hassan Mwinyi who paid a courtesy call on him at State House, Nakasero.
The former Tanzanian leader is in Uganda as Chairman of the East African Community (EAC) Election Observer Team as the people of Uganda undertake national elections for President and other categories of leaders.
President Museveni and his guest discussed issues concerning the East African Community.
In a separate meeting with the visiting members of the European Union Parliament and Observer Team, led by the EU Chief Observer, Eduard Kukan, President Museveni said that Uganda is using human vigilance and thumb print reader so that the country has one person one vote in order to minimize election cheating.
President Museveni assured the delegation that the situation of violence that has been engineered by the opposition groups will be managed because the NRM government will not accept the interference with people's lives and businesses.
He explained to his guests that Uganda is a multi-ideological party country whereby the National Resistance Movement (NRM) is one among others.
He said that the Movement has created unity of the people of Uganda which has enabled the government to galvanize enough strength to bring peace in the country that has also resulted in development and wealth creation.
He observed that it is through wealth creation that jobs are generated. He, therefore, informed the EU delegation that the Movement government plan is to add more funds into the wealth creation sectors namely the NAADS, Women, Youth, Micro-Finance and Innovations Funds in order to solve household poverty and unemployment challenges that the country is facing.
The EU delegation also included Deputy Chief Observer, Marian Gabriel and the EU Envoy to Uganda, Ambassador Kristian Schmidt, among others.
Museveni also received and held a meeting with the African Union (AU) Elections Observer team, led by Justice Sophia Akuff, currently Judge of the Supreme Court of Justice in Ghana. She is a former President of the African Court of Human Rights.
He informed the AU delegation that Uganda has 28,000 polling stations in 112 districts in 293 Constituencies and 7,000 parishes.
The delegation included Tanzania's Ambassador to the African Union, Naimani A. Aziz, the African Union's Political/Electoral Officer and Coordinator of AU's Elections Observation Mission in Uganda, Idrisa Kamara, and the Deputy Head of Mission, AU Office at the UN Headquarters in New York, Adonia Ayebare, among others.