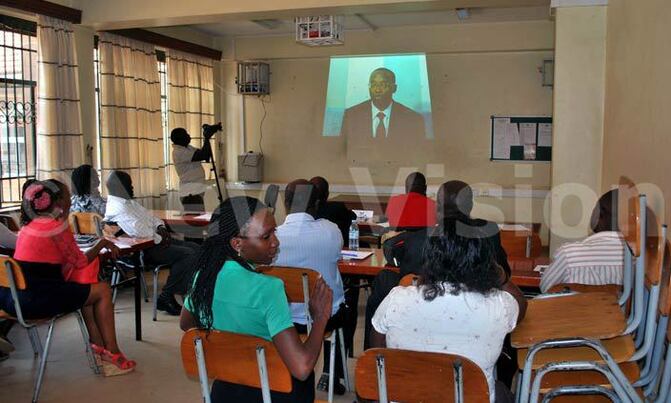 Uganda and Jomo Kenyatta Universities will have a transmitter and receiver set while Stellenbosch University will transmit via satellite
Makerere University School of Food Technology, Nutrition and Bio engineering has launched an E- learning Centre to support Food Science and Human Nutrition training at the University.

The Centre was launched in partnership with Makerere University, Stellenbosch University of South Africa and Jomo Kenyatta University of Agriculture (JKUA) Kenya.

It is aimed at helping Ugandan students receive transmissions from telematics transmission studios in Stellenbosch University during lectures while in Uganda.
"Stellenbosch University has been using this technology to conduct lectures for the past 20 years and this time it will be directly feeding Uganda which is embracing the technology for the first time," said Assoc. Prof. William Kyamuhangire.

Kyamuhangire, while speaking on behalf of the Principal Investigator of the project during the launch of the Centre at Makerere on Friday, said it will help in facilitating joint teaching between partner institutions.

"One of the components is to share information, human resources and infrastructure existing among partner universities and this will majorly benefit Masters and PhD students, "he said.

The project, he said, was procured under the European Union (EU) funded project titled, "Partnerships to strengthen University Food and Nutrition Sciences training and Research in Eastern and Southern Africa (PASUFONS).

"The curriculum has to be synchronized so that if a lecture is going on at Stellenbosch University, Ugandan students can receive it live and ask questions, "he added.

He revealed that the lectures can also be pre-recorded on CDs and sent to Stellenbosch to broadcast for other universities which don't have the broadcasting studios.

"Instead of students going to Stellenbosch, they will study at Makerere University. The benefits go beyond graduate students to academic and technical staff, university food and nutrition science departments among others, "he emphasized.

The Deputy Principal College of Agricultural and Environmental Sciences Assoc. Prof Gorettie Nabanoga described the project as an avenue where students at the graduate level will share lectures, research and innovations among the partnering universities without moving places.

"One of the challenges we are going to have is the infrastructure because this is web based training where we need a lot of infrastructure that is IT based, "she said.

She however observed that the technology will be a lot cheaper than having tickets transporting students and professors to visit other universities.

"This platform is able to demonstrate visually what an agricultural student should really see when they visit the field, interact and be able to participate without moving to the field but while in the classroom and be able to follow all experiments in relation to agriculture, "She added.

The in charge E-learning platform Makerere University, Okum Tito, said under the project, Uganda and Jomo Kenyatta Universities will have a transmitter and receiver set while Stellenbosch University will transmit via satellite.

Officiating at the launch of the Centre, the Deputy Director, Directorate of Graduate Research and Training, Prof. George Owinyi described Stellenbosch as one of the powerful universities in Sub Saharan Africa that has come up with a lot of innovations.

"The partnership with such a powerful university was based on Makerere good performance in research, Publications and being Number 3 in Africa, "he said