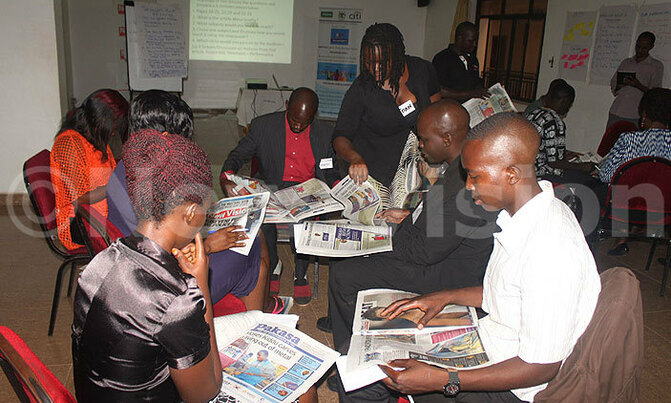 School children find newspapers captivating because they are current and have lots of educative information.
It was a back-to-school sort of scenario last Friday when over 18 teachers and educators from different schools were schooled on financial management and the use of newspapers as a teaching aid in classrooms.

The training held at Nob View Hotel, in Kampala was facilitated by the Private Education Development Network (PEDN) in partnership with New Vision under her Newspapers in Education (NiE) initiative through which Uganda's leading media house promotes literacy in schools through newspapers.

NiE is an initiative used the world over by media organisations and corporate bodies to promote literacy in schools through newspapers.



"School children find newspapers captivating because they are current, have lots of educative information and can therefore be used as effective teaching aids," said Dixon Ampumuza, Vision Group NiE boss.

He however stressed that newspapers are not supposed to substitute textbooks or the conventional teaching methods but to supplement them.

Ampumuza said children who are exposed to newspapers learn to read much faster than their peers who are not.


During the session that lasted much of the day, the PEDN team took teachers through crucial financial literacy tips like saving, planning for the future, budgeting and accounting for finances. These skills will be passed on to the students.

"Our aim is to ensure that teachers take the knowledge back to their schools," said Nixon Ochatre, the acting Executive Director PEDN.

He said that entrepreneurship and enterprise education are relatively new concepts in Uganda and therefore presents both an opportunity and challenge for PEDN to implement sustainably.

"This is why teachers are here to be ambassadors."

Over 18 teachers attended the workshop and they enjoyed every bit of the training that was practical and interactive.


WHAT THEY SAID

Leilah Mutebi Serwada, an education officer attached to Aggrey Memorial School said it was a big opportunity for her because she had been using the papers but did not know how to use them as a teaching guide.

Rodah Nuwagaba, a teacher at Universal High School Kisaasi said she has been using newspapers in her classroom but she did not know that she could use them for various reasons.

"It is from the training that I have learnt about the different uses of the newspapers. I have learnt that I can use them for entrepreneurship, accounting, literature, and many other things. I am going to make sure that I share these areas with my fellow teachers. I have learnt to save too."

Wilber Tindyebwa, also a teacher, said he has learnt that newspapers can increase student's interest and motivation by providing study materials relevant to their lives and in addition, it heightens teachers' interest in new teaching techniques and gives teachers and parents an opportunity to work together for the benefit of the students.