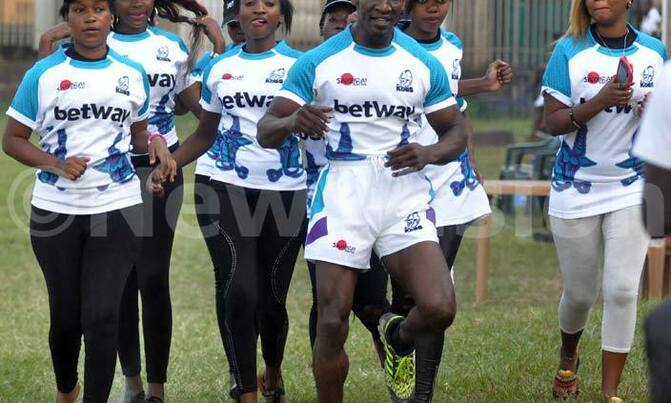 Golola's boxing coach Zebra Ssenyange believes his fighter will prevail over Tugume again
Main Fight

Moses Golola v Titus Tugume

Under cards

Sharif Bukenya v Rocky Dental
Michael Ngabo v Muhammed Muzeyi
Patrick Kasule v Julius Edopu
Isaac Ojok v Bwanika Mayanja

Titus Tugume had always thought he was better than Moses Golola until they met in an African Super Middle Weight title fight at Freedom City in 2013.

Then, the much hyped fight attended by a mammoth crowd failed to live to its expectations when Tugume was knocked out with the first punch of the evening from Golola; in the first few seconds of the ten-round fight.

In what turned out to be mind games ahead of the much hyped fight Tugume even paraded a coffin at one of the pre-event press conference which ''would be Golola's final resting place," but the fighter was lost for words after Golola knocked him out.

He thought it was 'unfair' for the match officials to deny him enough recovery time after the monster punch that saw him kiss the canvas and black-out for some seconds.

Despite the knock-out Tugume has since sought a rematch to prove he landed in Golola's 'lucky punch' with the fight on today at the Lugogo MTN Arena.

Today's rematch sponsored by Betway, offers Tugume a chance not only to avenge the earlier defeat but also to put to bed all the mocking words he has endured from different sections of kickboxing fans since that loss.

But Golola's boxing coach Zebra Ssenyange believes his fighter will prevail over Tugume again.

"Golola is in good shape. Tugume is a piece of cake for him. I want him to show that he is the better fighter by attacking Tugume. We anticipate he would be running around but we have devised a plan to encounter that," Ssenyange said after the way-in on Friday.

"I urge all my fans to come and witness another victory over my 'wife'. I even presented him a rose after weigh in which he rejected, so I will give it to him on Valentine day," Golola in his usual witty style said.

On the other hand Tumume's manager Emmanuel Kiwalabye was also breathing fire ahead of the fight.

"I have never lost a fight when standing in as Tugume's manager so we are ready for another routine win because we have prepared well," Kiwalabye vowed.