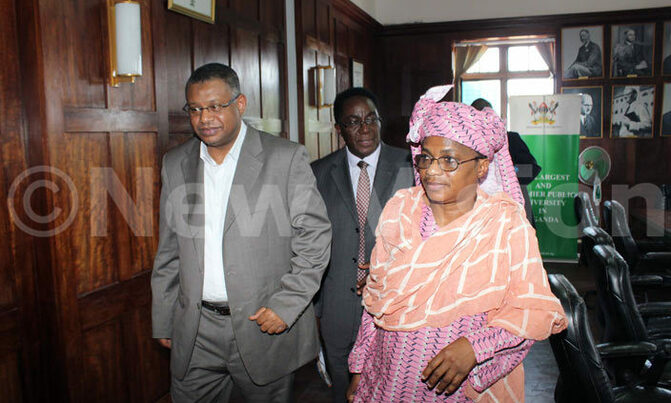 Before the scholar's death, a number of projects initiated to keep his legacy alive were facing financial constraints
The secretary general to Ali Mazrui Foundation has revealed that over sh69b is required to revive the late Prof. Mazrui's initiatives in Uganda.

Nuha Mwesigwa said that before the scholar's death, a number of projects initiated to keep his legacy alive were facing financial constraints.

"We need to honour and recognize Prof. Mazrui in perpetuity through funding the Mazrui Chair African heritage and Scholarship Endowment and the East African Ali A. Mazrui Centre for Global Studies at Makerere University, which later became Ali Mazrui Pan African Academy, together constitute the Makerere Mazruiana Project," he said.
Mwesigwa made the revelation at Makerere University during a two-day visit of Prof. Mazrui's widow, Pauline Uti Mazrui, on Thursday.

He said the Mazrui Chair and Scholarship Endowment will support national and internationally credentialed research professors and lecturers in teaching, research and writing at Makerere University for a specified period.

"The Mazrui Scholarship will support qualified interns, undergraduate and graduate research and post-graduate fellowships at Makerere University.

These will be focused on multi-and inter-disciplinary research and areas relevant to the educational and sustainable development needs and priorities of Uganda and East Africa," he explained

He explained that the Ali Mazrui Pan African Academy will complete the construction, equipping and furnishing of the current structure next to the Faculty of Social Sciences.

This was begun as an East African project of the Institute of Statistics and Applied Economics in the 1970s.

"The Ali Mazrui Pan African Academy will therefore be a 21st century state-of-the-art multi-storey complex housing the Mazrui Resource Centre—a state-of-the-art resource centre fully equipped with the latest information, communication and technology (ICT) and resources," he said.

Pauline Mazrui noted that she was in the country for a number of issues among which is to revitalize all the initiatives that were started to remember her husband.

"I believe and convinced that Makerere University being the cradle of the life of prof. Mazrui and Harvard of Africa can regain their past glory through research and publications," she said.

She added that she was not in the country to give out money but to work with individuals, institutions and government that natured her late husband.

"I am here to forge ways in which we can revitalize the initiatives that were formed before my husband. I pledge to source for friends who will help fund our projects," she said.

Prof. Ddumba Ssentamu, the university vice chancellor said the Mazruiana Project fits within the vision of Makerere University.

"To have a centre of academic excellence, providing world-class teaching, research and service relevant to sustainable development needs of our society," he noted.

Prof. Mazrui died in October, 2014 in Binghamton, New York, in the United States. He was laid to rest at his ancestral home in Mombasa, Kenya. Prof. Mazrui was a leading Pan-Africanist whose academic research focused on African politics, North-South relations and political Islam.

He authored numerous books, including The Africans: A Triple Heritage and Christianity and Islam in Africa's Political Experience: Piety, Passion and Power.

Prof Mazrui laid a firm foundation for Makerere University's Department of Political Science where he served as head of department and Professor.

He was also the first African Dean of the Faculty of Social Sciences at Makerere University.