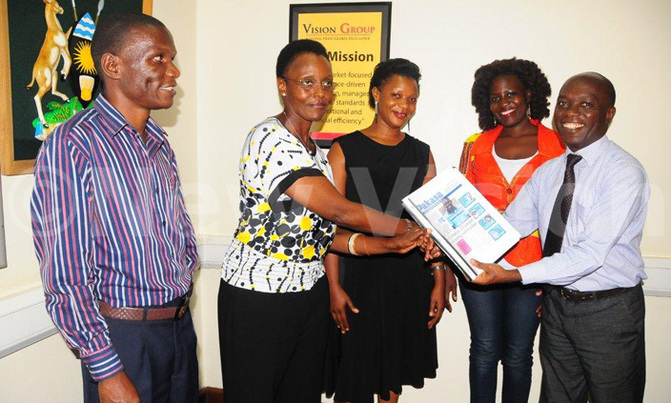 The Pakasa Youth Awards panel constitutes five reputed personalities in business, business support services and academia. Below Sebidde Kiryowa profiles them


Maria Odido
Odido is one of the top women entrepreneurs in Uganda. She was recently awarded the Order of the Crested Crane by President Yoweri Museveni for the work she has done with the farmers in West Nile.

She has business interests in many other areas top of which is real estate. Her Spectra International Real Estate owns Pan Africa House which houses Kampala Casino on Kimathi Avenue in Kampala alongside other prime residential properties in Kampala.

She is the Honorary Consul for Botswana in Uganda and chairs the Uganda Exports Promotion Board. She serves on other boards of private companies.

But she is perhaps better known beyond Kampala for her company, Bee Natural Products Limited.

The company, whose factory is located in Ediofe Mission Centre in Arua, controls 70% of the honey market in Uganda and are the second fastest selling honey in Kenya. They operate in the West Nile region in the districts of Arua, Nebbi, Yumbe, Moyo, Koboko and Adjumani. Our Factory is located in Ediofe Mission Centre in Arua.

They work with 1,200 beekeepers grouped into 15 members per group and employ 18 people 30% male and 70% mainly women with low education background whose income has gone a long way in helping them in their homes.

The company also carries out training for the beekeepers to encourage top good harvest methods. They introduce beekeepers to subsidised financing for their inputs. They also make beeswax sheets for hive baits; bees wax blocks for sale and candles for special occasions.


Diana Ntamu, Director, Entrepreneurship Centre, MUBS


Ntamu Diana presently heads the Entrepreneurship Centre at Makerere University Business School (MUBS), Kampala Uganda.

The Centre fosters entrepreneurship in the country through its various activities including training, provision of business information and research.

As the Director of the Entrepreneurship Centre, she is responsible for formulation of the strategic plan and its implementation. She has lead teams on research in the Centre and she is the Secretary of the GEM research team in Uganda which is the flagship of the Centre research.

She has in the past done research on family business, roadside markets and is currently doing research on women entrepreneurship, transgenerational transfer of family business, entrepreneurship and climate change. She has presented various papers out of this work at both local and international conferences.

She team taught a course in entrepreneurship on the MBA programme with Dr. Deb Bishop at Drake University, Iowa, USA in the spring of 2011. She is a member of the Institute of Small Business and Entrepreneurship (ISBE) in the UK and the Uganda Women Entrepreneurs Association (UWEAL) in Uganda.

She is a member of the East Africa Social Enterprise Network (EASEN) Uganda Chapter and a member on the Publicity and Membership Committee of the Private Sector Foundation Uganda (PSFU). She also serves on the Board of Advisors of AISEC, the world's largest student run organization that helps develop leadership potential of young people to have a positive contribution to their society.

She holds an MBA majoring in Entrepreneurship and Small Business Management and a B.A in Education from Makerere University, Kampala, Uganda. She has attended the Symposium of Entrepreneurship Educators programme at Babson College in the USA and has attended a leadership and management training course at the University of Oldenburg in Germany. She has attended various Trainer of Trainers programmes and workshops in creative facilitation and entrepreneurship education.


John Walugembe, Executive Director, Uganda Small Scale Industries Association (USSIA)
USSIA is a business association bringing together over 4000 value addition small scale enterprises in Uganda. Walugembe was recently appointed by the Prime-Minister of the Republic of Uganda as the Chairperson of the Policy, Planning and Research committee of the Reform Task force-Skilling Uganda.

He is a ministerial nominee to the Industrial Training Council (ITC) of the Directorate of Industrial Training (DIT) Uganda. He was also the Chairperson Panel of Judges for the Late Prof. James Mulwana Awards for Innovation and Entrepreneurship-organized by the Private Sector Foundation Uganda (PSFU). He has also been a judge for the ICCO Agri-business Challenge.

John is also a certified microfinance trainer with the World Bank Institute, a certified trainer with the International Labour Organization in women Entrepreneurship, a business mentor with Technoserve, a certified Financial Literacy Trainer with GIZ/Bank of Uganda.

He has accumulated a wealth of experience and expertise in the industry having worked as the Head of the Consulting Unit/Business Development Services Department at the Uganda National Chamber of Commerce and Industry (UNCCI) for seven years prior to his present posting. In this position, he championed the establishment of the Turkey-Uganda Business Council, South Africa-Uganda Business Council, and Iran-Uganda Business council among others.

Jonathan Kivumbi, senior teacher, entrepreneurship


Kivumbi is a senior secondary school teacher of Entrepreneurship education and economics at Uganda Matyrs SSS, Namugongo and St. Augustine's College, Wakiso.

Kivumbi is also a visiting teacher in a number of schools and a motivational/inspirational speaker who has spoken at a number of business and entrepreneurship seminars.

He is also an author who has written a number of text books on entrepreneurship education for both secondary schools and university.

He arguably authored the first text book on entrepreneurship education titled "The Truth Behind Entrepreneurship Education."



To nominate, members of the public should email the name of the deserving youth entrepreneur to pakasa@newvision.co.ug. They can also sms the word 'Pakasa' < space> nominee name and phone number of the entrepreneur < space> district and send to 8338.

Members of the public can also submit nominations to any Vision Group office around the country. They should give the name, type of enterprise and where it is based and phone number of the entrepreneur.

Young entrepreneurs can also nominate themselves.