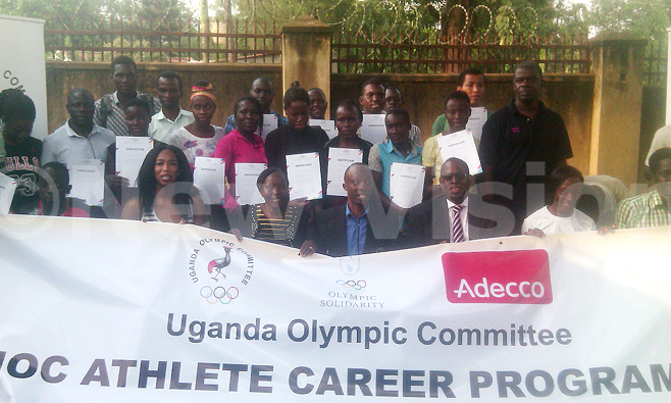 Uganda Olympic Committee has embarked on measures to help sportsmen prepare for post active time.
It is usually a pathetic story. The story of many Ugandan athletes in retirement is one that leaves many in tears.

After years of stardom, many sportsmen are left clueless on how to adjust to ordinary life. What follows is usually a life of squalor.

Uganda Olympic Committee has embarked on measures to help sportsmen prepare for post active time.

The campaign started on Tuesday with an International Olympic Committee athletes' career workshop.

The one-day workshop at the UOC headquarters drew 31 active sportsmen.

It was conducted by former Malian athlete athlete Tounkara Kady Kanoute and long distance legend Tegla Lorupe.

Participants were taught how to network, brand themselves and how to transfer sports values like competition, discipline and fair play into ordinary life.

"It has been a very worthwhile experience. I must say I have left the workshop a better person," stated national table tennis player Gilton Chelibe.

"It is important that sportsmen are also resourceful in retirement," explained Lorupe.

Kanoute is a member of the Association of National Olympic Committees of Africa (ANOCA) athletes' commission.

Lorupe, a multiple marathon champion, is classic example of a star who is making the best of her retirement.

She is a Kenyan is a global spokeswoman for peace, women's rights and education.

In 2006, she was named a UN Ambassador of Sport together with Roger Federer, tennis champion from Switzerland, Elias Figueroa, Latin American soccer legend from Chile, and Katrina Webb paralympics gold medalist from Australia.

She is an International Sports Ambassador for the International Association of Athletics Federations, and for UNICEF.

In 2003, Loroupe created an annual series of Peace Marathons sponsored by the Tegla Loroupe Peace Foundation "Peace Through Sports".

Presidents, Prime Ministers, Ambassadors and government officials run with warriors and nomadic groups in her native Kenya, in Uganda and in Sudan, to bring peace to an area plagued by raiding warriors from battling tribes.

In 2010 the Kenyan Government lauded her achievements as hundreds of warriors had laid down their weapons.

She has established a school (Tegla Loroupe Peace Academy) and orphanage for children from the region in Kapenguria, a high-mountain town in north-west Kenya.