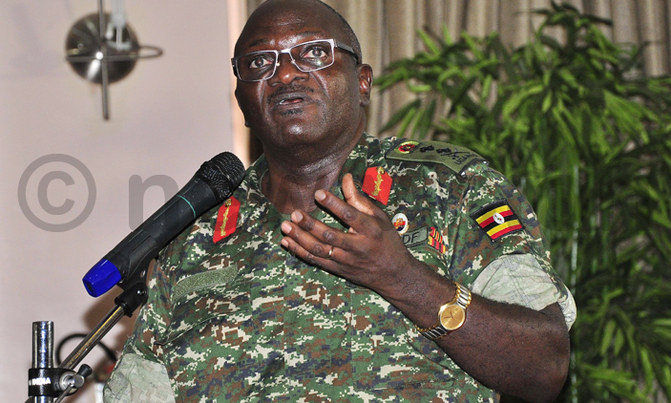 Gen Wamala revealed that the assurance of security of peace and security was necessary to strengthen the confidence of participants during general elections
The Chief of Defence Forces General Edward Katumba Wamala has said the institution of the army has a role to play during general elections to provide a secure environment to enable free and fair elections to take place.
"The army has a mandate to see that peace exist during general elections. Elections should be a competition where citizens choose leaders in a peaceful and secure environment. There will be confrontations but they should be contained within boundaries," Wamala explained.
This was during the 62nd State of the Nation Platform, a public forum for debate, organized by the Advocates Coalition for Development and Environment (ACODE) in collaboration with the UPDF Liberation Symposium and the Uganda Youth Network. The function took place at Imperial Royale Hotel on Friday.
Wamala revealed that the assurance of security of peace and security was necessary to strengthen the confidence of participants during general elections. He underscored that general elections poses significant challenges for effective security and all actors in the elections have a role to play to see that peace and security prevails.
He stressed that the army was not the lead agency to over-see security during elections. "We will back Police when called. There is a procedure on how we come in to support Police," Wamala said.
He noted that the security of an election was unique in any country it was being conducted owing to its history, policies and circumstances. He added security system had started detecting people being intimidated in communities during elections and this should not be allowed to happen.
Katumba explained that the role of the army was not only fighting but participating in development activities overcoming disasters, peace building, farming and wealth- creation. He cited that the UPDF needs earth moving equipment because during disasters and road construction, this is where they get used. He wondered why MPs cut the army's budget for bull dozers asking what they will be used for.
He emphasised that peaceful elections cannot be held without peaceful and secure youth. "The future belongs to the youth. We have to engage the youth. Youth can create peace. The youth can be manipulated to cause instability," he said.
Wamala pointed out that Uganda was not ending on February 18th during the voting day. "It is (the Election Day) is an event, it will pass. Uganda must continue after the elections. You have one country here, Uganda. I do not belong to two countries, some people do. We should not envy Libya, Syria".
Adding: "The last thing I want to see is Ugandans crossing borders because of chaos or people killing each other like it happened in Kenya. Let us remain peaceful like it was in Tanzania, let us not cause ripples. We can go through the elections peacefully".
Lillian Bagala, executive director Uganda Youth Network said the youth are usually divided and used by politicians. "We want the youth to unite for development. We want to engage with the security to understand their role in the February 18th elections," Bagala said.
Bagala observed that change of individual can come through dialogue and not through civil disobedience and confrontations. She said the youth are made to believe that change comes through confrontations and some are wondering whether they should turn up to vote.
Dr Arthur Bainomugisha, executive director ACODE said Africa was rising and conflicts were ending. Bainomugisha said if conflicts were ending the army should be transformed into productive forces.
"The roots of conflicts in Africa include unemployment, weak states, poverty, marginalization, culture of violence, small arms and light weapons. We should change the view that Africa hopeless to Africa is hopeful. Trade, communications are actually rising in Africa, giving hope," he noted.
Prof. John Kabudi, lecturer political science, University of Dar Es Salaam made a presentation entitled: 'The survival of the African state and elections in Africa: The case of Tanzania'. In the presentation he said foreigners expected Tanzania to descend into civil war during last year's elections which would have proved their fears that African states cannot hold peaceful elections.
Kabudi,a soldier who participation in the over throw of Idi Amin, hinted that Uganda can draw lessons from Tanzania's experience during elections. "I don't believe in the philosophy that one shoe fits all. Each county has its own peculiar experiences and challenges".
He said the anxiety during the recent elections in Tanzania has roots in its history where the colonialists created a state which had tribes which were made to fight and dominate each so that they could be divided and ruled.
He recalled that former president Julius Nyerere's philosophy of uniting all Tanzanians, having them speak one common language Kiswahili and national service is what has kept Tanzania united. He said in last year's general elections tensions arising from religion, tribe and money were issues that came up.
He highlighted that the rural people were responsible for results of last year's elections in Tanzania. "The rural people are smart and not ignorant, they elected President John Pombe Magufuli," Kabudi said.
Kabudi said in previous elections candidates that were expected to win did not win. He added that Magufuli did not use money; "What that means is that money cannot make you president".
Kabudi explained that Tanzania's experience shows that the principle of one united nation can survive through tumultuous situation. "Personal interests and money should not be allowed as a factor during elections. Leadership is a service not an entitlement," he noted.
He proposed that East Africa should have a harmonized day for elections, because elections in one country can cause fear and near standstill in the region.