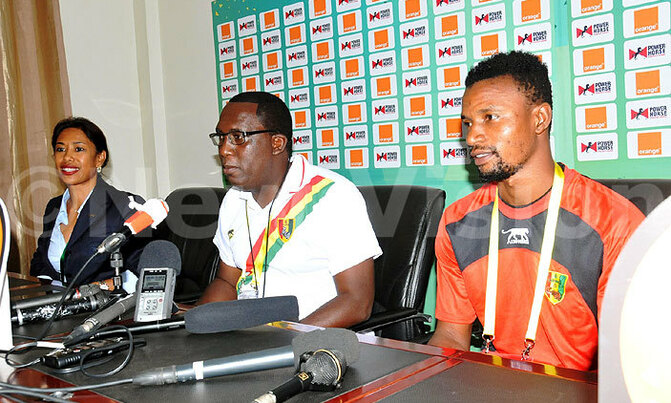 "It is a tough game but with the right mental preparation, we will be able to get the required result."
Guinea coach Mohamed Kanfory Bangoura has promised to limit DR Congo's fast paced game by defending them tight and not allowing them to pass at will.

The National Elephants take on Congo in the first semi-final of the Africa Nations Championship (CHAN) at Amahoro Stadium.

"We respect all our opponents and we know that Congo plays a very fast game and then attack strong, said Bangoura.

"We will counter that by putting up a defensive block and then attack when we have the ball so that we create many chances."

The tactician said what they are currently working on is the mental strength of his players as a means of taking this encounter as any other normal encounter.

He also ruled out that they were very tired after going all the 120 minutes before ejecting Zambia 5-4 on penalties in the quarter-finals.

"We might have the technical ability and credibility to take on the team but the mental preparedness is what we needed more and we are doing everything to see that our team is mentally ready.

"It is a tough game but with the right mental preparation, we will be able to get the required result."

Guinea skipper and goalkeeper Abdoul Keita said the team is prepared and they need victory today.

Keita, who made two saves and then scored the winning goal against the Chipolopolo, was in buoyant mood.

"We are going out to enjoy our game."


We expect a tough game - Congo coach


Meanwhile, despite the absence of striker Heritier Luvumbu, DR Congo coach Florent Ibenge understands that a tough game awaits them when they take on Guinea.

Luvumbu, who has been the team's playmaker and a dependable forward, has been ruled out of Wednesday's game due to a knee injury.

At a press conference, Ibenge said that they have a team of 23 able players who are talented and ready to prove themselves and they will be out to showcase their talent against a tough Guinea outfit.

"It is not easy to play without Luvumbu, one of the best players in the tournament but be rest assured that we have players that will replace him and we will put up a good game."

The Red Devils tactician said that playing Guinea will be more difficult as they have tall players who are good at holding the ball and breaking.

"We are playing a team that is more difficult but we will go on and enjoy our best. We have good players who are experienced in playing under such conditions at club level and we will carry on that experience to the field."

Captain Joel Kimwaki also admitted that Luvumbu's absence is a setback but that they will get a way of dealing with it.

"We want to win and we will give it all our best," he said.


You may like to read this

DR Congo dump hosts Rwanda out of CHAN