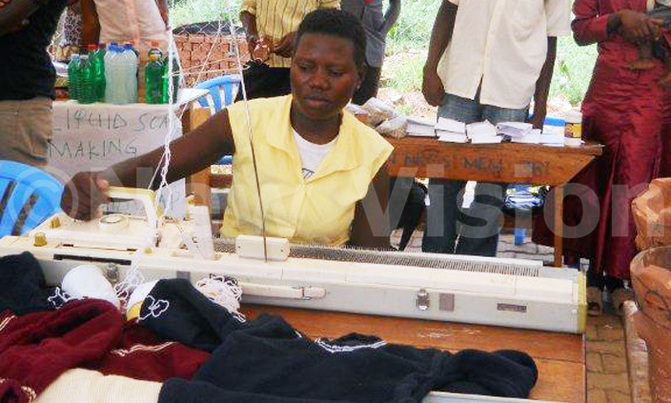 Today, Nakanjako who has only been actively making sweaters for a few months makes sh400,000 and counting a month
Martha Nakanjako, 19, a nursery school teacher in Nama sub-county, Mukono District, had a passion for making sweaters since she was a child.
However, she was constrained by lack of resources to acquire the requisite training. But lady luck shined on her when Mentor Coach Empower Uganda (M.C.E Uganda), a social enterprise that works to enhance economic development through equipping youth with leadership and entrepreneurship skills, brought their programmes to Nama.
Today, Nakanjako who has only been actively making sweaters for a few months makes sh400,000 and counting a month writes Jovita Mirembe.
Earlier life
Born to Godfrey and Jane Makula of Nvanvu village in Nama sub-county Mukono District, Nakanjako is the 6th born in a family of seven.
She enrolled for a Certificate in Early Childhood Development after her S.4 which she completed in 2014.
"Educating all of us was not easy since our father was a primary teacher and our mother was a house wife," she says.
"However, luckily enough, our father strived hard to ensure that each of us had a chance to pursue a professional course after S.4 because he did not have enough money to pay our way to university. He figured that would help us acquire jobs or start our own businesses as a means of livelihood."
Consequently, after her S.4, Nakanjako enrolled for a two year certificate in early childhood development at Mirembe Community College, Busiika, which she completed in 2014.
She immediately got a job at Wilton Preparatory School, Mukono, at the beginning of 2015.


Around February last year, M.C.E Uganda came to Nama sub-county where Nakanjako lives and introduced its programme to the community through the local council of the area called the Leadership, Entrepreneurship and Apprenticeship Program ((LEAP), an initiative supported and funded by Kono Learning Centre(KLC) and implemented in partnership with MCE Uganda.
The LEAP experience has been designed to prepare youth that drop out of school for productive community life by equipping them with marketable skills to start enterprises or find employment and thrive in the employment market.
Under this programme, youth are educated in a skill which they feel can help them start projects to improve their livelihoods as well as create jobs for other people.
Although Nakanjako was not a school dropout, she enrolled for the initiative.
"I always had a passion for sewing sweaters so I told the MCE Uganda that I wanted to acquire skills to operate a sweater-making machine.
They took me on and within three months, I was proficient," Nakanjako says.
Starting business
With savings from her salary as a nursery teacher at Wilton Preparatory School, Nakanjako, bought a second hand sweater making machine at sh200, 000 in April last year.
"I started walking to various schools to get tenders to make their school sweaters. From the deposits they paid out to me, I bought threads. To date, I still operate the same way. The payments are completed when the sweaters are sold off," Nakanjako says.
Pricing
Nakanjako sells a sweater for a child in baby class at shs13, 000 at whole sale price (if the school is buying the sweaters in bulk to sell to the parents) and at a retail price of sh15, 000 (when a parent buys directly from her).
She sells a sweater for pupils in classes P.1 to P.5 at shs15, 000 (whole sale) or a retail price of sh17, 000.
A sweater for a pupil in P.6 or P7 goes for sh17, 000 (whole sale price) or a retail price of sh20, 000.
For secondary schools (S.1-S.6) a sweater goes for sh25, 000 (wholesale) or at retail price and sh30, 000.
Revenues
Nakanjako, however, says that she prefers getting tenders from primary and kindergarten schools because it does not cost her a lot of thread and time compared to the secondary schools which takes time and a lot of thread.
Challenges
"Marketing my products is still a problem. I have to walk from door to door to get new clients. This is very tiresome yet it is not as productive because sometimes I can go a whole month without getting a single order all the work I have put in notwithstanding. That can be frustrating," she laments.
Being new in the business, Nakanjako says she has to struggle twice as much to get by because her customer base is still limited.
"This small clientele means my earnings are still relatively limited. I am still new in the field and have few customers. That means I cannot make enough to rent my own premises. That is why I do my work from home which is far from the main road," she says.
"Since I teach during the day, I can only start working on the available orders after I leave school in the evenings, during weekends and holidays. This is so exhausting because I rarely get any time to myself. I need extra man power to help me balance teaching and this project. Unfortunately, I cannot do that now because I don't have the money to pay them," she says.
Plans
-I hope to buy more sweater-making machines especially the electric ones, in the next five years. I expect the volume of the projects to have significantly increased by then. Those machines will enable me to complete the work in time," she says.
-She plans to diversify into other products ranging from scarfs, women and baby clothes, all made from sweater material.
-As the business grows, I hope to employ some man power to assist me in executing my duties which will enable me take on larger projects.
-I have plans of starting and registering a school to impart sweater- making skills in young people so as to uplift the community the away it was done for me.
Advice to fellow young entrepreneurs
"Never despise small beginnings because it is from these that you
grow. Rather than wallow in self-pity because you do not have enough,
start with what you have," she says.


What others say
Solomon Kayiwa Mugambe, director MCE Uganda
Martha is a hardworking person who is also focused. When she starts on a project, she takes it on up to the finish line. We trained young people before they started their projects and she was one of those who excelled and showed competence.
Jonnah Musimenta, director, Wilston Preparatory School, Mukono, client
Notwithstanding the fact she is just starting out, Martha's sweaters are of good quality. The feedback we get from parents who buy them is that they of superior quality. That is very reassuring. I have no regrets about choosing her as our supplier of school sweaters.
Harriet Namukwaya, teacher, Ntaawo Junior School, client
Martha recently made me a sweater. When I showed it to my sister who is the proprietor of Ntaawo Junior School in Mukono, she appreciated the quality and workmanship. She immediately awarded her a contract to supply the school. There have been no complaints from the parents.