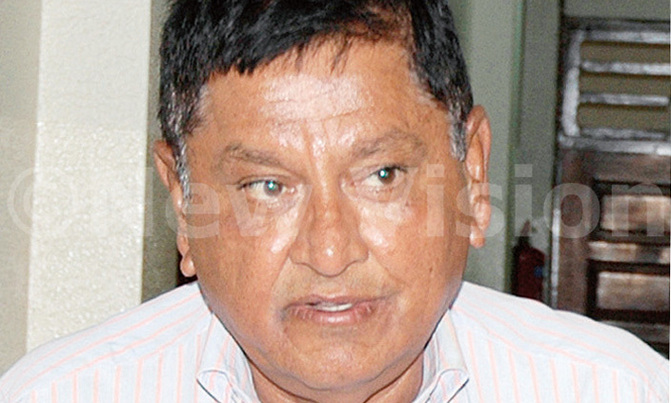 This follows a petition filed by three biological children to the late Ziba Nanyonga Hirji (aka Charm), who was married to the Imperial Group of Hotels proprietor.


By Betty Amamukirori


The family court has summoned a hotel mogul and businessman, Karim Hirji, to file defence in a case where his step children are accusing him of selling their mother's properties.


This follows a petition filed by three biological children to the late Ziba Nanyonga Hirji (aka Charm), who was married to the Imperial Group of Hotels proprietor.


They are Linda Birungi, Ronald Birungi and Anita Birungi. Nanyonga married Hirji when she had the three children and bore him another three.


The court summons seen by Sunday Vision, gave Karim 15 days to file his defense, lest the case is heard and decided in his absence.
The summon was sanctioned by the courts' deputy registrar on January 13.


The case was filed on December 31, 2015 through Kwesigabo, Bamwine, Walubiri Advocates and Kalenga, Bwanika, Ssawa Advocates.


In the petition, the trio accuses Karim and his alleged longtime employee Joseph Ssempebwa of forging their mother's will and illegally taking over and selling off their inheritance.


The properties in question are in the UK and Uganda.


They include residential flat at 7 Roffrey Court 9 Swynford gardens, Hendon Central and residential premises at 69 Chesterfield Road Enfield Middlesex, all in the UK.


Those in Uganda include;


Ziba Building, 10.76 hectares of burial grounds at Kiwala, Gayaza, Jenina building in Nansana, Block 243 plot 107 and Block 243 plot 4 Luthuli Avenue, Bugolobi, Block 10 house No. 13 and 14 at Kiyindi zone Nakulabye and properties at Kiira and Mawanda Road, Kampala.


The trio accuse Karim of converting the deceased's property into his names as an absolute owner, misappropriating monies in both her accounts and children trust accounts, and proceeds from her life insurance policy, for his own benefits.


In total, the accounts under contestation are seven bank accounts in the deceased's names and three trust accounts in her children's name. They are in Barclays bank, Luwum Street and Kampala Road branch, Bank of Africa and Imperial Investment Finance Limited.

THE CASE

According to the trio, while still alive, their mother took care of their welfare. They say their mother acquired property in her names.


In January 2004, she fell sick and was admitted to Cromwell Hospital Kensington in the UK.


According to them, the deceased's perception and state of mind were greatly impaired and she was unfit to make a will.


They allege that during their mother's sickness, Karim fraudulently withdrew $102,967 (sh358.6m) from her account leaving a balance of $9,172 (sh31.9m).


They allege that when their mother died on February 8, 2004, Karim and Ssempebwa secretly petitioned court for a grant of probate over her estates and it was granted on November 19, 2004.


However, the trio says the accused used a concocted will to obtain the grant of probate. A probate is a legal document which confi rms that the executor has the authority to deal with the deceased person's assets.


The trio also claim that upon obtaining the probate, the accused embarked on a fraudulent scheme of conversion and sale of the deceased's property without accountability.



"He withdrew all the money on the deceased's accounts and our trust accounts and acquired proceeds from her life insurance, for his own benefi t," they said.


WHAT THEY WANT

The trio want court to declare that the document exhibited by Karim as the deceased's final will is not valid.


They want an order revoking the grant of probate held by Karim and Ssempebwa over their mother's estate and instead grant them letters of administration.


They further want an order for a recovery of the estate property that was fraudulently converted by Karim to his names and want an account of their entire mother's property.

Karim could not be reached for comment.