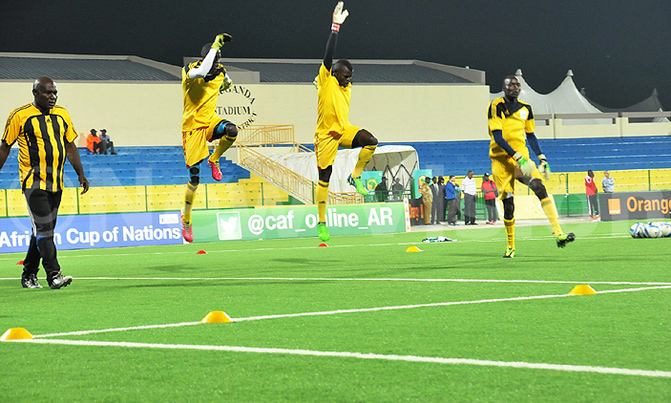 Cranes coach Micho Sredejovic must work out a formula that will restore Farouk Miya's belief
CHAN tournament

Live on SS9/GOTV
Today, 7pm
Uganda v Mali
January 23
Uganda v Zambia
January 27
Uganda v Zimbabwe

Cranes' primary objective at the Africa Nations Championship (CHAN) is to progress to the knock-out stages of the tournament.

That, in itself should be a fair achievement, considering the fact that Uganda has fallen short in the previous two championships held in Sudan and South Africa.

But if that's to happen, the Cranes will need to do two things.

They will have to register a winning start against Mali at the Rubavu Stadium, but also avoid any unnecessary disciplinary issues that might have far-reaching consequences in their subsequent matches against Zambia and Zimbabwe.

On paper, and as far as international football is concerned, Mali should be outright favourites in Group D. The Malian U-17 team made the FIFA World Cup fi nal, while the senior side has been remarkable in recent Nations Cup tournaments.

But equally impressive or even more dangerous, are Zambia and Zimbabwe.

The two Southern African sides are not only familiar with Ugandan football, their record in the Africa Nations Championship speaks volumes.

Both Zambia and Zimbabwe have made the semi-final stages of the competition, the Chipolopolo in 2009 and Zimbabwe's Warriors in 2014.

The Zambians also strengthened with the inclusion of 2012 Nations Cup winning captain Christopher Katongo and former Orlando Pirates star Isaac Chansa.

This is precisely why Cranes must deal with Mali, gather maximum points to ease any nerves that might come during their most challenging and ultimately decisive fixtures against Zambia and Zimbabwe.
Who is Mali?

Just like Cranes, the Malians are making their third appearance at the championship. Just like Cranes, the Malians finished bottom of their group in Sudan (2011). Just like Cranes, Mali was also far better in the second championship in South Africa (2011).

In the 2011 championship, while Cranes managed their first win at the tournament —the 2-1 win against Burkina Faso —Mali's Eagles reached the quarterfinals before their heart breaking 2-1 quarterfinal defeat to Zimbabwe.

Just like Cranes, the Malian Eagles are determined to register a winning start.

To achieve that, Mali coach Djibril Drame chose to strengthen his side with three players that guided Mali to the final of the U-17 World Cup.

The Cranes will need to work out a strategy that will frustrate attacking midfielder Sekou Koita, and find a way past defender Abdoul Karim Dante and goalkeeper Samuel Diarra in the event that Drame opts to start the three teenage stars.

"You must think of yourselves as soldiers, as warriors. We are putting our trust in you. You must fight like true warriors," Dante said last week.

In South Africa, the Eagles were impressive in the group stages.

The West Africans outclassed Nigeria in a 2-1win , fought from a goal down to hold hosts South Africa to a 1-1 draw before edging Mozambique 2-1 in their final group game.

On the contrary, the Cranes, failed to make it out of the group stages, but took pride from their performances in the championship.

They stunned Burkina Faso, drew goalless against Zimbabwe before collapsing to a 3-1 defeat to Morocco in their final game.

But it's the performances in all three games that captivated everyone.

The Cranes produced performances high on defensive quality, commitment and organization -three elements that -if replicated -could prove decisive in their game today.

For Cranes to earn a momentous win, the team will definitely have to play out of their skins. And they can. The key to success will be defending well like they did in the two friendly games against Gabon (1-1) and Cameroon (0-0), and create enough chances that will allow the team's veteran strikers Geoffrey Sserunkuuma, Robert Ssentongo, Caesar Okhuti to blossom.

Attacking revelation Farouk Miya appears to have lost confidence.

Cranes coach Micho Sredejovic must work out a formula that will restore the youngster's belief and bring the best out of Muzamir Mutyaba -a player with decent qualities to win a game.