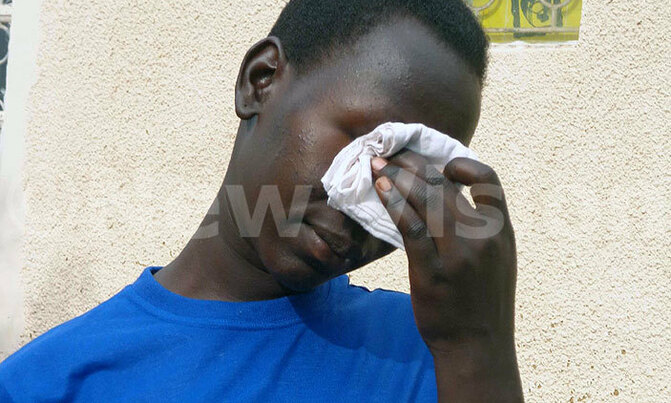 Fiona Akello's parents separated in 2004, leaving her mother with the burden of raising seven children.
Tears rolls down her face uncontrollably as she narrates why she failed to sit the Primary Leaving Examination (PLE) last year.

Fiona Akello, 18, sobs but eventually recomposes herself and tells of how her father abandoned her together with her six siblings in the hands of her mother who could not cope up with paying school fees for all of them.

Akello is one of 89 candidates - 30 boys and 59 girls - who missed sitting the primary level national exams for various reasons in Oyam district.

"I get lost of words when I think about the anguish my mother is going through to raise us," she tells New Vision.

She registered to sit her exams at Iceme Primary School in Iceme sub-county, Oyam district.

Her parents, Patrick Ojok, a driver working with Oyam district local government and Grace Apio, a housewife, separated in 2004, leaving the mother with the burden of raising seven children.


"I tried my best to concentrate on my studies, I registered as a candidate but the school demanded sh75,000 as school dues and sent me back home. My mother could not raise this amount of money as my younger sister was also sent back home for sh60,000," she recalls.

The fourth child in the family then decided not to sit for PLE after realizing that even if she sat, the school would still detain her results. She instead opted to learn tailoring at Lira market in order to start raising money to help her younger siblings.

Family struggles

Akello's mother, who is 42, is taking care of two girls and five boys aged between 20 and seven, plus a grandchild aged two.

Now a single mother and a peasant resident of Ocol village, Apio tearfully narrates how she has struggled to raise her children since her separation with their father.

Her son sat O'Level exams at Ngai Secondary School in in 2014 and his property was confiscated by the school after he failed to clear the school dues.

"Because of lack of money to pay school fees, my other daughter dropped out of school in Senior One [S.1] and was defiled and impregnated, adding me more burdens," says Apio.

Sylvia Omodo, the headteacher of Iceme Primary School, says the school accepted Akello to sit the exams but that she declined saying there was no money to pay school dues.

Investigations underway - DEO


Jaspher Opio, a candidate of Amido Primary School in Loro sub-county, also missed his examination.

The school's headteacher, Paul Opio, says Opio was staying with his elder brother who was displaced from Olilim sub-county in Otuke district during the peak of cattle rustling in 1988.

Last year the brother decided to resettle back in Otuke, leaving Opio with no place to stay in Oyam.

On his part, Oyam district education officer (DEO) Norman Okello says the district is still investigating why the candidates missed their examination.

Okello says a report he is getting is that some girls were married off while some parents kept their children at home to help them in their gardenS.

Oyam is one of the districts in Lango that performed poorly in last year's PLE. The district got 82 pupils in division one, 1,148 boys and 511 girls in division two, 913 boys and 676 girls got division three, 406 boys and 333 girls' got division four, 222 boys and 299 girls failed.

In 2014, an Uwezo Uganda assessment in the district revealed that three out of 10 children assessed in Primary Seven (P.7) were unable to read and comprehend a Primary Two (P.2) level story and do P.2 level numeracy tasks up to division level.

The DEO attributes this to the high number of pupils in lower classes that make it difficult to teach. "In such cases, the teachers are more involved in class control than teaching," he says.