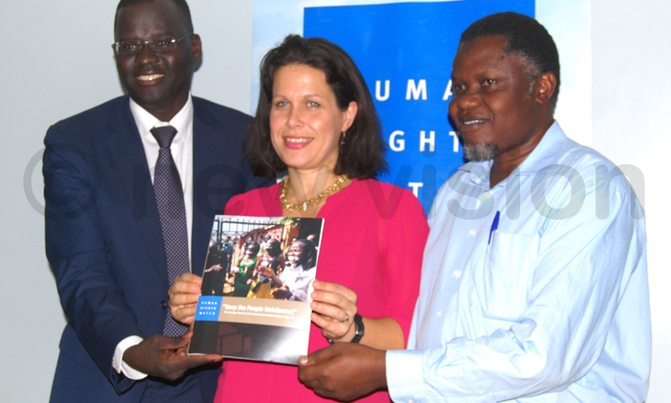 Human Rights Watch noted increasing pre-election threats to free expression and association which do not create an enabling environment for free and fair elections
IN a new report released by the Human Rights Watch (HRW), various state agencies have been faulted for interfering with the media to muzzle dissenting views as the country prepares for the forthcoming general elections.
In the report titled Keep the People Uninformed, the body implicates Police, Uganda Communications Commission, and Resident District Commissioners as the leading state agents in issuing threats against media houses that avail their platforms to the opposition politicians and civil society activists.
Citing various incidents like closing out opposition presidential candidates from various radio stations, the Human Rights Watch noted increasing pre-election threats to free expression and association which do not create an enabling environment for free and fair elections.
"Fair elections require a level playing field in which all candidates can freely campaign and voters can make informed decisions. It is not possible for Uganda to have fair elections if the media and independent groups can't criticize the ruling party or government leaders without fear," said Maria Burnett, a senior researcher at Human Rights Watch.
In the course of compiling the report, the HRW interviewed more than 170 journalists, activists, members of political parties, government officials, and witnesses to specific events across the country.
The body observed that the upcountry radio stations most of whom are state owned or owned by people within government have faced the biggest threats from government agents.
HRW states in the report that journalists have been suspended under government pressure and radio stations threatened for hosting opposition members or when panelists expressed views critical of the ruling party.
Reference is made to radio show hosts in Jinja in July 2015 and Hoima in April 2014 who were suspended after FDC presidential candidate Dr. Kizza Besigye had been hosted.
"When guests or radio hosts have made statements deemed critical of government, journalists have received phone calls or visits from government representatives, threatening them wiring or suspension and closure of their media organizations," the report states.
It is also noted in the report that besides muzzling the media, government has clamped down on civil society organizations particularly those working on human rights like voter education and oil sector transparency.
"Staff members of these organizations said like media houses, they faced visits from the police, summons by RDCs, and in some instances, closure of their meetings. These actions violate free association rights and obstruct access to information," Burnett stated.
As part of the panel that discussed the report, Haruna Kanaabi, the executive director of Independent Media Council, said, "Freedom of Media and Expression is pivotal in having free and fair elections. We used to have Bimeeza programs but they were banned. Amama Mbabazi's show he had paid for on Radio Karamoja was stopped. We are seeing more and more unnecessary interference which clearly shows that the ground is not leveled."
Human rights lawyer Nicolas Opiyo said, "The public broadcaster (UBC) has become a one party broadcaster. Their coverage about others is usually negative. They need to be brought to order because they are run by taxpayers' money."
According to the Electronic Act, UBC is required to give equal space to all presidential candidates, which is not happening.
The chairperson of Parliamentary Forum on Media Mariam Nalubega said, "I condemn acts of state agents gagging the media. Candidates whose rights have been violated can seek redress in courts of law."
Asked why he has not acted when opposition candidates have been closed out of some radio stations, the executive director of UCC Godfrey Mutabaazi said, "Nobody has reported such incidents to us. Our work is not to police media houses. If anyone submits a complaint, we shall act accordingly."
Regarding the HRW report implicating UCC for also issuing threats against media houses, Mutabaazi said, "I don't agree with that report. They could also be biased."