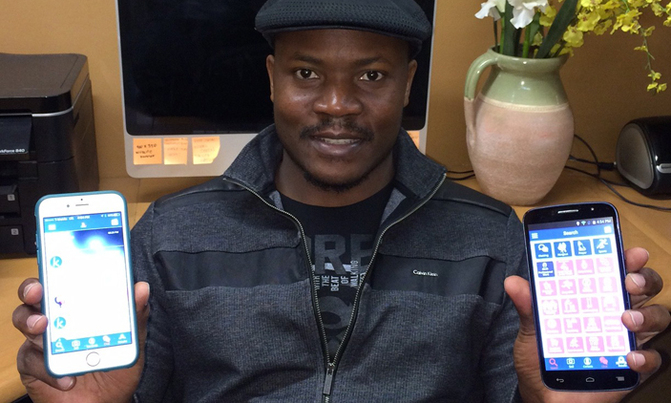 Kwiksy is a global market for on-demand services, where you tap one button on your phone and they come to you
35-year-old Christopher Menya is a pacesetter. The US-based Ugandan is the founder of the Kwiksy, a multipurpose mobile app.
What exactly is the kwiksy app all about?
Kwiksy is a global market for on-demand services, where you tap one button on your phone and they come to you. These services are built on a messaging platform.
Once the user logs in, Kwiksy presents them with a simple interface that looks like your typical messaging app such as watsapp, messenger, viber or skype. From this messaging screen, the user can do a number of things.
You can easily navigate through to order for someone to pick up your car for an oil change or a car wash and bring it back. You can ask someone to come to your house and fix a plumbing issue, pick up or drop off a package, have a babysitter or laundry person come over, have pet services come to your house, get someone to shop your groceries and drop them off or even have a manicure or pedicure person come to your house.
All this can be done with only two taps from the messaging screen.
When and why did you come up with this app?
It was in 2015, after selling my old company, which was dealing in software. I live in southern California. My aim of developing this app was to make it easy for Africa to integrate with Western mobile commerce applications in the on-demand services space.
It also helps the youth to get these jobs and work at their own pace. It opens up their possibilities to users all over the world through this app.
What have you achieved since you started?
We have partnerships with Discover Card Networks (a credit card/method of payment used in the US), local mobile money providers and banks in the US (for payments). We have the app on both android and iPhones. We have raised a few rounds of capital already and are growing steadily.
Are there problems with copycats?
In the US, we have filed patents, but locally it is the execution that would make it hard for any copycats. It is very tough to build it out.
What other challenges do you face?
Obviously, user-adoption, especially when you introduce a new way of doing things in a new market.
How about the payments? Do you make losses?
Kwiksy has a built-in payment system that seamlessly integrates with the leading financial services providers. These include a bank, Discover Card and electronic checque payment processing services. All these together ensure that funds are moved from one user to another in real-time.
The users will click "Start" to get the tasks started and when done, click "Stop". Once you click "Complete Task", the funds are instantly moved from the payer to the service provider's account. This peer-to-peer functionality allows subscribers to send money to both subscribers and non-subscribers right from their chat screen.
A number of established players like Facebook have tried to venture into the peer-to-peer payments space, but none pulls it off as seamlessly as Kwiksy. But we have no intentions of being a direct competitor to the already established players in the segmented On-Demand, Messaging or Peer-to-peer payments space.
Rather, as an alternative. With Kwiksy, users do not have to install as many apps. For every service, they need to get on a learning curve, they have to install another app.
How is someone supposed to trust service providers they have never met arriving at their house?
The service providers on Kwiksy have to undergo a rigorous background check. Another interesting and trust-building component Kwiksy offers is the fact that it lets you know the nature of relationship you may have with the provider before they come to you.
Before you choose the provider, kwiksy will notify you whether they are your friend, a friend of a friend, belong to the same social group or a complete stranger.
Are you happy with what you do?
(Laughing) Very happy. I could not imagine myself doing anything else.
Where do you see kwiksy in the next five to 10 years?
A global household name and in probably five years' time, it will be trading on the US Stock Exchange Market.
Do you think people in Uganda will easily adopt it?
It is a trend that will pick up. We have our work cut out for us in that regard.
Do you work alone?
Kwiksy Incorporated is a full-fledged company. I work with a number of people, including a few Ugandans, like Paul Mugabi in Uganda and Joseph Begumisa in Los Angeles.
Was this something you ever dreamed of as a child?
I always wanted to make stuff. But computers were not yet prevalent when I was a kid, let alone mobile phones. I studied mechanical engineering at Makerere University. Later, I started out as a web designer/programmer. Mobile development was just a natural progression – from the web to the phone.
COMMENT FROM USER
ARTHUR NTOZI: I have used the Kwiksy app for the last three months. It is powerful. As a family man, it is convenient for me. It is like walking into a virtual mall or market place and you know basically what service is where and where to get it from. What Chris Menya did is more than just about him. It is bringing businesses even for other people.