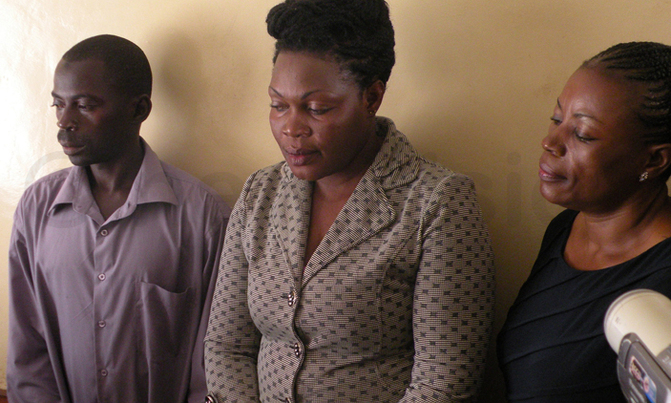 Kasiwukira was knocked dead by a speeding car while jogging alongside the road in the morning of October 17 near his home in Muyenga
THE High Court has directed the prisons to produce Sarah Nabikolo Ssebunya, widow to slain businessman Eriya Ssebunya alias Kasiwukira, before the new head of the Criminal Division, Justice Wilson Masalu Musene.
According to the orders, Nabikolo who is currently remanded at Luzira Prisons over the murder of her husband is expected to appear in court on February 8, before a judge for her second bail application to be heard and determined.
In her application that was filed last year, Nabikolo attached two medical reports, one from Nakasero hospital and the other from Murchison Bay prisons, to justify the need for a temporary release. The reports indicate that she suffers from hypertension, HIV/AIDS, diabetes and abnormal Liver and Kidney function.
According to Dr. Edward Dumba who prepared the Nakasero report, and is her personal physician, Nabikolo's health condition requires that she observes a special and strict diet and stays away from stressful conditions, something she cannot attain in the prisons.
The medical superintendent Murchison Bay Prisons, Dr. Joseph Andama, said that her health condition has continued to deteriorate despite her being on treatment and ARVs.
He also stated in his report that Nabikolo tested positive to abnormal kidney and liver functions and that her CD4 count and viral load has dropped low, a medical condition he says signifies treatment failure.
Her first bail application was rejected by the then High Court Judge Jane Alividza for failing to prove exceptional circumstances warranting her release, mid last year.
Nabikolo is jointly charged with her younger sister Sandra Nakungu and a police man Ashraf Jaden formerly attached to Muyenga police post.
It is alleged that Nabikolo and others on October 17, 2014 at Muyenga Diplomate Zone, murdered Kasiwukira, her husband who subscribed to Kwagalana group, an association of Kampala tycoons.
Kasiwukira was knocked dead by a speeding car while jogging alongside the road in the morning of October 17 near his home in Muyenga, one of Kampala's posh suburbs.
Eye witnesses said that the killer car had parked alongside the road and that the driver upon seeing Kasiwukira, ignited the car, drove towards his direction at a slow speed and upon reaching him, accelerated ran over him.
The car then allegedly drove off towards Kabalagala. The number plate was however, not identified. A post-mortem report established that the cause of Kasiwukira's death was due to multiple crash injuries.
During the trio's committal the High Court to stand trial last year by Makindye Court, the prosecution said they will prove at the hearing that Nabikolo killed her husband after he had brought home supernatural powers locally called 'mayembe'.
The prosecution explained that the 'mayembe' were demanding for a blood sacrifice of herself or her children, a tricky situation that compelled her to organise for the murder of her husband first.
Meanwhile, the hearing of the case in the high court is still pending.