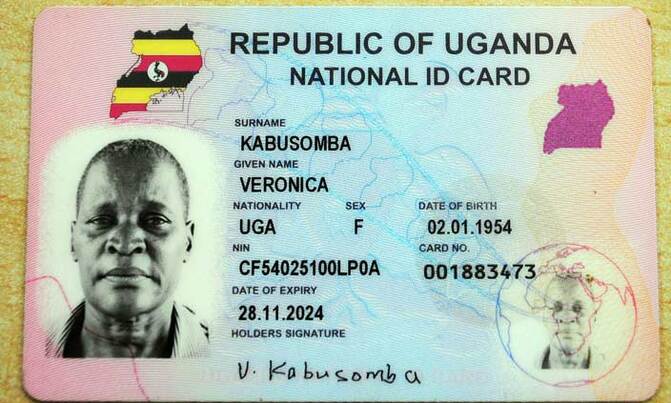 "Many people do not have these cards and they are worried they may not be able to vote. The citizens want their cards."
Members of Parliament have expressed concern over delayed issuance of National Identity Cards to people who registered for them in 2014.

The MPs argued that whereas the IDs will act as the voters' cards in the forthcoming general elections next month, millions of people have not yet been given their IDs.

The concern was first raised by the Speaker of Parliament Rebeccca Kadaga who said, "Many people do not have these cards and they are worried they may not be able to vote. The citizens want their cards."

Parliamentary commissioner and Wakiso woman MP Rosemary Sseninde said, "I want to add my voice on the concern regarding national IDs. In my district, people are not accessing their cards. Others are charged money to get the cards. The elderly and people with disabilities cannot be tossed up and down."

Jinja Municipality MP said, "Many voters are being disenfranchised. In the old register which the EC discarded I had 41000 voters and in the new one extracted from the ID data I have only 26000 voters."

Busiro East MP Medard Ssegona said, "A district like Wakiso stretches to the islands beyond Entebbe and you tell someone to go to Wakiso where the district headquarters is. Government is simply disenfranchising Ugandans. The register extracted by the Electoral Commission from the national ID data is not backed by law."

But the Attorney General Fred Ruhindi explained the Registration of Persons Bill which was passed last year provided for the use of the data by the electoral commission.

The minister for internal affairs Rose Akol so far 16m Ugandans have given their IDs and 2million are yet to get their IDs.

"The balance of the 2million is majorly within and around Kampala," Akol said amidst murmurs from mostly opposition legislators who wondered why people in hard to reach areas could get their IDs before those in and around Kampala.

The minister explained that distribution of the cards had been taken to district headquarters because the ministry did not have funds to continue paying the temporary personnel who were helping them to the do the work at the sub county level.

The issuance of the cards started in December 2014 and was supposed to be completed before the end of 2015.

Kadaga made a directive that the minister comes with a comprehensive statement on what government plans to do for people to get their IDs.