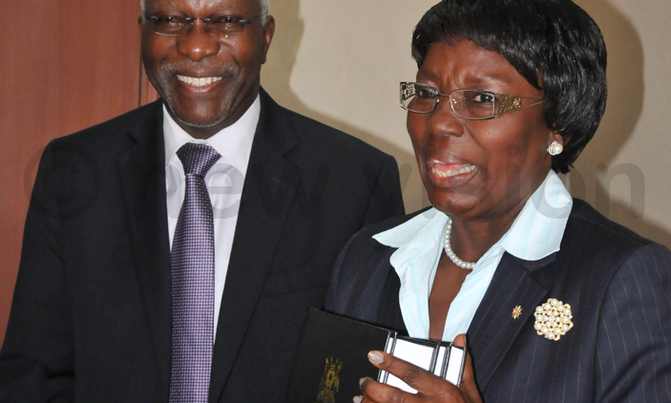 The money owed to individuals by government had reached sh4.3trillion compared to sh4.1trillion in 2014
THE Auditor General has expressed concern over the rate at which government is losing cases and the amount awarded in form of compensation.
In his audit report released on Wednesday, John Muwanga said the costs have reached unsustainable levels.
According to Muwanga, as of June 2015, the money owed to individuals by government had reached sh4.3trillion compared to sh4.1trillion in 2014, creating a heavy burden on public resources.
He proposed government to examine the issue further, with a view of establishing the likely causes to facilitate Government arrive at a sustainable solution.
During audit, the auditors observed that the ministry of finance paid sh53b to several individuals without a court order to the ministry's permanent secretary although claims were supported by other documents.
The accounting officer however explained that he had obtained a legal opinion from the Attorney General indicating that it was lawful for the Secretary to Treasury to make such payments from Treasury Operations.
The report for the year ended June 2015 was handed over to the Speaker of Parliament for discussion.
During the meeting Kadaga thanked Muwanga for meeting the deadline for the submission; she wondered when the committee would discuss the report.
"Every time I present the reports to plenary, I ask when they will look at them?" she said.
The report also shows that over sh80b advanced to several government staff, service providers and remittances to districts for various activities remained unaccounted for by the end of the financial year contrary to the Public Finance Management Act 2015.
The auditor said delays in accounting for funds may encourage falsification of documents.
In the area of petrol reserves, the auditors discovered that whereas government in 2012 signed an agreement with a private petroleum company to keep ensure 12m litres of fuel is available all the time, inspection of the strategic reserve facility at Jinja in September 2015, only 274,000 litres of petrol and 331,000 litres of diesel in stock compared to the required stock.
"My assessment is that the stock build up is not being achieved and consequently the national petroleum reserves are not serving the purpose for which they were established. I advised that the matter be taken up with the operator to improve on the strategic reserves as envisaged," Muwanga said.