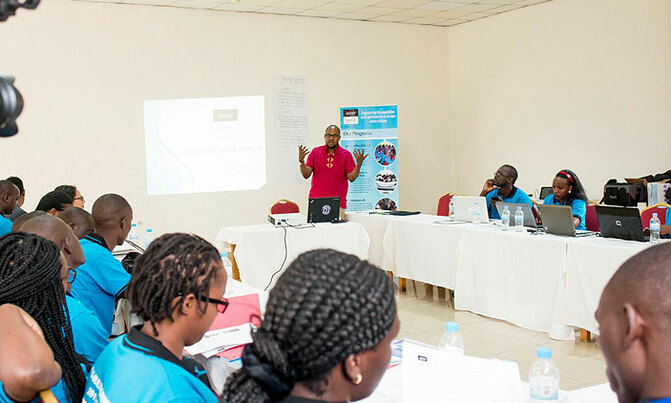 Tears have been shed and emotions tripped on, especially among the Rwandan and Burundian participants.

This year's edition of the Peace-Building Institute (PBI) conference in the Rwandan capital Kigali is quite timely - considering all Africans are keenly following proceedings in Burundi with bated breath.

____________________________________

By Steven Odeke

Tears have been shed and emotions tripped on, especially with the Rwandan and Burundian participants, during lectures, group discussions and documentary screenings that detailed the history of Rwandan genocide.

But they have welcomed the event as empowering and insightful.

PBI is a peace-building platform organized by Rwanda's human rights and peace-building organization, Never Again Rwanda (NAR), and is going on for two weeks at Kiberinka Cultural Center Kigali, until January 10.

It's been on since 2008 and the latest edition has attracted participants from Uganda, Kenya, Sudan, DRC, Tanzania, Rwanda and Burundi.

So far, participants have been lectured by peace advocates in Rwanda under the theme "What Can Rwanda Teach The World?"



The 14-day conference is taking place in Kigali, Rwanda
Facilitators like Dr. Joseph Nkurunziza, also co-founder of PBI, Reverien Interayamahanga (social scientist), Odeth Katengwa (research coordinator with NAR) and Florence Batoni (communications expert and specialist in conflict management and transformation) have focused their energies on genocide prevention, restorative justice, as well as unity and reconciliation through different activities.

On his part, Dr. Nkurunzinza says the event's aim is to empower youth with enough knowledge to be leaders able to prevent genocide in the countries.

"We need critical thinking youth in today's world," he said.

"Many youth today lack role models. That was one of the challenges that led to the 1994 Genocide against Tutsi. Many of them were manipulated by people who would have been their role models.

"They were incited to eat Tutsi's cows and goats because they could not afford cows. We lacked critical thinking citizens at the time and it cast a dark spell on Rwanda," added Dr. Nkrunziza.

"Today, we need creative and innovative young people in Africa and other continents, not troublemakers."

Rwandans have moved on from the 1994 genocide and are seemingly united.

Dr. Jean Damascene, who is the director General of Research and Documentation Centre on Genocide at National Commission For The Fight Against Genocide (CNLG), attributes this to the efforts exerted by all Rwandans to maintain unity.

"Here, everyone is asked to fight genocide denial and hate speech," he said.

"We have heard from other people denying genocide happened here but we decided to fight against that denial. The media here is also very helpful in educating people."

Dr. Jean Damascene speaks during the conference

Two Ugandan participants attending the session. From left, Kezia Mbabazi (human rights lawyer) and Flavia Komugisha (founder of Akuza Foundation)

Rwandan participants reading out a poem about genocide during the session

Participants visit the Kigali Genocide Memorial site

Here, they pay their respects to those who lost their lives during a visit to the Kigali Genocide Memorial site