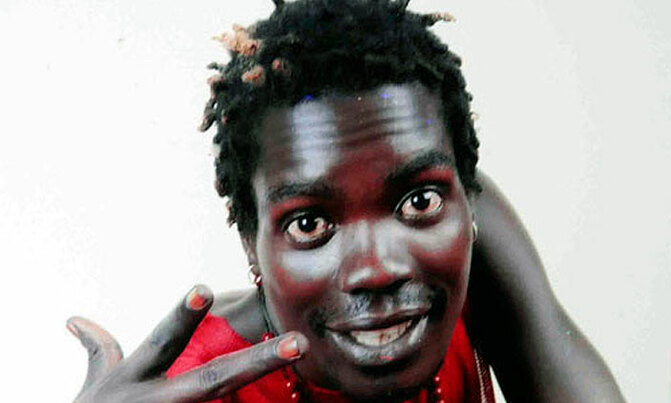 Master Blaster, whose real name is Cornelius Oloya, was in his early 30s.
Ghetto musician Master Blaster alias Teacher, who became a darling in Kampala bars and night clubs for his dancehall song Embooko has been shot dead in a bar brawl in Bwaise, a city suburb.

____________________________________


Master Blaster, whose real name is Cornelius Oloya, was in his early 30s.

He was shot twice in the stomach during a scuffle, allegedly between a group of Ugandan youth and South Sudanese party-goers at Eden Service Park, a pub in Bwaise on Nabweru Road.

He had just released his new song, Ekibala (fruit) which had also become popular in bars. Police sources revealed that a group of South Sudanese nationals blocked locals from the concert hall because they had booked the pub for their annual concert.

This allegedly angered some youth who wanted to join in the merrymaking. Fellow musicians and eye witnesses said the scuffle that started at about midnight on Tuesday went on till morning. The shooting is alleged to have occurred at about 6:00am when the Police came to intervene in the row.

The pub management had been forced to lock the visiting group inside the hall, until day-break to avoid further clashes and protect them.

They said when management later opened the gates, the South Sudanese met their rivals still waiting outside, with the Police trying to calm the situation to give safe passage to the visitors. There were conflicting accounts on who shot the artiste, with some accusing the South Sudanese.

Some sources suggested that in an attempt to give protection to South Sudanese, Policemen started shooting and one of them shot at Master Blaster, who was standing a few metres away from the scene.

Some bullet holes were still visible in a Mobile Money kiosk across the road.

Other accounts indicated that Master Blaster had earlier attempted to gain access to the venue to see whether he would be allowed to perform for the group, but he was denied access.
However, the Kawempe division Police commander, Hashim Kasinga told New Vision that when the Police shot in the air to scare the local group, one of the youth grabbed a policeman. In the process, a stray bullet shot Master Blaster dead.

Bosco Nsingwangabo, an eye witness, said Master Blaster was shot in the stomach and fell by the roadside, where he lay in a pool of blood for some time. The Police later took him to Mulago Hospital, where he was pronounced dead two hours later.

Kasinga ordered for the temporally closure of the bar, to allow the Police carry out further investigations and blamed the management for failure to provide enough security.

However, later in the afternoon, the Police used live bullets in running battles with musicians and Bwaise residents who wanted to avenge Master Blaster's death by lynching any South Sudanese in sight.

At the Nabweru-Kawaala junction, Policemen shot several times in the air to disperse people who had cornered some Sudanese youth behind a motor garage. They were whisked away in a private vehicle, which was escorted by an anti-riot Police vehicle.

One of the close friends of the deceased, only identified as Zurah said Master Blaster was living in Kimombasa zone, Bwaise with colleagues from where he would always go to different bars and clubs to perform.

Another musician referring to himself as 'Ghetto Commander' told New Vision that Master Blaster had started getting invitations to perform at various venues because of his new hit, with his last performances at the National Theatre and Kiira Club.

"We moved together from Kiira Club and came to Eden ,but the South Sudanese blocked anyone from joining their concert. I left him outside with other friends and I returned home, only to find him in a pool of blood in Mulago Hospital," he said.

Master Blaster's manager, Brian Mugabi alias MC Hitman said the deceased performed at Kabuusu in Rubaga, Kampala on Monday night and returned to Bwaise, from where he was killed.

Former ethics minister, James Nsaba Buturo at one time banned Master Blaster from public performance, saying his song, Embooko, was vulgar.

He was later arrested and detained for some time. Colleagues said Master Blaster was frustrated for banning his song and had resorted to petty business.

In March this year, Master Blaster was reported dead in what some people suspected to be a stage-managed death, intended to resurrect his fame.