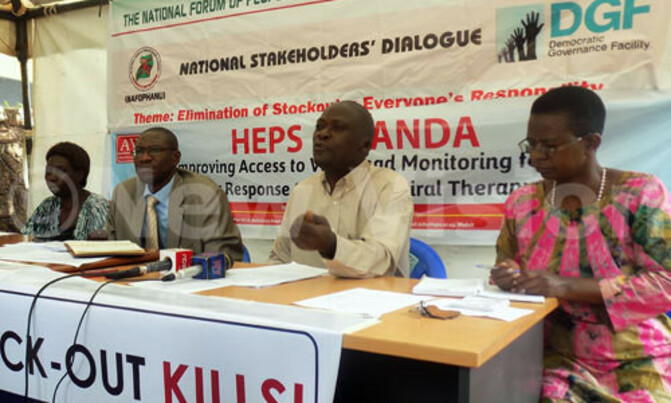 Civil Society Organizations (CSOs) have tasked the Ministry of Health to introduce the third line treatment programme to HIV/AIDS patients in the country
By Juliet Waiswa  
                                                    
Civil Society Organizations (CSOs) have tasked the Ministry of Health to introduce the third line treatment programme to HIV/AIDS patients in the country.

The CSOs, under the umbrella organization of People Living with HIV/AIDS, the National Forum of People Living with HIV/AIDS Network in Uganda (NAFOPHANU), said that the treatment will cater for people who have failed on the second line treatment.

According to health experts, HIV/AIDS patients start with the first line treatment but when they fail to take their medicines well, they are administered on second line treatment.

Second line treatment however is slightly expensive for some patients while the third line treatment triples the price of the second line treatment.

Third line treatment is the last treatment given to HIV/AIDS patients who have failed to adhere to both first and second line treatment.

However CSOs want government facilities to introduce it in their hospitals. CSOs also want government to establish a policy on HIV related to stigma and discrimination so that people embrace testing.
           
Addressing the press during the launch of the 90,90, 90 campaign at the NAFOPHANU  head office in Mengo, the Chairperson, Fred Baronga said the campaign by CSOs targets three key steps that are essential to better health and care for PLHIV and to limit new infections as well as further spread of the HIV pandemic

The 90.90,90  is a global campaign which was set by UNAIDS aimed at having 90% of all people living with HIV knowing their status; 90% of all those diagnosed with HIV to be on sustained antiretroviral treatment and 90% of those on ART having an undetectable viral.

According to M.o.H, there are 1.4miliion people living with HIV while 229,000 can access treatment from government facilities. Of those, people who know their status are 700,000.

Barongo said that for Uganda to meet the target of 90,90,90 government needs to provide HIV/AIDS and TB drugs to all patients living with HIV/AIDS, saying that all patients should be sustained to medicines.

He further said that the rolling out of Option B+ towards Elimination of Mother to Child Transmission, management of TB/HIV co infections and full support to young people will also help on reduce the spread.
 
The executive director NAFOPHANU, Stella Kentusi called for government commitment to establish the AIDS Trust Fund and quickly implement it as it is currently ring fenced for treatment and supplies.

"More funding should tailored to the to the increased demand and viral loading test," Kentusi explained.

She said that PLHIV will have their viral load suppressed thus achieving the goal to Zero New HIV infections and Zero HIV related deaths as we realize the 90x90x90 targets with Uganda the global pace again.

Once the viral load is suppressed chance of one infecting another are 96% Kenneth Mwebonge, program officer for advocacy and networking, Health Promotion and Social Development (HEPS), revealed.

Moses Nsubuga, a client on second line treatment says that his viral load has remained constant for the last 15 years.

"I have been adhering to medicines that is why I have been able to live long. Government should make the medicines available for all HIV/ AIDS patients," Nsubuga said.

"In Uganda, government is only giving us the 2nd line treatment and there is no intervention for 3rd line. In an event a person fails to cope with 2nd line,  it is a direct death sentence,"  Nsubuga said,

He said the cost of maintaining a patient on 3rd line of sh700,000 is too high which many Ugandans can not afford.

Sylvia Nalukwago, 23, born with HIV/AIDS was on medication before she gave birth. She has a healthy HIV negative born, because she adhered to her medicine.
 
CSOs want third line treatment for HIV/AIDS clients