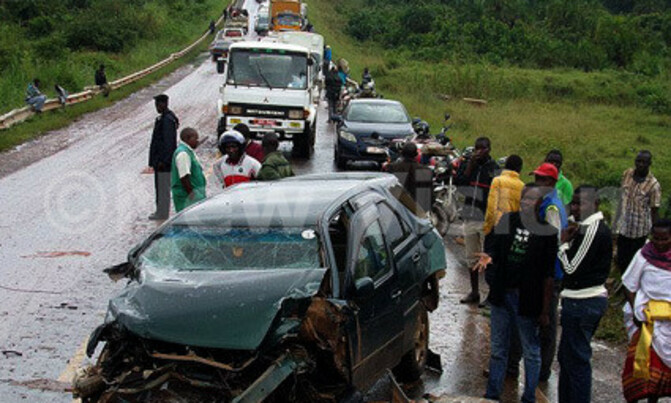 A fatal accident paralyzed transport on the Kampala- Mubende highway for close to six hours
By Luke Kagiri

Transport on the Kampala- Mubende highway was on Thursday afternoon paralyzed for close to six hours following a fatal accident involving three trucks and a saloon car.
 
Three people died on spot while two others were rushed to Mulago hospital in critical condition.
 
According to the Police, the accident occurred at around 11am, at Bulamu, near Bujuuko town, in Mpigi district on the Kampala to Mityana Mubende highway.
A trailer lay in the middle of the road cutting off traffic

  Phillip Mukasa, the regional police spokesperson for Wamala region explained that a saloon car, registration number UAV 119H, heading to Mityana rammed into a trailer, registration number KBK 063 Q, which was heading to Kampala.
 
The trailer then knocked two other trucks, a FUSO registration number UAU 568T and another semi-trailer, UAW 160 T.
One truck was transporting sucks of cocao from Bundibugyo
The Fuso truck was transporting cocoa from Bundibugyo to Kampala while, the trailer was ferrying stones.

One of the deceased was identified as Vianney Huzaifa, a driver of the trailer which was carrying cocoa.
Passengers and area residents shocked by the carnage
The saloon car was reduced to a heap of mangled metal following the fatal accident
Mukasa said they were still looking for the identities of the other two victims, but one of them was the driver of the trailer carrying stones.

The mass wreckage blocked the road for over six hours as police fire brigade tried their best to remove the bodies and tow the trucks.
 
It was not till 2pm qhwn one of the trucks was removed that small vehicles were able to go through.
Shocked onlookers peering at the wreckage along Mubende - Mityana highway following a fatal accident that paralysed transport for six hours.


Lorries, buses and other bigger vehicles had to wait until 3pm, when all the trucks had been removed.
 
Mukasa blamed the accident to the driver of the saloon car, whom he said was driving recklessly.

However, some of the eyewitnesses blamed the accident on the driver of the semi trailer, who they said had lost control of his truck.
 
Fatal accident paralyses Mityana road