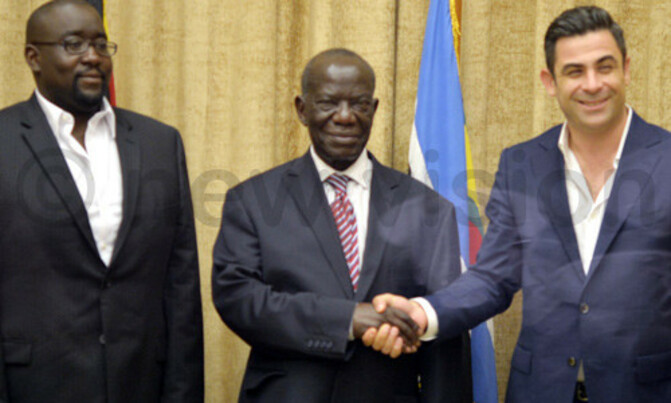 A group of Ugandans from the United States in partnership with Tri-Crown Group an American based film house have embarked on a two year project to promote Uganda's tourism potential
By Wilfred Sanya and Jeff Andrew Lule 
A group of Ugandans from the United States (US) Califonia, in partnership with Tri-Crown Group an American based film house have embarked on a two year project to promote Uganda's tourism potentials through film production.
While meeting the vice president, Edward Ssekandi, at his office, at the Office of the President in Kampala yesterday, the delegation said they are going to with the Uganda Wildlife Authority (UWA) to identify the unique areas which can be marketed.
The delegation was led by Abbey Walusimbi (Chairman of the National Resistance Movement in the Diaspora), Isaac Kigozi (Chief Executive of E-World Media) and Phil Viardo, the Executive Vice President Tri-Crown Production group.
Viardo said through Television entertainment, his team is to work with ABC network to reach many American households on the new discoveries in Uganda.
"The American society is known for its conservatism especially to new ideas and i think we shall be able to promote Uganda's tourism to American citizens," he added.
He noted that his company has already kicked off its work, currently working in Uganda with young people in the areas of wildlife and tourism around different parks.
Viardo said the two year project will also lead to job creation among the young people in different areas. "This project will also support youth education and promote connections with more other companies in US and elsewhere in the world," he said.
Kigozi said the visit was aimed at briefing the Vice President, on the aims of the project and how it is going to boost Uganda's tourism industry.
Isaac Kigozi said the project is to create employment among the young people through tourism and film production. "We also intend to promote film production like other countries. Film production is still a virgin area and our people only need better skills to help them produce quality stuff to compete at the international market," he added.
Ssekandi commended the idea, stressing that Uganda has many unique features which cannot be found elsewhere in the world. He said the tourism sector is one of the key priorities that government is focusing on in the next five years.
"The project is timely. Uganda might look small but it remains unique. I think through this project the world will get to know more about Uganda," he said.
Ssekandi added; "Uganda Equator, diverse wildlife, River Nile and Lake Victoria, have a long history spanning from the bible times and they are just among the many tourism potentials in the country. The cultural diversity is another area that also needs to be promoted because it is so exciting".
He requested Tri-Crown Group to continue supporting Government efforts in promoting Uganda internationally, stressing that although Uganda has not marketed itself like other African countries, the country is immensely endowed.       
Ugandans in diaspora to promote local tourism in the US