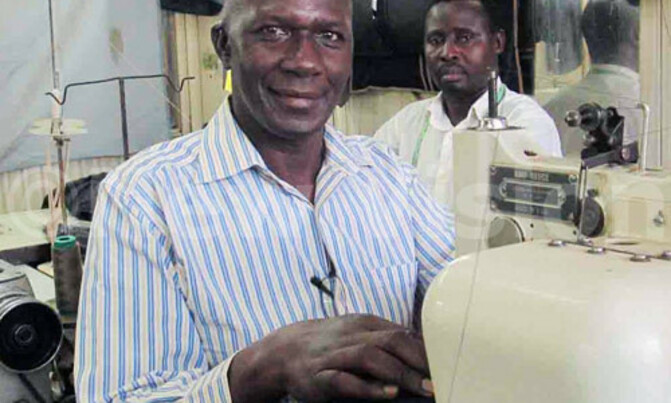 In November, when Pope Francis visits, one of the groups that will be guarding him is called the papal knights.
In November, when Pope Francis visits, one of the groups that will be guarding him is called the papal knights. Mathias Mazinga discovered the man behind their spectacular appearance is not a Catholic!

Known locally among the Bantu people as abaselikare ba Paapa (soldiers of the pope), these men and women will be 'guarding' the pope when he visits the country in November.

They will be clad in black and dark-green colours of the St Sylvester order, which is one of five Orders of Knighthood awarded by the Pope. Their coats will be ornamented with one row of gilt buttons, black velvet, gold-embroidered collar and cuffs, black gold-striped trousers, a bicornered cocked silk (bicorne) hat with a cockade of the papal colors and a sword.

Matovu shows some of the material he uses to make the garments

They will have a sash, a badge or star on the left side of the breast and wear white gloves. The will also be carrying swords.

The Secretary General of the Uganda Episcopal Conference, Msgr. Dr. John Baptist Kauta, explains that Papal Knighthood is an ecclesiastical title of honour meant to appreciate the loyalty and exemplary services of the recipient Christians.

It is given to people who have demonstrated unique service to the church, according to their respective bishops. Names come from parishes and if the bishop is convinced, they are forwarded to the pope to be conferred Papal Knights. Those who receive it become symbolic defenders of the prelates, the church and its property.

Chevalier Tofiri Kivumbi Malokweza, 87, one of the papal knights in Kampala Archdiocese told Saturday Vision that their roles are basically ceremonial.

"We are supposed to be with our bishops, archbishops, cardinal or pope when they are presiding over religious ceremonies. In fact, we are not allowed to put on our uniform unless we are at Church functions where they are.

We walk besides them during the liturgical procession. We also have the privilege to sit at the sanctuary, with priests, when our prelates are presiding over mass. At consecration, we raise our swords to honour our Lord Jesus Christ comes.


Suleman Matovu at his tailoring workshop in Kampala

Who is behind the uniforms?

These lavish uniforms do not come from the Vatican. Malokweza explained that their spectacular uniforms are not imported

"When you are knighted, you don't have to travel to Rome to be adorned or get a uniform. I was appointed by Pope Benedict XVI in 2012 and subsequently vested at Rubaga Cathedral on January 1, 2013.

We were directed to a specific tailor who had been given the specifications of the regalia, as required by Rome.

He made the uniforms at our cost. And they were a bit expensive. If I remember well, I paid sh6m for mine."

And the only man who is charged with making the uniforms is Suleman Matovu. The 63 year old is a bespoke tailor and designer based at Uganda House, Kampala. Matovu, who deals in customized or made-to-measure attires, trained as a bespoke tailor/designer in the UK.

"I got exposed to tailoring right from my secondary school days. My late dad, Bumbakali Matovu was a reputable tailor. Tailoring was thus a family business. We had a big tailoring workshop, D-Matovu Store, in Katwe. Initially we dealt in cushions and mattresses. But later, we specialised in making uniforms for schools and institutions. At one time we became more known for making uniforms for the nurses of Mulago Hospital. Dad gave me the initial exposure to tailoring. From school, I would just sit on my sewing machine. Our garment shop in Katwe was in the vicinity of the former Sapoba Bookshop. In fact, Honourables Kirunda Kivejinja, Bidandi Ssali and Kintu Musoke, who managed Sapoba, were our family friends."


Matovu and his son show some of the garments made at his shop in Kampala

Matovu's rise in skill

Matovu explained that after completing S4 at Kibuli SSS, in 1972, he worked for some years at the family shop in Katwe, before he went to the UK in 1975, to train as a bespoke tailor.

"Dad was a partner with Chatur, an Indian fashion designer, who managed a big garment shop, Uganda Clothers, on Luwum Street. With the help of Chatur, dad first sent my elder brother Isaac Matovu to the UK, in 1972, to learn professional tailoring. Dad could conveniently afford to pay for all our expenses in the UK. Unfortunately, he died in 1977 and my brother had to return to man our family business as I continued with my studies."

Matovu said he first trained at Design Centre, London. The course was supposed to last one year but he did it in six months because of his earlier hands-on experience in Uganda. He then joined London College of Fashions, where he also studied Business Studies, English and Designing. At completion of the two years at the institute, he was awarded the City and Guild Certificate in Bespoke Tailoring. Subsequently, in 1979, he started to work, in London.

"I had secured important business contacts, which helped me to get lucrative orders. I worked with Jewish, Indian and Spanish traders. I was doing fairly well. But I had to return in 1986, after the death of my mother, Mariam Nabagesera," he said.

Matovu is now based at Lady Shirlin Ltd, Shop No 4, Uganda House, where he works with some family members and a few employees.

Becoming a monopoly for the Papal Knights uniform

Matovu said he never made an application to design and tailor the uniforms of the Papal Knights.

He was sourced by some churchmen, for whom he had designed attires before.

"I think it were those same clerics who referred me to the leadership of the Catholic church in Uganda. They give me their specifications of the Papal Knights and I did the needful."

On why he charges sh6m for the attire, Matovu says Papal Knighthood attire is very expensive to make.

"We have to import some of the materials from Italy. You can now find them in Dubai. But sh6m is even cheap. In Europe it costs about sh11m!"


Some of the Papal Knights dressed by Suleman Matovu

Who are the Ugandan Papal Knights?

Kauta says the Catholic church in Uganda does not know how many papal knights there are in the country. 

"If I am not mistaken, Papal Knights are only in Kampala Archdiocese and Kasana-Luweero diocese," Kauta said. "Tororo had one but he died and no other one has been appointed. I think the other bishops don't see the necessity of having papal knights. And nobody should crucify the bishops for their discernment. If any bishop feels the need to have them, he is entitled to that right."

Masaka diocese had Bernard Kakinda, one of the pioneer Ugandan Papal Knights, who died. The Archdiocese of Kampala has a good number namely Damiano Ddumba, Aloysius Mutyaba Mukiibi, Dr. Joseph Seremba, William Mubiru, Joseph Kiwanuka, John Pool, Tophir Kivumbi Malokweza and Francis Xavier Lubanga. The diocese of Kasana-Luweero also has three Papal Knights namely John Chrysostom Kaise, Peter Sserubombwe and Joseph Lwevuze.

Female knights are called Dames and Uganda has two; Dame Letitia Kikonyogo and Dame Margaret Mary Ntege.
 
Suleman Matovu, the man behind Papal Knights uniforms