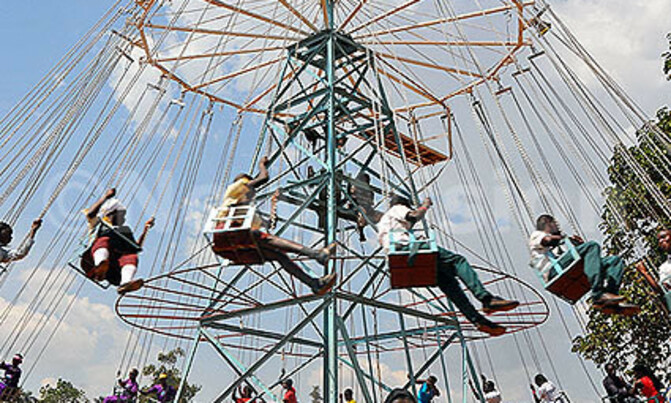 Let your eyes take a dive into the latest that''s been going around town . . .

From happy students enjoying a merry-go-round thrill, to giving Namugongo Martyrs' Shrine the sheen it needs ahead of the pontiff's visit, dive into the latest that's been going around town . . .

 
true
Men busy at work at the Uganda Martyrs' Shrine in Munyonyo ahead of Pope Francis'  visit to Uganda late November. (Credit: Juliet Lukwago)
true
NRM party members cast their vote for mayorship and councilors during the party primaries. (Credit: Ronnie Kijjambu)
true
Students from Mulago Nursing and Midwives Training School leaving Kampala Capital City Authority (KCCA) after being briefed on how to do internship in KCCA health facilities. (Credit: Ronnie Kijjambu)
true
John Mary Mugisha, the lead lawyer of Charles Nsubuga, who sued the Electoral Commission over Mbabazi's rallies, with other lawyers leaving court. (Credit: Ramadhan Abbey)
true
Ambassador James Mugume, the permanent secretary of the foreign affairs ministry, addresses a press conference at the Uganda Media Centre where he announced that the UPDF is pulling out of South Sudan. (Credit: Juliet Kasirye)
true
NRM aspirant James Katogana (L) in an exchange with a lady in the presence of Assistant Superintendent of Police Aaron Baguma over how soldiers also participated in the voting yet the NRM Constitution prohibits them. This was at State House standard  polling station, Nakasero. (Credit: Ramadhan Abbey)
true
Females wait to be scrutinized by UPDF authorities during the Kampala metropolitan UPDF recruitment exercise 2015 at the Independence Grounds Kololo. (Credit: Tony Rujuta)
true
The participants in the recruitment exercise also had to fill in written interviews. (Credit: Tony Rujuta)
 
true
Across the other end at the Vision Group head offices in Industrial Area, Stella Marris Nsuube's Sister Florence Nalumu and her pupils enjoy a moment with Chief Executive Robert Kabushenga in the TV studios. The school contributed  sh500, 000 towards the  charity walk to Namugongo ahead of the pope's visit. (Credit: Norman Katende)
true
Nearby, at UMA's 23rd Trade Show at Lugogo, these students enjoyed a thrilling Carousel on the last day of the annual event. (Credit: Wilfred Sanya)
true
It's national exams month and these Primary Seven (P.7) and Senior Six (S.6) candidates of Seeta Junior School and Seeta High School received blessings from Bishop of Lugazi Diocese Christopher Kakooza (not in picture) during a thanksgiving ceremony and opening of the school's Chapel. (Credit: Nicholas Kajoba)
true
TAKING OVER: The new male lion  named Letaba after Kibonge's death is snapped at the Uganda Wildlife Education Centre ('The Zoo') in Entebbe. (Credit: Hajarah Nalwadda)
true
Also at UWEC, the female lion (Zara) is pictured having a lap of nature's best. (Credit: Hajarah Nalwadda)
true
President Yoweri Museveni touring a stall of Gayaza High School exhibiting the Youth Entrepreneurship Scheme which includes agricultural, ICT in education, youth-led companies and community service projects during the World Teachers' Day celebrations at Lugogo Cricket grounds in Kampala. (Credit: Tony Rujuta)
true
Kabaka Ronald Muwenda  Mutebi (R) Buganda Premiier Charles Peter Mayiga and the royal son Ssemakokiro (C) during the commissionin of the Buganda Comunity Store at Ssentema County. (Credit: Peter Busomoke)
true
This painting was bought for some sh5m  during the Amref Health Africa dinner held at Serena Hotel to fundraise for the midwives e-learning project. (Credit: Norman Katende)
OK, let's get sporty a bit  . . .
true
Ali Omar (22) flies after Alestair Blick in the Mx2 category during the National Motocross Championship at Garuga. (Credit: Johnson Were)
true
During the same event, national motocross champion Maxime Van Pee crashed during the jump. He did not break any limbs. (Credit: Johnson Were)
true
National Council of Sports (NCS) assistant general secretary David Katende (right) handing over the national flag to Derrick Bakunzi, the captain of the boys' U-19 national cricket team to Malaysia for the ICC World Cup qualifiers due on (October 13-23). Credit: Mpalanyi Ssentongo)
true
South Africa's Ncedo Ngamba sends Moroccan Samir Sakhi tumbling onto the canvas in an undercard fight of the Umar Semata versus Lagodski fight at Lugogo. (Credit: Michael Nsubuga)
true
Later, in their fight, Uganda's Umar Semata (left) kicked Australian  Piotr Lagodzki in a World Kick Boxing Federation (WKF) Intercontinental Welterweight title fight . . .
true
. . . but Semata lost on technical knock out (KO). Here, his opponent celebrates his win. (Credit: Michael Nsubuga)
true
Out of town, Muhamed Kiseka in action during the East Africa Corporate League in Kigali, Rwanda. (Credit: David Namunyala)
true
And finally, Ugandan bodybuilder Ivan Byekwaso (right) flexes with Ivan Kyeyune after he was presented with the Nile Special USPA September award at Imperial Royale Hotel. (Credit: Michael Nsubuga)