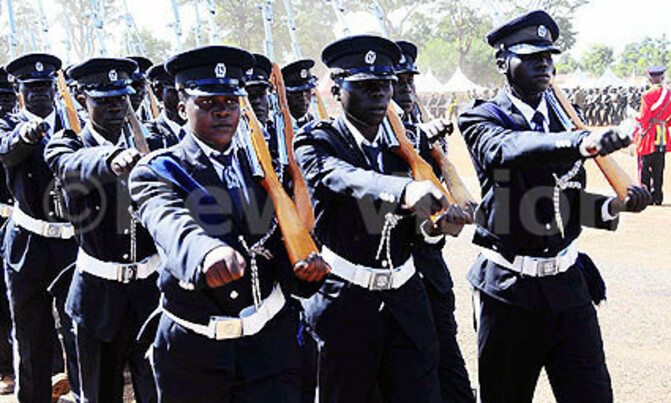 Relive the 53rd Independence Day anniversary main celebrations at Kaunda grounds in Gulu.

Reporting by Joseph Kizza
true @joekizza

____________________________________
3.20pm     Have a good evening!
 
true
 
OK, let me sign off by leaving you with this beautiful picture taken by New Vision photographer Kennedy Oryema (he's the man behind many other photos you have seen here already) of this group of very energetic youthful dancers performing a traditional dance song.

Have a good evening and thanks for the company here!
3.10pm     And it's a wrap!
 
true
 
Well, that's it from me here today ladies and gentlemen. The President is done with his speech, anthems (Ugandan and East African) are sung and a group of Acholi entertainers put the icing on the cake with some vibrant dancing for a day that goes down in the history book of Uganda.
true
3.01pm     Education future
true
 
It is a brief speech from the President in which is says the future of education is bright. "We are going to build a technical school in each district and eventually in each constituency," he pledges.
2.45pm     'Nobody will cause violence'
true

President Yoweri Museveni says that his government will prioritize the NAADS programme the same way they did with roads.

He says his government is to set up a fund for youths to set up process units for maize, milk, fruits, honey rice at every sub-county.

One area we are going to emphasise in future is value addition. We want to process sim-sim (sesame) at every sub-county.

As the 2016 general elections draw ever nearer, Museveni reassures the nation of security and peaceful elections. "I told you we would bring peace and we did. The peace here will stay. Nobody will cause violence."

He adds: "Election violence is a sign of backwardness. When there are elections in Germany, UK nobody gets worried of violence.

"Now that we have peace in Uganda, the sky is the limit."
2.40pm        Bukenya U-turns, now supports Museveni    
 
true
 
Meanwhile, let me interrupt you here with some bit of news coming in that former Ugandan Vice President Gilbert Bukenya has turned his back on oppostion coalition group The Democratic Alliance (TDA) and pledged his support for President Yoweri Museveni.

Bukenya announced he would support President Yoweri Kaguta Museveni in the forthcoming 2016 elections. 

By time of his announcement, the ex-VP was the leader of a pressure group Pressure for National Unity, a member of TDA

Bukenya made the announcement shortly after midday, announcing that Museveni was still so far the best candidate for the 2016 elections. He also announced he would be defending his Busiro North parliamentary seat in the next election.
2.30pm     Museveni takes the podium
 
President Yoweri Museveni delivers his speech (in English) as Todwong translates that into Acholi.
2.20pm     'Kenya celebrates with you'
 
true

Before President Museveni can go further into his speech after recognizing guests, he invites Kenyan deputy president William Ruto to speak to the Ugandan people.

Ruto starts off by thanking the President for inviting him to represent Kenya on "this historic and important celebrations".

"I bring very warm greetings from your brother President Uhuru Kenyatta and the people of the Republic of Kenya. Your brothers and sisters in Kenya celebrate with you," says Ruto.

He goes on to underline his government's commitment to working with that of Uganda in already agreed on programs like the oil pipeline, infrastructucture, among others.

Meanwhile, NRM deputy secretary general Richard Todwong is doing the translation . . . and he's pretty good at it!

 
2.10pm     Why this theme
 
As mentioned at the first start of this commentary, I mentioned that this year's Independence anniversary theme is: 'Striving for a prosperous people and country: The meaning of true independence."

Well, the minister in-charge of presidency Frank Tumwebaze tells the crowd gathered at Kaunda grounds that this theme was chose because "it communicates the policy focus of growth of His Excellency's government".

And after working through a script of words in Acholi, Tumwebaze invites over President Yoweri Museveni, who briskly walks to the podium, script in one hand, his spectacles in the other.
 2.05pm       End of medal-awarding ceremony
true
true
true
1.50pm     The medalists
 
true
 
President Museveni mingles briefly with Sister Pasqua Binen Anena after she is awarded the Independence medal.
 true
 Here, the President has a word with Independace medalist David Livingstone Ongom. Left is his daughter Anne Abeja.
 true
East Africa Legislative Assembly (EALA) speaker Dan Kidega recieves a medal from President Museveni
true
 Museveni talks to Retired Bishop Baker Ochola after he received a medal.
true
true
  Here, the President poses for a group picture with people who were awarded national medals.
true
 President Museveni hands over an award to his ADC (Aide-De-Camp) David Koch.
true
 The sister of the late Walter Ochora,  Akumu Lameny.
true
Museveni talks to Gen Oketta after he was handed a medal.
true
 Oryema Lacam Bel was also a recipient of a medal.
true
 The same could be said of Charles Ochola.
true
 Here, President Museveni hands over a medal to Odok W' Ochieng.
true
Francis Odida also received a medal on a hot day in Gulu.
1.35pm     Three categories
 
true
 
There are three categories of medals, says Gen. Tumwine, who is the national chairman of the medals awards committee.
Golden Jubilee Independence Anniversary Medal

Among those who receive the Golden Jubilee Independence Anniversary Medal is Archbishop John Baptist Odama (for his participation in the peace talks between the Joseph Kony-led Lord's Resistance Army (LRA) and the government).

Acholi Khadi Sheik Musa Khelil, whom he saw earlier leading prayers (entry 11.50am) , is also a recipient of this medal, as is Nelson Onono-Onweng.

The list is long . . .
 
1.30pm         Medal-giving ceremony begins
 
true
 
Gen. Elly Tumwine steps forward to announce the start of the awarding of medals to distinguished individuals.
1.27pm    The pope is coming
true
Uganda will host Pope Francis this November, and during their march, these Uganda Tourism Board officials made sure to remind us of that very vital piece of information.
true
Marching, united in Christ,

Marching together united, . . . [hum along]
1.25pm    The veterans


true
These two World War veterans march during the event
What you missed
 
true

Told you the march past will take a while . . . and oh yes, it's living up to its billing.

Anyways, as that goes on at the grounds, perhaps I should spring you back just a little. If you didn't see His Excellency arrive, here is a picture opportunity: President Museveni, the First Lady Janet (in yellow) and Kenyan vice president William Ruto snapped here arriving at Gulu Airfied for the independence day celebrations.
1.20pm    Whatever it takes


true
A cap falls off a UPDF soldier's head during a march past under sweltering temperatures. At first, he tries a balancing act to keep the headgear limply on . . .
true
. . .  but eventually, he has got to give in as the cap let's rip.


Well if that's not focus, what then is?
1.00pm    Following keenly . . .


true
true
true
12.40pm    Ruto in the house


true

Meanwhile, among the foreign dignitaries is one who is from across the border. Kenyan deputy president William Ruto (pictured left) is at Kaunda grounds attending the Uganda's 53rd independence anniversary.

Ruto also attended the national prayer breakfast on Thursday at Hotel Africana in Kampala. Missed out on it? Feed your eyes here . . .
12.10pm    March past underway
true
It's time for the march past. This is going to take a while. Meanwhile, the sun is generously giving off a lot of heat, but the men and women of the uniform march majestically past the Commander-in-Chief of the armed forces.
11.55am     'Grant us forgiveness'
 
In his prayer, Acholi Khadi Sheik Musa Khelil (pictured in the previous entry below), asks God to "pardon us and grant us forgiveness".

"Do not lay on us a burden which we cannot bear," he continues.

"Bless this day, bless our leaders, bless our President Yoweri Museveni, bless Kenyan deputy president William Ruto (who represented President Uhuru Kenyatta)," prays Sheik Khelil.

He also asks the Almighty to bless the ambassadors, development partners, security agencies, judiciary, religious and cultural leaders, "all the men and women gathered here on this ground", the elderly and the children.
11.50am   Anthems and prayers
 
true
 
As soon as the President is done with the inspection, the Uganda national anthem is sung while President Museveni stands at attention on a low podium.

Once this is done, he is led back up to his seat, as the next item on the agenda gets underway: Prayers.
11.30am   Inspection
 
true

The President is inspecting the guard of honour as he waves to cheers from the crowds. He is doing this atop a vehicle that is traveling at a reasonable speed while the band plays in the background.

It is very hot day and the President did well not to forget his hat. Oh, also, he traveled along with his wife, First Lady Janet Museveni.
 
true
true
true
11.10am   President Yoweri Museveni arrives
 
And only a few minutes after saying that the President is "around the corner", he shows up!

Well, well, well, let's get this started then, shall we?


 
11.00am     We are underway!
 
true
 
And we are underway at Kaunda grounds. The national Independence Day celebrations have begun, with President Yoweri Museveni yet to arrive. We are told by the MC that he is "around the corner".


Meanwhile, Vice President Edward Kiwanuka Ssekandi is present, as are many officials and guests.
10.50am     true   Some love from Google   true
 
true

Well, of course, Google knows it all . . .
10.40am     Arrivals
 
true
 
Prime Minister Dr. Ruhakana Rugunda, Police chief Gen. Kale Kayihura and the Chief of Defence Forces Gen. Katumba Wamala, Gen. Moses Ali (pictured below) are some of the high profile arrivals.
true

Also, Speaker of Parliament Rebecca Kadaga and her deputy (who is also Gulu MP) Jacob Oulanya have arrived at Kaunda grounds.



Just to remind you that we are in Gulu today
true
 Here, Dokolo district woman MP Cecilia Ogwal shares a light moment with Gen. Elly Tumwine.


Whatever they are musing over . . . any idea?
 
10.30am     Independence: what they say
 
As we build up to the start of the main events at Kaunda grounds in Gulu, let's have a look (or, read, if you want) at what some Ugandans say on what independence means to them and why they should celebrate.
true

Dr. Cyprian Kizito Lwanga, the Archbishop of the Archdiocese of Kampala: "We should thank God for the fruitful years of post-independence but also apologise for whatever has gone wrong in the same period.

"We have to work as a community to ensure healing and forgiveness for the turbulent years that followed independence.

"It is in the same spirit that we have to seek the grace and guidance of God during this year's celebrations as we go for the elections. Let Him bless us with peace and stability because violence will not deliver development for our dear nation," he says.

He, however, says more work has to be done to ensure a complete healing phase of the country from the thorny and toxic past.
true

Former Buganda Katikkiro (prime minister) Dan Mulika points at neo-colonialism as the worst impediment to independence.

"Independence should have been a good thing but the problem is that we got it embedded with neo-colonialism. It was more of a give and take act where an African was made a proxy leader against a fellow African to fulfill the selfish wish of the colonial master.

"For instance, the late Milton Obote abrogated the constitution on the watch of the British but they never raised a single finger against him but this plunged our country into years of violence, setting us backward. Instead of power belonging to the people, it was vested in the president, which is still the status quo to date," he says.
What does independence mean to you? Any cause for celebration?

10.20am     'True independence'
 
true
At the event, President Yoweri Museveni is expected to give a speech touching several milestones that the country has achieved, especially during the National Resistance Movement (NRM) period.

The celebrations are being held under the theme: "Striving for a prosperous people and country: The meaning of true independence."
10.05am     History unfolding . . .
 

true
1962 Independence Day: Milton Obote is sworn in as Prime Minister at Kololo airstrip.

Where were you on this very pivotal day in the history of this nation? Well, uhm, I wasn't born yet, but I know I would have been very excited to witness such a historic day!
9.50am     Hot day
 
true

true

While many Kampala residents might have woken up to a wet Friday morning (yes, brace yourself for the El-Nino), the temperatures are sweltering up north. It's a good 26°C (79°F) in Gulu and we are expecting a hot Friday ahead of us. Humidity is at 62% while wind speeds are at 4mph.

What a lovely, sunny day!


But if you are heading to Kaunda grounds, or are already there, I am no weatherman but I think an umbrella will do you just fine!
9.40am     'A clear sign of unity'
 

true

Gulu residents are excited to be hosting this year's Independence Day main celebrations, and they are pointing this to a number of factors. Here's a couple:

John Bosco Uhuru: "For Gulu to host such an event is a clear sign of unity that the state is giving back to the region which was known for war in the past."

Odotta Angelo, an elder from Laroo division: "It is an opportunity for people to see the peace and beauty of Acholi sub-region, which some people still perceive as a war zone."

Rose Amono Abili, Bungatira LC5 councillor: "It is an achievement for Gulu district. This is opportunity for local women to sell their products to thousands of guests outside Uganda."


 
 9.20am     Look how far we've come!

true

If you are reading this on your mobile phone, you might be interested in this . . .

At least 52.3% of Ugandans today have access to mobile phones due to affordable prices and more telecommunication companies. This was not the case in the 1970s when telephones were a preserve for a few.

Meanwhile, a year after gaining independence from Britain in 1962, Uganda, alongside neigbours Kenya and Tanzania, were using postage stamps. The three neigbours also shared the telephone service until 1977.

See how far we've come?


Dig into today's New Vision paper for a good read on this . . . plus, of course, much more. A digital copy of this is also available.
true
 
9.00am     Gulu: Facts
 
true

We are in Gulu today and I bet you would love to know something or two about this town. Here you go:
Started in 1910 as an administrative town of Acholi district. It is approximately 340km north of Kampala
The establishment of Gulu town in its current location was an afterthought after Britain's attempts to establish a town in the hilly Lamogi land in Guruguru met resistance from the Lamogi people
After the 1971 Idi Amin coup, administrative Acholi district split into east Acholi which became Kitgum and west Acholi which became Gulu
Early this year, the local government minister, Adolf Mwesige, announced it was one of five municipalities to be elevated to city status
According to the 2014 National Population and Housing Census provisional results, Gulu town has a population of 152,276 and the district has a population of 443,733
It has three major hospitals — Gulu Regional Referral Hospital, St. Mary's Hospital Lacor and Gulu Independent Hospital
Gulu University is found in the municipality
Are we on the same page now? I'm sure we are.
8.50am     A hotbed of culture
true
true

Gulu town is a hotbed of culture and development. Pictured here is a man enjoying the popular 'malakwang' delicacy in Gulu town. If you happen to be in Gulu today, be sure to ease into any restaurant for that dish!

So, what is all this talk of Gulu being a hub of culture and development?  David Labeja breaks it down for us in his article in the New Vision newspaper. Grab yourself a copy of today's paper. There are other options as well of how you can access it, digitally speaking.  Here's one . . .
true
 
8.35am     Getting set

On the eve of Independence Day, the preparations went thus . . .
 
true
Students from UNIFAT Primary School practising the march. (Credit: Dennis Ojwee)
true
A disabled woman in a wheelchair joins a parade in the preps. (Credit: Dennis Ojwee)
true
8.30am     Welcome to Gulu!
 
true
All roads lead to Gulu today in northern Uganda for the national Independence Day celebrations at Kaunda grounds. Some 50 personalities from the Acholi sub-region will receive gold medals today.
8.20am     TGIF!
 
true

Yes, it's a Friday, and everyone loves Fridays, especially if it's a public holiday like today. You will fancy the prospect of having a much longer weekend ahead of you this time. Thank God It's Friday, folks!

Let me also remind you that as you toss and roll in bed, today's Independence Day main celebrations take us up north .... in Gulu. So grab yourself a cup of coffee and follow events right here.

 
8.15am     Good morning!

Hello and welcome to text commentary of Independence Day celebrations. It is 53 years today since Uganda first attained its independence from colonial rule, so there is no doubt, October 9 is always a special day for every Ugandan -- within and outside of the country.  Good morning good people!
Independence Day: As it happened