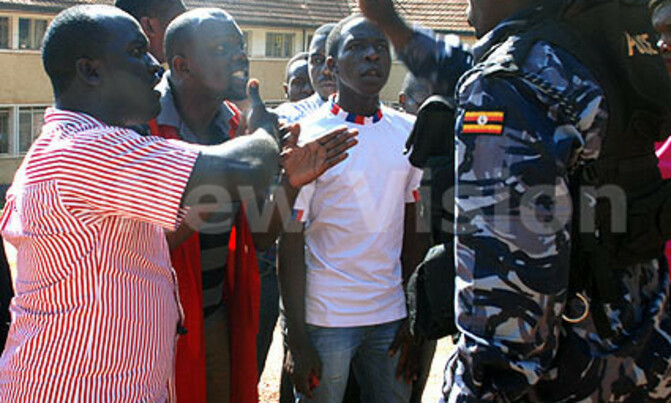 Striking students at Makerere University were among the highlights of a rather busy Wednesday. Take a look ...

Wednesday saw a series of goings-on around the country, with chaotic scenes at Makerere University that had students striking over the university's fees payment policy, featuring among the highlights. Here's more . . .
 
Mutende: Parliament pays tribute to fallen minister
 
true
A flag-draped casket containing the remains of fallen state minister of trade James Mutende being wheeled to Parliament. (Credit: Maria Wamala)
 
true
The 53-year-old minister died last Friday night at his home in Makindye, a suburb in Kampala. (Credit: Maria Wamala)
 
true
Speaker Rebecca Kadaga consoles the widow, Lydia Wanyoto, and family of the late minister. (Credit: Maria Wamala)
 
true
President Museveni pays tribute to Maj. Gen. Bamuze
 
true
A casket, draped in the Uganda national flag, containing the remains of former leader of the defunct Uganda National Rescue Front II (UNRF II), Maj. Gen. Ali Bamuze being brought for burial in East Oji village, Kulukulu, Yumbe district. (Credit: Bosco King)
 
true
President Yoweri Museveni described the fallen army man as a gero of peace, who joined the government to cause unity and development. (Credit: Bosco King)
 
true
Here, the President greets and consoles the family members of the late Bamuze. (Credit: Bosco King)
 
 Inside the NRM
 
true
The chairperson of the NRM Electoral Commission, Tanga Odoi (right), meets a delegation from Bugiri that was petitioning over tampering of the registers for the primaries. (Credit: Norman Katende)

This was at the NRM Electoral Commission offices on Kyadondo road, Kampala.
'We want compensation'
 
true
Former employees of Uchumi who were forced to go on leave are demanding to be compensated by the supermarkets company. This was at the KCCA Employment Services Bureau. (Credit: Juliet Kasirye)

In a shake-up move, Uchumi Supermarkets closed down two of its non-performing branches in Uganda, following the closure of the Syokimau and Maua branches in Kenya.
Court to NRM: Reinstate Ssekitoleko
 
true
Nakifuma County MP Eng. Robert Kafeero Ssekitoleko (left) and his lawyer Ambrose Tebyasa (right) arriving at the Jinja High Court registrar's office for Judgment of his application. (Credit: Jackie Nambogga)

Court directed the NRM Electoral Commission to re-instate Ssekitoleko in the NRM primaries race for Nakifuma Constituency.

 
UNRA probe
 
true
Eng. James Okiror, the director of projects at Uganda National Roads Authority (UNRA), giving evidence at the Commission of Inquiry into fraud and mismanagement allegations at UNRA during a hearing at Imperial Royale Hotel in Kampala.  (Credit: Godfrey Kimono)
 Chaotic episode at Makerere
 
true
Pictured are stick-wielding Makerere University students as they strike near Mitchel Hall in Makerere University Kampala. (Credit: Edward Kisoma)

The students went on strike for the second time this week after the University Council maintained the tight fees payment policy. Passed in 2006, the policy requires privately-sponsored students to pay 100% tuition dues by the sixth week of the semester. Students are not allowed to sit for coursework, tests and examinations before they clear their dues.
true
These students running off to safety during the stike. (Credit: Edward Kisoma)

On Tuesday night after students got the news, they lit fires in front of their halls of residence and destroyed property, before the Police came in to disperse the demonstration with tear gas and rubber bullets.
true
Here, students led by their guild president, David Bwiruka (in red gown) engage in an exchange with a police officer during their strike. (Credit: Edward Kisoma)

 
true
The student strikers at Mitchel Hall, one of the student residences inside the university campus. (Edward Kisoma)
 LG workshop
 
true
The Permanent secretary at Ministry of Local Government, Patrick Mutabwire (left), mingles with the Director Local Government Inspection John Genda Walala during a Local Government Workshop at Imperial Royale. (Credit: Mary Kansiime)
 Coke Studio
true
From left, Century Bottlers' Fred Mutazindwa, Coca Cola's Fiona Nahabwe, Urban Tv's Michael Owor and Vision Group's marketing manager in charge of broadcast Keith Kuoyu duringa press conference to announce the premiere of Coke Studio that will air on Urban TV. (Credit: Denis Dibele)
 
 DP president
 
true
Democratic Party (DP) president Norbert Mao is pictured during an interview with New Vision in his office. (Credit: Tony Rujuta)
Kabaka's Busiro tour

true
Bunjo Jonathan (left) telling Kabaka Ronald Muwenda Mutebi II (R) about the a vintage BMW motocycle UYI 828 number at Yonasani Senviiri's home Kyampisi village in Busiro as Katikiro Peter Mayiga (C) looks on. (Credit: Peter Busomoke)

This was during the Buganda king's visit to Busiro County.
true
The magnificent Wakiso District Council Chambers was opened by the during his Busiro tour. (Credit: Peter Busomoke)
 Empowering females
 
true
Students of Yuwafa International School and other guests dance at the Pre-international Day of Girl Child conference at the Uganda Museum. (Credit: Miriam Namutebi)

The theme was 'Advancing gender equality and economic empowerment of girls and young women'.
true
Woman MP of Sheema District, Rosemary Nyakikongero, gave a speech at the conference. (Credit: Miriam Namutebi)
'Opposition is disorganised, dishonest'
 
true
Embattled president of the Uganda People's Congress (UPC), Jimmy Akena, addresses a press conference in Kampala. (Credit: Wilfred Sanya)

He told reporters that the Opposition is not ready to take power.

"The Opposition is disorganised, dishonest, wants to handle issues rapidly, has no clear winning plan, yet these are key components in seeking political victory. Most of our friends this side are selfseekers, who hate facing the reality on the ground, which means they are not ready to take power."
Smart young minds
 
true
Clark Yamandu (left) and Racheal Akello of Arua Public School show some of the samples of the Soap they made during the Junior Achievement national Entreprenuership competition at Kitante Primary School. (Credit: Nicholas Kajoba)

A total of 14 schools from different regions took part in the one-day event that helps students showcase there entreprenuership Skills.
UNEB exams due to start
 
true
Emmanuel Cardinal Wamala leads Holy Mass during blessing of Senior Four (S.4) and Senior Six (S.6) candidates of Uganda Martyrs Secondary School, Namugongo. (Credit: Juliet Lukwago)
true
Secondary School finalists across the country are starting their Uganda National Examinations Board (UNEB) exams this coming week. (Credit: Juliet Lukwago)
Don't forget that . . .


. . .  you can njoy your digital copy of our daily, weekly and regional publications anytime -- anywhere !!!  CLICK HERE
true
The e-paper is also available HERE
true
As it happened: Wednesday Oct 7