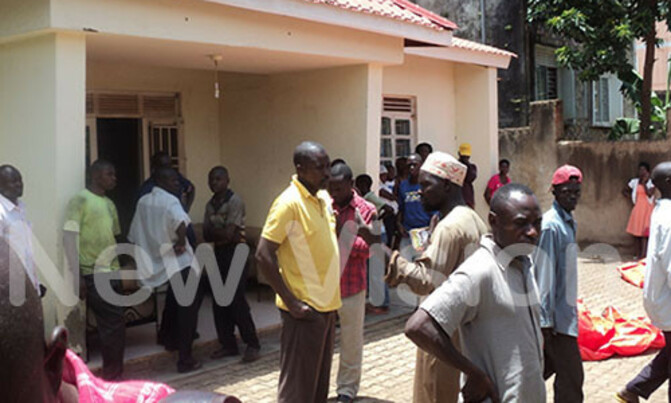 Politicians, local leaders and voters in Mbale have mourned the death of State minister for industry, James Shinyabulo Mutende.

By David Oduut

Politicians, local leaders and voters in Mbale and the entire Bugisu region have mourned the death of State minister for industry, James Shinyabulo Mutende.

According to his family, Mutende died Friday night at his home in Makindye, a Kampala suburb.

In Mbale, news of the minister's passing reached the locals, who rushed to his town home at Plot 57 Nkokojeru Terrace in Mbale Municipality to console the family.

Mutende, who hails from Mafutu, Bukhulo sub-county in Sironko district has been contesting for MP Mbale Municipality in the NRM primaries.

Mark Amos Magomu, a resident of Namakwekwe ward Mbale, said Mbale voters have lost a leader whose projects have been visible on the ground.

"We had our hopes in him this time because of the visible projects like the Mbale Industrial Park and Mbale Main Market. This is a terrible loss," Magomu struggled to hold back tears.

Henry Mutende, a cousin to the late, described him as a great leader whom NRM in Mbale will find very hard to replace.
 
true
At the time of his death, Mutende (left) had been eyeing the Mbale Municipality parliamentary seat. (Credit: David Oduut)
true
Residents led by MP Nandala Mafabi stand shocked at the gate of the Mbale home of fallen State minister James Mutende. (Photo by Moses Nampala)

According to the MP of Mbale Municipality, Jack Wamai Wamanga, much as Mutende has been his political opponent, they had maintained a cordial friendship and his death is a huge stab both to the opposition and the NRM party in Mbale.

Abbey Makwasi, who is the Speaker of Mbale municipality, praised the late minister for his expertise in spearheading development in the region and said the district and the entire Bugisu has lost a true servant.

He said the minister's demise is a great loss to the NRM in Mbale as he has also been a great mobiliser.

"This is a blow to the party because he has been a strong cadre; we will find it hard to replace him."

Mbale Woman MP Connie Galiwango broke down upon the sad news, saying: "This is a tragic moment. It is so sad that we did not hear about his sickness and only heard of his sudden death."

Simon Mulongo, the Bubulo East MP in Manafwa district, described Mutende's death as a "sting" to NRM in Bugisu region.

He said the fallen politician was a strong son of the land who helped in restarting Bugisu Cooperative Union and has been working tirelessly for the establishment of an industrial park in the region.

A nephew of former foreign affairs minister and MP of the area James Wapakhabulo, and husband to former EALA legislator Lydia Wanyoto, Mutende has been canvassing for votes in the last one month.

In a statement, the Speaker of Parliament Rebecca Kadaga also paid tribute to the fallen minister, whose death comes only three weeks after that of internal affairs minister Gen. Aronda Nyakairima.
 
Bugisu region mourns minister Mutende