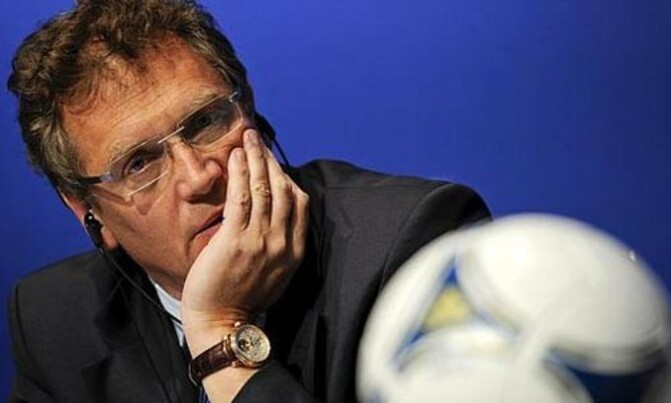 FIFA''s suspension of secretary general Jerome Valcke left world football reeling again from scandal on Friday and further weakened its president Sepp Blatter.
ZURICH - FIFA's suspension of secretary general Jerome Valcke left world football reeling again from scandal on Friday and further weakened its president Sepp Blatter.

Valcke was put on indefinite leave on Thursday night over accusations that he agreed to let World Cup tickets be sold at a vastly inflated price.

The Frenchman strongly denied the allegations. But FIFA's chief of finance Markus Kattner took over "all duties" held by Valcke in the day-to-day running of football's governing body, FIFA said.

With FIFA still overshadowed by US and Swiss corruption investigations, it announced on Thursday night that Valcke "has been put on leave and released from his duties effective immediately until further notice."

FIFA said it had been "made aware of a series of allegations involving the secretary general and has requested a formal investigation by the FIFA Ethics Committee".

Valcke has been accused of involvement in a scam to sell World Cup tickets at inflated prices and take a slice of the profits.

The claims were made by Benny Alon, an American-Israeli consultant at a company which had a deal with FIFA to sell 2014 World Cup tickets. The contract was subsequently cancelled.

In a strongly-worded statement issued by Valcke's US-based attorney, the official decried the allegations as false.

"Jerome Valcke unequivocally denies the fabricated and outrageous accusations by Benny Alon of alleged wrongdoing in connection with the sale of World Cup tickets," the statement from New York attorney Barry Berke said.

The statement said Valcke "never received or agreed to accept any money or anything else of value from Mr Alon".

All dealings between Valcke and Alon's company had been cleared by FIFA's legal department, the statement added.

- Corruption scandal -

Alon said his company, JB Sports, sold World Cup tickets at up to three times their face value. Alon gave out copies of emails to back his allegations at a briefing for invited journalists in Zurich on Thursday.

Jordan's Prince Ali bin Al Hussein, one of the men hoping to succeed Blatter as FIFA president, said the latest allegations showed that the game desperately required new fresh blood.

"The reputational damage to FIFA continues. Surely it is time for a new generation with new ideas to take over," Prince Ali said in a statement.

"The old regime should step aside now, so a new team can effect a complete reform of the organisation to reflect the change that the national associations and fans of the game around the world are calling for."

Valcke has already been in trouble over football scandals.

US media named him in June as the conduit for a $10 million payment made by South Africa to a bank account controlled by former FIFA vice president Jack Warner.

Warner is one of 14 people accused by US authorities of involvement in more than $150 million in bribes paid by sports executives to soccer officials.

Seven FIFA offcials were arrested in Zurich on the eve of its Congress in May when Blatter was reelected to a fifth term. Swiss police also launched an inquiry into the award of the 2018 and 2022 World Cups to Russia and Qatar.

Amid growing controversy, the 79-year-old Blatter announced just four days later that he would stand down. A new presidential election will be held on February 26.

Switzerland ruled on Thursday that former FIFA vice-president Eugenio Figueredo, one of the seven arrested, should be extradited to the United States.

Figueredo, a Uruguayan, has been charged by the US justice department with soliciting millions of dollars in bribes from sports marketing firms.

Another of those arrested, Jeffrey Webb of the Cayman Islands, agreed to extradition and was sent to the United States in July. Five are still challenging a transfer to American courts.

Valcke came under scrutiny in recent months over what he knew about a $10 million payment from the South African FA to an account controlled by Warner, then North and Central American (CONCACAF) football chief, through FIFA in 2008.

US investigators believe the money was a bribe in return for backing South Africa getting the 2010 World Cup.

FIFA has insisted it only acted as an intermediary between South Africa and Warner.

Valcke has been under scrutiny throughout his FIFA career.

In 2006 he was forced to step down as FIFA's director of marketing after a New York court judged he had lied when negotiating FIFA deals with Visa in breach of existing contracts with Mastercard.

FIFA was later fined $60 million over the case, but Valcke, a loyal ally of Blatter, was installed as secretary general in June 2007.

Blatter's action against Valcke could be "a very strong signal to US investigators" about his intentions following calls to cooperate and instigate reforms, a former senior FIFA official said.
RELATED STORIES:

6 football officials detained as US corruption probe rocks FIFA
Blatter resigns as FIFA president
FIFA election for Blatter's successor on Feb 26
AFP
Jerome Valcke downfall is new blow for Blatter