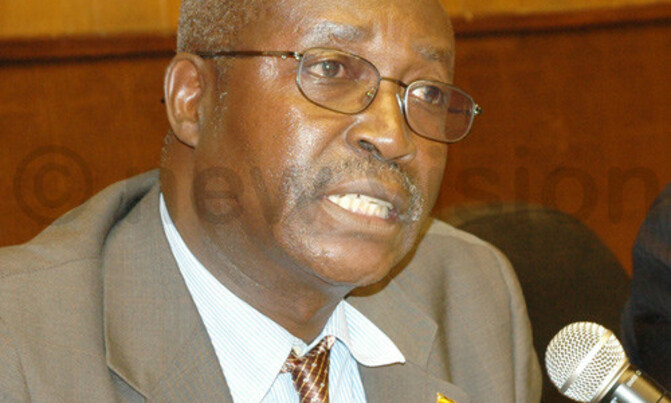 THE minister of State for Energy, Simon D'Ujanga has said the penetration of improved technologies like bio gas and briquetting is low in education institutions and households
By Juliet Kasirye
THE minister of State for Energy, Simon D'Ujanga has said the penetration of improved technologies is low in educational institutions and households. 
The awareness of modern technology in rural areas is also still very low. These technologies include biogas, gasification, improved saving stoves, biofuels and briquetting. 
Less than 10% of education institutions have an improved cooking stove, whereas 13% of households have installed an improved cook stove. This was stated by the minister during the biomass dialogue at Fairway Hotel.
"In line with the renewable energy policy for Uganda, the government through the ministry has prioritized the development and wider adoption of modern biomass energy technologies in the country." D'Ujanga explained.
D'Ujanga further stated that standards and regulations are being developed to ensure more private sector participation as well as quality improvement, widespread adoption and use of the technologies.
This was in the speech read by Godfrey Ndawula, acting commissioner renewable energy who was representing the minister. The dialogue was under the theme, "Modern Biomass Energy for Sustainable National Development."
During the dialogue, Ndawula also mentioned that one of the biggest challenges facing the biomass energy sector was lack of technical data for informed decisions for investments.
D'Ujanga called for strategic collaboration and partnership between all players in the sub sector in order to realize a wider and better adoption of improved technologies across the country.
"In most villages, much of the adoption about improved energy saving stoves has been low since most low income earners cannot afford to purchase these improved modern systems. For example institutional cook stoves," revealed Richard Ojuku, a district environment officer, Nebbi district.
Ojuku appealed to the ministry to construct cheap affordable energy saving stoves for the rural settings. Besides that, he also emphasized that people in rural areas need to be educated and also trained on how to use the modern technologies.
Serbeet Kawawa, the Yumbe district natural resource officer confessed that though the use of improved saving stoves is increasing, there is lack of end user training. He requested government to increase awareness creation through demonstrated technologies.
Kawawa revealed that over 70% of the homesteads are embracing the new technology. However, during rainy seasons, the improved saving stoves are destroyed by rain since they are built on velanders in most villages.
Nolah Avako, a focal point person for energy in Maracha district said, "Most people in rural areas are ignorant about these new technologies. As local government, we have a big challenge as every year, local government plans for construction of latrines in schools, health centers and yet these latrines take a maximum for five years to get filled up."
Avako explained that as a district, if they are to introduce biogas technology, they can use bio latrines in order to convert the waste into fertilizers. This will help the district to develop other areas rather than always focusing on the same projects like latrine construction.
"We have a lot of agro waste which can be converted into energy through briquetting. I appeal to all stakeholders and partners to promote briquetting technology in order to reduce degradation of our environment," she said.
While making the closing remarks during the dialogue, Prisca Boonabantu, undersecretary ministry of energy said as we continue to develop, the demand for more energy is increasing. Yet we are faced with a problem of finite supply of energy from traditional sources such as firewood and charcoal and the high costs associated with modern sources of energy such as electricity.
Boonabantu said the cost of using clean and modern energy sources like electricity for cooking is quite prohibitive. This has confined people to using the easily affordable energy sources which are hazardous to health and have an adverse impact on the climate.
"Making biomass sources more efficient, easily available and affordable will go a long way in ensuring that we have a healthy society and a clean environment. Biomass can be turned into clean, efficient and modern energy forms such as biogas, biofuels and electricity for both household application and for industrial development purposes," explained Boonabantu
Also, with support from Global Environment Facility and UNDP, the ministry is implementing the green charcoal project in order to secure multiple environmental benefits by addressing the twin challenges of unsustainable utilization of fuel wood and poor management practices common in Uganda's woodland through transfer, enhancement of the national policy frame work and promotion of sustainable forest management practices.
Improved tech eludes education institutions