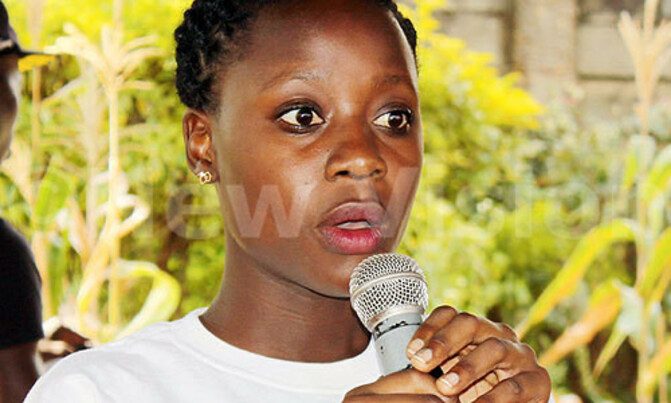 Venue: Golf Course Hotel. When: this Sunday (September 20). And, what are we talking about here? It's a first in Uganda.
By Elvis Basudde

Venue: Golf Course Hotel. When: this Friday (September 18). And, what are we talking about here? It's a first in Uganda. It's the maiden beauty pageant finale involving young people living with HIV.

The contest is dubbed The Y+ Beauty Pageant.

It will see HIV-positive young men and women between the ages of 16-25, gyrating their way down the catwalk featuring a range of wears: casual, traditional, evening, creative wear and office.

Sixteen contestants have been lined up after sailing through the regional auditions (western, central, eastern and northern region).

Uganda will be the second African country to organise a beauty pageant for HIV-positive people after Botswana, one of the countries in sub-Sahara Africa with the highest HIV/AIDS prevalence.

Botswana has since 2000 organised over 20 such contests to help reduce the HIV stigma.

The Uganda Network of Young People Living with HIV&AIDS (UNYPA) is organizing the event in collaboration with SRHR Alliance, HIV Bible Movement (HBM), Marie Stopes International Uganda (MSIU), among others.

The aim, according to Jacquelyne Alesi, who is the executive director of UNYPA, is to celebrate beauty with zero discrimination, and also fighting stigma and discrimination against young people affected and living with HIV and AIDS.

"The number of students newly infected with the virus was worrying despite the Government's awareness campaigns and achievements," she said.

"We want to supplement government efforts aimed at preventing the spread of HIV as well as sensitise the public about the AIDS scourge."

Mr. and Miss Y+ will be role models and will spearhead, among other champions, the fight against the spread of HIV and the fight against new HIV infections in all regions – with support from the coalition members and other development partners.

Dr. Cordelia Katureebe, the national coordinator peadiatric and adolescent care and treatment AIDS Control Program in the ministry of health, described the Y+ beauty pageant as a timely event since it combines two things: education and entertainment.

"These are the people with knowledge on HIV/AIDS and they have a story to tell every single day of their lives since they go through it and live with the virus every day. They want to spread the information, to talk about their rights," she said.

 
THE FINALISTS


EAST

Miss Y+ Eastern Region: Rose Namusoke
 
true


The 20-year-old is a peer educator at Bugembe Health center 1V. She was prompted to test due to peer pressure. She was in a group of young girls during their vocation and her friends suggested that they go for an HIV test.

She says her conception about the dreaded disease changed. She no longer looked at an HIV positive diagnosis as being synonymous with a suspended death sentence, as she used to believe before.  She has since become a peer educator and goes around fighting for the rights of young people living with HIV.

Namusoke believes if she wins, she can transform lives especially of young people living with HIV by showing them that they can be stigma-free.

 

Mr. Y+ Eastern region, Derrick Mbalya
 


Mbalya, who is 22, is a Senior Six drop-out. He realized he was HIV positive when he was in Senior Three in 2009. He is on Anti-retroviral Treatment (ART) and currently a volunteer and peer educator at the Aids Information Centre (AIC) Jinja.

He says his coping has been due to a combination of factors, including positive living, social and spiritual support. He takes care of himself. He says he makes sure he gets prompt medication and eats a balanced diet. He has also stopped worrying about death – which used to haunt him a lot.

Mbalya feels that as a young person living with HIV, it is his responsibility to help the ones that are voiceless, especially those young people living with HIV because sometimes their needs are not really heard.

 

CENTRAL

Miss Y+ Central region, Robinah Babirye
 


Babirye, 22, is a final year student at Kyambogo University pursuing a Bachelor's degree in community-based rehabilitation. She discovered she was living with HIV at the age of nine after her late mother told her. Her mother used to visit clinics with her and her twin sister (Nakato) and one night she offered to tell them that they got the HIV virus through birth.

She has been able to cope due to peer support from fellow people living with HIV, her counselors and doctors, coupled with the information and training that has empowered her. She feels she has made a contribution in the fight against HIV.

"When I become Miss Y+, I will use this as a platform to intensify what I have been doing already of educating and sensitizing fellow peers on HIV at my university. I will collaborate with our leaders and policymakes to find a way of fighting stigma associated with society because we cannot win the war against HIV/AIDS without addressing stigma," she says.


Mr. Y+ Central region, Tuhaise Mark
 


Tuhaise, aged 22, is a student at Namasuba College of Commerce doing a diploma in counseling and guidance. He came to know his HIV status at age 18 when his mother volunteered and told him. At first, the news of his HIV status was terrifying. It was terrible time for him and he wanted to die. But after being counseled, he thought, "I am still alive. I must try to make the best of my situation."

He opened up with as few close friends about his situation. He started living positively with HIV/AIDS and he feels relieved.

The finalist says he is obliged as a young person living with HIV to come out and educate fellow young people who are living with HIV and those who are negative: those who are negative to stay safe and those who are living with HIV to live positively and also protect the ones that are not.

 

NORTH

Miss Y+ Northen region, Joan Abwolu
 


At 22, Abwolu is a volunteer expert client at TASO Gulu. She tested HIV positive in 2003. When she was in her primary school in Kitugum, she used to fall sick quite frequently and by then her mother had already succumbed to HIV. Her aunt took her to the hospital to find out what was bothering her and she was diagnosed with the HIV virus.

She felt like that was the end of her. But she has been able to cope since she was transferred from Kitgum to come to Gulu where she stays with her uncle who took her to Gulu TASO where she gets her medication and interacts with the youths. She is also a member on TASO Gulu clients' council, who are clients who represent the fellow clients on the council, but for her she represents the youths.

 
Mr. Y+ Northern region, Silas Lobangakene




A second year student at Gulu University pursuing a diploma in development studies, 20-year-old Lobangkene tested HIV-positive in 2008 when he was 13 years old. He used to fall sick several times and his father who was HIV-positive decided to take all his children for an HIV test.

Out of the five children it was only Lobangkene who tested positive. He says if he becomes Mr. Y+, he intends to be a voice for the youth in the northern and the entire Uganda by raising their concerns to the stakeholders who are involved in the fight against HIV/AIDS. He also wants to be a role model for the young people.

"I have already been exactly that at the university, educating and sensitizing fellow peers on HIV and the evils of stigma and discrimination. I have been encouraging other youth to come out and disclose their HIV status, because that is the only way to fight the scourge."


WEST

Miss Y+ Western region, Christine Kasabiti

 


The youngest of the finalists, 16-year-old Kasabiti is a Senior Four candidate. She got to know her HIV status when she was 10 years old.  She was led by a healthy village trainer to a health facility where she was diagnosed HIV positive. Ever since that day her life has changed. She says her conception about the dreaded disease changed. She no longer looked at an HIV positive diagnosis as being synonymous with a suspended death sentence, as she used to believe before.

"I faced a lot of stigma from my school mates to an extent of desiring to commit suicide but when i got the right counseling I have since coped with the stigma, and I am living positively with the virus" she reveals.

 
Mr. Y+ Western region, Swabiri Mugera



The 18-year-old came to know his HIV status in 2002, after a health community trainer talked to them during one of the outreaches. He says the only positive thing he can say about his condition is that it has given him a chance to be a friend of God and many people.

"I know God's steadfast love as it is written in Isaiah 43.1-5. A person living with HIV is still the same person that needs to feel respected, loved and cared for. He or she needs to love and be loved."

Mugera has embarked on a nutritious diet and has always turned up for his counseling appointment with his counselors.

 
Who will be crowned Mr and Miss Y+?